| | | |
| --- | --- | --- |
| | Nova, Art Explosion 300,000 Clip Art | |



Art Explosion 300,000. It's the brand that computer users everywhere keep coming back to again and again. And for good reason. Art Explosion products are well known for unparalleled variety and the highest possible quality. And they offer the kind of truly stunning artwork that is missing entirely from other collections.

Art Explosion 300,000 continues this tradition and extends Nova's commitment to the clip art category with exclusive vector illustrations, brand-new photographs, professionally designed Web graphics and more.

Included are 8 GB of premium-quality graphics on 14 CD-ROMs, making Art Explosion an unprecedented value among clip art products.

Best of all, Art Explosion 300,000 requires no downloads and no memberships. Everything you need is inside the box!

Guaranteed Quality!
All premium-quality images
More than 80-percent in color
More than 100,000 scalable vector graphics
An unbelievable variety of categories and subcategories
50,000+ color photos and backgrounds
Guaranteed Easy to Use!
On-screen image browser with full-color previews
Convenient WMF, TIF, JPG, and GIF file formats
All graphics inside the box--no downloading or memberships required
Easy-to-understand, full-length file names
Guaranteed Compatibility!
Compatible with widest range of software
Edit images in any graphics program
Compatible with all printers, color and black-and-white
Guaranteed Value!
Use any image in print royalty-free
Includes exclusive graphics
Free technical support
Widest Variety of Graphics Available
Vector images
Raster images
Photographs
Retro images
Backgrounds
Web graphics
Animations
Much more!
SCREENSHOTS


---
None Available
REVIEWS


---
Use your back button to return to this page after viewing the reviews. If the back button is greyed out then you can safely close the window and this one will be behind it.

Reviews
DOWNLOAD


---
This product is not available as a download, free or otherwise.
SUPPORT


---
This version should run under older Power PC Macs and modern Intel OS X 10.2 and some later versions (please check with us)

General Support
Computer software general tips & tricks, maintenance, troubleshooting

Avanquest/Nova Support
Software manufacture or distributor own support and frequently asked questions pages

Art Explosion Support
BMSoftware technical support for Art Explosion

Alternatively email support or phone 0871 560 3699 (calls cost no more than 10p/minute within the UK)
ARTICLES & LINKS


---
When are "Royalty Free" images/photos/clip art free to use, commercially?
What makes images/art "licensed for business use"?
"You may purchase royalty-free clip art and stock images on discs (or download) to use without restriction, commercially and privately—on business cards, websites, personal scrapbooks and projects. The only purpose you cannot use royalty-free images for is to start your own clip art business; you do not have the right to resell or lease the clip art to others."
Clip Art - When It's Illegal

Further links to articles and information on Art Explosion software

Articles
Articles on Avanquest and other clip art/photo/image software

VERSIONS, OPTIONS & ALTERNATIVES


---
Art Explosion 800,000, £74.95 (RRP £79.95)
Art Explosion 600,000, £59.95 (RRP £69.95)
Art Explosion 300,000, £29.95
Art Explosion 200,000, £29.95
Art Explosion 150,000, £19.95
Art Explosion Religious 7,700, £19.95
Art Explosion Seasons, Events and Holidays, £29.95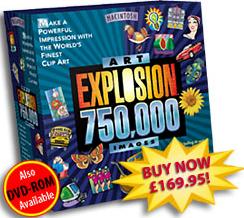 Art Explosion 750,000 (MAC), £99.95 - On 48 CD-Roms, includes printed 1800 pages Image Catalogue & Canvas 7
Art Explosion 525,000 (MAC), £79.95 - includes printed 1300 pages Image Catalogue & Eye Candy 3
Art Explosion 250,000 (MAC), £59.95 - includes printed 850 pages Image Catalogue & Kai's Photo Soap SE
Art Explosion 125,000 (MAC), £39.95 - includes printed 850 pages Image Catalogue

Also see
Corel Gallery 380,000, £39.95 - no longer available
Focus 20,000 Photos, £9.99
Hemera Big Box of Art
Hemera 50,000 Photo Objects

Clickart 300,000 DVD, £29.95 - now discontinued
SYSTEM REQUIREMENTS


---
Any PC running Windows 3.1, 95, 98, Me, NT, 2000 or Windows XP with a CD/DVD-ROM drive.
Image browser maybe compatible with Windows Vista, 7 & 8 via compatibility mode.
Images themselves compatible with all Windows versions built in folder browsers and image programs.
Compatible with all word processing, desktop publishing and graphics programs.
Compatible with all printers.

PRICING


---
Art Explosion 300,000, £29.95, [Buy now]



Prices are in £GBP and include all applicable taxes (VAT etc)

P&P will be charged at "light/heavy items" rates
(Some valuable items may have to go special delivery and packages may have outer packaging or inner boxing removed to save weight, if this is a gift or for resale please request intact boxes)

See our full Postage & Delivery Details including shipping rates within the UK, Europe and worldwide, first class and next day before 9 AM and 12 Noon, same day options.

Email to check latest pricing or stock availability

Check Exchange Rates to convert UK pricing or Email us with your country and/or currency for a quote.


ORDERING


---
Any questions prior to ordering? - then email: Sales, otherwise proceed to the Order Form.

If the online Order Form fails for any reason or your product is not yet listed there, or you wish to print and send your order, then fill in the following, hit the [Select details] button below, and copy and paste to your email program or word processor:

Now hit Ctrl+C to copy the selected text to your clipboard and then paste (Ctrl+V) it into your preferred Email program or click here to launch your Email editor.
CONTACT DETAILS


---
Click here for full Contact Details including postal address, additional phone lines and technical support email.

Whilst we are based in Norwich, Norfolk in the UK we can ship most items internationally.


RETURN TO
TOP OF PAGE

CLOSE
WINDOW

PRINT
PAGE

HOME
PAGE

TERMS AND
CONDITIONS

HELP ON USING
THIS SITE