| | | |
| --- | --- | --- |
| | Nova, Art Explosion 150,000 Clip Art | |
Details and specifications on: Art Explosion 150,000, £19.95. 150,000 spectacular royalty-free images. Discontinued product; other versions available - see Versions. [Buy now]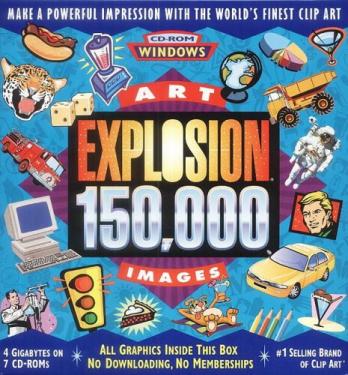 Art Explosion 150,000. Think big. Start small. If you're ready for a clip art library but not quite ready to take the plunge into one of our larger collections, Art Explosion 150,000 is just for you! It's the perfect starter clip art package because it's affordable, yet it doesn't compromise quality or selection. You get 150,000 spectacular graphics on 7 easy-to-use CD-ROMs, all professionally illustrated, easy to locate and compatible with nearly every program under the sun.

Now it's easy to add punch to your point by adding graphics to any document. With thousands of clip art images, 21,000 photographs, 25,000 web graphics and animations and more, Art Explosion 150,000 gives you everything you need to create spectacular documents including advertisements, brochures, flyers, greeting cards, invitations, newsletters, web pages and much more.

150,000+ Royalty-Free Images, More than 70% Colour Images 7 CD-ROMS in a convenient portfolio, 24-Bit Colour Photographs More than 65,000 scaleable Vector graphics, 23,000 24-bit Colour Photos and Backgrounds On-line image browsers with Full Colour Previews Step-by-Step Printed Guide to using Clip Art in all your favourite programmes Free Unlimited Technical Support Comes with Nova's Iron-Clad 30-day Money Back Guarantee
SCREENSHOTS


---
None Available
REVIEWS


---
Use your back button to return to this page after viewing the reviews. If the back button is greyed out then you can safely close the window and this one will be behind it.

Reviews
VERSIONS, OPTIONS & ALTERNATIVES


---
Art Explosion 800,000, £74.95 (RRP £79.95)
Art Explosion 600,000, £59.95 (RRP £69.95)
Art Explosion 300,000, £29.95
Art Explosion 200,000, £29.95 Art Explosion 150,000, £19.95
Art Explosion Religious 7,700, £9.95
Art Explosion Seasons, Events and Holidays, £29.95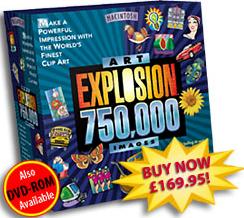 Art Explosion 750,000 (MAC), £169.95 - On 48 CD-Roms, includes printed 1800 pages Image Catalogue & Canvas 7
Art Explosion 525,000 (MAC), £119.95 - includes printed 1300 pages Image Catalogue & Eye Candy 3
Art Explosion 250,000 (MAC), £79.95 - includes printed 850 pages Image Catalogue & Kai's Photo Soap SE
Art Explosion 125,000 (MAC), £39.95 - includes printed 850 pages Image Catalogue

Also see
Corel Gallery 380,000, £39.95 - no longer available
Focus 20,000 Photos, £9.99
Hemera Big Box of Art
Hemera 50,000 Photo Objects

Clickart 300,000 DVD, £19.95 - now discontinued
SYSTEM REQUIREMENTS


---
Any PC running Windows 95, Windows 98, Windows NT, Windows 2000, or Windows Me
CD-ROM or DVD-ROM Drive

Compatible with all your favourite programs including:-
Adobe Illustrator
Business Card Factory
Corel Printhouse
CorelDraw
Freehand
Greeting Card Factory
Label Factory
Micrografx Designer
Microsoft Greetings
Microsoft Powerpoint
Microsoft Publisher
Microsoft Word
Microsoft Works
Pagemaker
Powerpoint
Print Artist
Print Shop
PrintMaster
Quark Xpress
T-Shirt Factory
Wordperfect
WordPerfect Works
and more!
Compatible with all Printers!
PRICING


---
Art Explosion 150,000, £19.95, [Buy now]



Prices are in £GBP and include all applicable taxes (VAT etc)

P&P will be charged at "light/heavy items" rates
(Some valuable items may have to go special delivery and packages may have outer packaging or inner boxing removed to save weight, if this is a gift or for resale please request intact boxes)

See our full Postage & Delivery Details including shipping rates within the UK, Europe and worldwide, first class and next day before 9 AM and 12 Noon, same day options.

Email to check latest pricing or stock availability

Check Exchange Rates to convert UK pricing or Email us with your country and/or currency for a quote.


ORDERING


---
Any questions prior to ordering? - then email: Sales, otherwise proceed to the Order Form.

If the online Order Form fails for any reason or your product is not yet listed there, or you wish to print and send your order, then fill in the following, hit the [Select details] button below, and copy and paste to your email program or word processor:

Now hit Ctrl+C to copy the selected text to your clipboard and then paste (Ctrl+V) it into your preferred Email program or click here to launch your Email editor.
CONTACT DETAILS


---
Click here for full Contact Details including postal address, additional phone lines and technical support email.

Whilst we are based in Norwich, Norfolk in the UK we can ship most items internationally.


RETURN TO
TOP OF PAGE

CLOSE
WINDOW

PRINT
PAGE

HOME
PAGE

TERMS AND
CONDITIONS

HELP ON USING
THIS SITE