Details and specifications on: Art Explosion Seasons, Events & Holidays, £29.95. A collection of ClipArt for use in making greetings cards, wrapping paper or place names.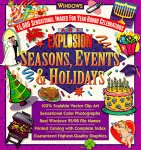 Art Explosion Seasons, Events & Holidays.Now you can make any event into an unforgettable memory with the world's premier collection premium-quality graphics for celebrations and holidays.

Choose from nearly 14,000 sensational clip art images and more than 1000 brilliant photographs and enjoy the convenience of a 150-page Printed Image Catalogue. In no time at all, you'll be using graphics in your favourite programs to create unique personalised invitations, flyers, greeting cards, banners, party favours and much more.

Let your imagination run wild with Art Explosion Seasons, Events & Holidays, premium-quality graphics from the worldwide leader in digital clip art.

Look What You Get!
100% Scalable Vector Clip Art
More Than 80% of Images in Colour
Sensational Colour Photographs
150-Page Catalogue with Complete Index
On-Screen Image Browsers for Fast Access
Compatible with All Popular Programs
Hassle-Free File Formats - EPS and JPEG for Mac, .WMF and .JPG for Windows
All High-quality Royalty-free Graphics
SCREENSHOTS


---
Use you back button to return to this page after viewing the screenshots.

Screenshot 1 | Screenshot 2
VERSIONS


---
Art Explosion Seasons, Events & Holidays, £29.95

Also see
Art Explosion 600,000, £59
Art Explosion Religious, £9.99


SYSTEM REQUIREMENTS


---
Any PC running Windows 3.1, 95, 98 or Windows NT with a CD-ROM drive
Compatible with all word processing, desktop publishing and graphics programs.
Compatible with all printers


Prices include all applicable taxes

P&P will be charged at "light/heavy items" rates (1/2/3 or 3/6) - click here for full Postage & Delivery Details including shipping rates within the UK, Europe and worldwide, and next day before midday options.

Email to check latest pricing or stock availability

Check Exchange Rates to convert UK pricing or Email us with your country and/or currency for a quote.



Order direct from BMSoftware
ORDERING


---
Any questions prior to ordering? - Then Email: sales@bmsoftware.com

To order, use the online

If the online ORDER FORM fails for any reason or your product is not yet listed there, or you wish to print and send your order, then fill in the following, hit the Select details button, and copy and paste to your email program or word processor:

Now hit Ctrl+C to copy the selected text to your clipboard and then paste (Ctrl+V) it into your preferred program
CONTACT DETAILS


---
Click here for full Contact Details including postal address, additional phone lines and technical support email.

Whilst we are based in the UK we can ship most items internationally.


| | | | | | | | |
| --- | --- | --- | --- | --- | --- | --- | --- |
| | RETURN TO TOP OF PAGE | | CLOSE WINDOW | | PRINT PAGE | | HOME |