About
BMSoftware are vintage and current computer software and refurbished/new IBM/Lenovo Thinkpad resellers, as well as web site hosts, SEO & Social Media (SMM) experts. We carry or can obtain over 2500 software titles from 1995 to the latest releases as we maintain a back catalogue of older cheaper editions as well as current versions and upgrades. If you have a beloved program that ran on Windows XP (which 30% of the world still uses & we can still supply) but have now upgraded to Windows 7, 8 or 8.1 (and the forthcoming version 10) we can find ways to get it working, update it, or cross upgrade to an alternative software product and import your old files. We believe in recycling and "if it ain't broke don't fix/replace it".

We specialise in business, language, religious and educational software including office, training, finance, translation and graphics software whether for home, school, business, government or professional use. We also cover a wide range of arts, crafts & design software including DTP, clipart, photoediting, video, and scrapbooking.

Our most popular titles and vendors include: Corel, Davka, Focus, LEC, Microsoft, NeuroTran, Systran, Serif, Adobe, ArcSoft, Nova Art Explosion, Greenstreet and Lotus.


Software
Hint
- click & type the first letter of the product you want to jump down the list
What's New in Language Translation Software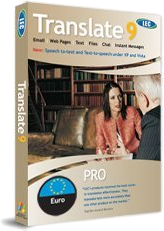 LEC Power Translator 15 Euro, from £95 BUY | INFO
LEC Power Translator 15 World, £399 BUY | INFO
LEC Power Translator 15 World Premium, £799 BUY | INFO
LEC Power Translator 15 Premium, from £69 BUY | INFO
LEC Translate 10 (2012) Euro Professional, £749 BUY | INFO
LEC Translate 10 (2012) Magellan Pro, £1599 BUY | INFO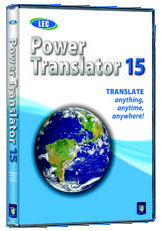 Power Translator 15 Euro, formerly L&H/Globalink/MediaGold Power Translator Pro, runs on Windows 98, XP and now Microsoft Vista and Windows 7/8/8.1. This premier translation software has improved dictionaries for translating English to/from Brazilian, French, German, Italian, Portuguese, Russian and Spanish. Includes translate Plug-Ins for Microsoft Word, Excel, Internet Explorer & PowerPoint and for the first time Mozilla Firefox; compatible with all versions of Microsoft Office 2000, XP, 2003, 2007, 2010, 2013. Upgrades from Power Translator 8, 9, 11, 12 and 14 available. Now includes built in Abbyy document scanning engine to OCR and translate direct from scanned documents and photos.



Review by Top Ten Reviews SCORE: 3.5 out of 4 stars, Ranked #1 of 10 in Translation Software
"Power Translator Premium was the most effective translation software tested, with its accurate spelling, grammar and pronunciation it easily soared straight to the top. Power Translator has a knowledgeable interface of languages and can translate even the different grammar styles to various languages.
Pros: Translations are more accurate than other translation software programs.
Cons: Only seven languages are available on the CD-ROM.
The Verdict: Power Translator Premium is one of the most accurate programs and will not leave you disappointed."
(Read full review)

Given that the review was of the budget Premium version and not of the Translator Pro/Euro nor LEC Translate Business/Pro with extra technical dictionaries and enhanced features that is praise indeed.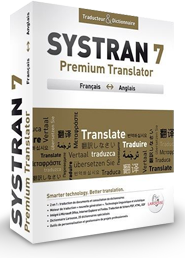 Why not check out an alternative leading provider of foreign language translation software: Systran, a world leading supplier with Personal, Office, Business, and Premium versions with more than 50 available language pairs including: Arabic, Chinese, Dutch, French, German, Greek, Italian, Japanese, Korean, Polish, Portuguese, Russian, Spanish, Swedish.

Need other languages, how about Arabic, Bulgarian or Hebrew translation software, Polish translation software, Romanian translation software, Turkish or Ukrainian?



Windows Mobile and Pocket PC language & translation software, voice, text, word & phrase translating, vocabulary learning, travel phrasebooks, medical terminology, for 42 languages.

Check out our translation software section or our translation software microsite: www.translationsoftware.co.uk


Trying to find old, classic/vintage or discontinued software?
We specialise in product compatibility advice and maintaining stocks and sourcing old, out of date or discontinued software such as Adobe Acrobat/Photoshop, Corel Draw, Lotus Organizer/SmartSuite for XP, Vista & 7; Microsoft Office 95, 97, 2000, 2002 ( XP), 2003, 2007, 2010 etc; Quicken UK for Windows 98 through Windows 8, Serif DrawPlus, PagePlus, Windows 98 SE, 2000, XP, Vista, 7, WordPerfect, Microsoft Money/Works Suite software ... Over 1500 discontinued titles available at discounted pricing.

Bestsellers:
Corel Draw 9
Davka/Hebrew World Biblical Hebrew software for Windows/Apple Mac OS X
Quicken 2004 (will work on Vista, Windows 7 under XP compatibility mode)
Microsoft Office 2000 Pro
Microsoft Office XP SBE
Adobe Acrobat 8 Windows Standard
Serif PagePlus X4/X5/X6 (Windows XP/Vista/7/8 can open/edit PDFs)
Ages Master Christian Library Series (updated for Vista, Windows 7, Mac OS X 10)