SUMMARY
Hebrew World (formerly a Davka product)
Biblical Hebrew
RRP £
79.95
(inc VAT) / $
95
.
BMSoftware price £
72
In stock (Disk)
Biblical Hebrew
is
Everything you need to master reading, writing, analyzing, and translating Biblical Hebrew! Includes audio pronunciation, Hebrew text and English translation of the complete Bible. 1000 word vocabulary, 150 hours teaching, 200 exercises, 28 lessons. Biblical Hebrew is compatible with Microsoft Windows XP/Vista/7/8, Apple OS X. Buy now.
More
Davka software
or check out other
Hebrew software
. Complete
Hebrew & Jewish software price list
.
Any questions prior to purchasing
email
us or call
0844 808 3699
.
FEATURES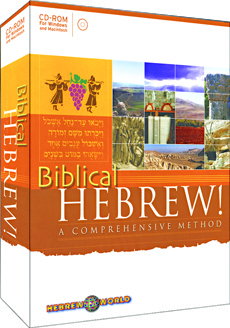 Davka/Hebrew World Biblical Hebrew, £72.00 This program includes everything you need to master reading, writing, analyzing, and translating Biblical Hebrew! Featuring 28 interactive and dynamic lessons, Biblical Hebrew contains a wealth of fascinating information, including summaries of each book of the Bible and a colourful atlas of Biblical maps.
Biblical Hebrew Study tools:
Comprehensive grammar tutorial
Audio dictionary
28 interactive and dynamic lessons / exercises
150 hours of tutorials
Much more!
Important features
Biblical Hebrew Vocabulary - Instant translation of all words that appear in the text.
Dictionary - Versatile Hebrew-English dictionary contains over 1000 words.
Comprehensive Exercises - Complete set of grammar and language lessons for each unit.
Biblical History and Geography - A memorable journey into Biblical geography, history and culture, with a colorful Bible atlas, descriptions of the leading Biblical figures, summaries of the books of the Bible and more.
online Israel based learn Biblical Hebrew course
Additional Features:
Supplemental cultural information related to the Biblical text
Biographical presentations of relevant personalities
General introductions to each group of verses to be studied
Discussions of the history of the language
An introduction to Biblical literature
A Biblical atlas
Educational discounts, Network licensing, Reseller pricing
Please
Email
or
Call
0844 808 3699
to enquire about
site licenses
,
network versions
,
bulk discounts
,
reseller/trade orders
or
educational/institutional pricing
.
Purchase information
Product codes
Manufacturer's Product Code: Our Product Ref: BIBHEB
SCREENSHOTS
Use you back button to return to this page after viewing the screenshots.

Screenshot 1
REVIEWS / PRODUCT COMPARISONS & TESTS
None available
OPERATING SYSTEM REQUIREMENTS
Windows PC
Yes
PC with Windows 98/ME/2000/XP/Vista/7, 64MB RAM minimum, for Windows 8 please check first
Apple MAC
Yes
Mac Minimum: Power Mac 166, 64 MB RAM, CD-ROM drive, System 8.5 or better
Mac Recommended: G3 233, 64 MB RAM, CD-ROM drive, System 8.5 or better, or OS X native mode, for 10.6 onwards please check first
Linux
N/A
VERSIONS, OPTIONS & ALTERNATIVES
| | | | | | |
| --- | --- | --- | --- | --- | --- |
| Davka | Biblical Hebrew | £72.00 | (RRP £79.95) | [BIBHEB] | Buy |
Compare also
:
| | | | | | | |
| --- | --- | --- | --- | --- | --- | --- |
| Parsons | Hebrew Tutor | £39.00 | (RRP £39.95) | [HEBTUT] | Buy | | Info |
FREE TRIAL/DOWNLOAD
We are sorry but no free, trial or download versions are available for this software title. Cheaper earlier versions may be available or you may purchase and return your product unopened, uninstalled for a refund. Some products may have a manufacturer satisfaction warranty of up to 60 days which we/they will honour. On some products we offer a 30 day exchange for another similar or better product or guarantee up to a 90 day 90% credit upgrade to an improved or superior software title. On some products competitive upgrade pricing or part-exchange may be available.
FAQs/TECHNICAL SUPPORT
General Support
Computer software general tips & tricks, maintenance, troubleshooting

Hebrew World Biblical Hebrew Support
Software manufacture or distributor own support and frequently asked questions pages

Hebrew World Biblical Hebrew Support
BMSoftware technical support for Hebrew World Biblical Hebrew

Alternatively email support or phone 0871 560 3699 (calls cost no more than 10p/minute within the UK)
ARTICLES & LINKS
Further links to articles and information on Hebrew software

Articles
Articles on Hebrew software

POSTAGE & SHIPPING
We ship worldwide and flat pack or reduce waste packaging to send items in the smallest/lightest packages (and may use recycled packaging) and hence some outer packaging or inner boxing may be removed to save weight, if this is a gift or for resale please request intact boxes (although this may result in a heavier shipping charge). We reserve the right to renegotiate a sale if the shipping cost outweighs the combined shipping charge and profit margin

See our full Postage & Delivery Details including shipping rates within the UK, Europe and worldwide, first class and next day before 9 AM and 12 Noon, same day options.


PAYMENT METHODS
We accept bank transfers, cash, cheques, credit cards (MasterCard, Visa etc), debit cards (Electron, Maestro, Solo, Switch, Visa debit), part exchange, paypal, postal orders, stamps, Western Union. Some payment methods may be surcharged, transparently based on but never more than the costs to us of processing a particular method. Some methods of payment are not avaialable to all countries.
CONTACT US
Email to check latest pricing or stock availability or for a bulk discount quote of up to 40%.

Click here for full Contact Details including postal address, additional phone lines and technical support email.

Whilst we are based in Norwich, Norfolk in the UK we can ship most items internationally.