| | | |
| --- | --- | --- |
| | Art Explosion 250,000 MAC Clip Art | |
Details and specifications on: Art Explosion 250,000 MAC, £79.95. 250,000 MAC spectacular royalty-free images . Other quantities also available - see Versions.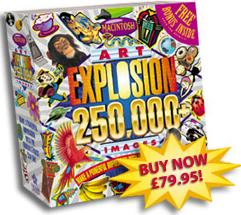 Art Explosion 250,000 MAC. If you've used our smaller libraries and are ready to graduate to a higher level of sophistication and selection, you've come to the right place. Art Explosion® 250,000 gives you over 250,000 royalty-free images, with more than 60% in colour and 55% vector images.

When you buy Art Explosion 250,000, you know you can trust your most important projects to the recognized leader in quality clip art. You'll see that Art Explosion graphics are professionally illustrated with painstaking attention to detail. Play it safe. If it doesn't say Art Explosion, there's just no being sure.

As if selection and quality weren't enough, we make finding the perfect image fast and convenient. Now you'll find your image in no time with our 850-page printed image catalogue, complete with our exclusive Quick-Locator Index. You can also easily view on-screen previews of each and every image. And add graphics to your documents with drag-and-drop simplicity.

See for yourself. Here's what you'll get with Art Explosion 250,000:
All Premium-Quality Images
More than 60% in Colour
More than 55% Vector Clip Art (EPS), Scalable to Any Size
Includes Hundreds of Categories and Subcategories


Guaranteed Easy to Use!
On-Screen Image Browsers for Fast Access
Hassle-Free File Formats
Complete Instruction Manual
Includes Details on Using Clip Art in All Your Favourite Programs
Expanded Quick Locator Index to Make Searches a Breeze
Real Macintosh File Names


Guaranteed Compatibility!
Compatible with Widest Range of Macintosh Software
Edit Images in Any Graphics Program
Scale Most Images to Any Size
Compatible with All Printers, Colour and B&W


Guaranteed Value!
850-Page Printed Image Catalogue
Use Any Image in Print, Royalty-Free
Free Technical Support
1500 Fonts
Bonus! Kai's Photo Soap Included Free


Widest Variety of Graphics Available
Vector Images
Raster Images
Photographs
Classic Images
Fine Art
Backgrounds
Technical Symbols
Web Graphics
Animations
Fonts
Much More!
SCREENSHOTS


---
None Available
REVIEWS


---
Use your back button to return to this page after viewing the reviews. If the back button is greyed out then you can safely close the window and this one will be behind it.

Reviews
VERSIONS


---
Art Explosion 150,000, £19.95
Art Explosion 200,000, £29.95
Art Explosion 600,000, £59
Art Explosion Seasons, Events and Holidays, £29.95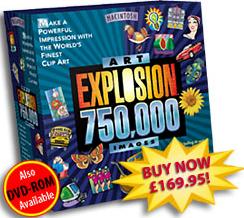 Art Explosion 750,000 (MAC), £169.95 - On 48 CD-Roms, includes printed 1800 pages Image Catalogue & Canvas 7
Art Explosion 525,000 (MAC), £119.95 - includes printed 1300 pages Image Catalogue & Eye Candy 3
Art Explosion 250,000 (MAC), £79.95 - includes printed 850 pages Image Catalogue & Kai's Photo Soap SE
Art Explosion 125,000 (MAC), £39.95 - includes printed 850 pages Image Catalogue

Also see
Corel Gallery 380,000, £39.95 - no longer available
Focus 20,000 Photos, £9.99
Hemera Big Box of Art
Hemera 50,000 Photo Objects

Clickart 300,000 DVD, £79.95 - now discontinued
SYSTEM REQUIREMENTS


---
Any Mac running System 7.0 or later and a CD-ROM drive (System 7.5 required for image browser software).
Mac OS X (Classic) compatible.

Art Explosion works with all word processing, desktop publishing and graphics programs, including:

Adobe Illustrator
Business Card Factory
Corel Printhouse
CorelDraw
Freehand
Greeting Card Factory
Label Factory
Micrografx Designer
Microsoft Greetings
Microsoft Powerpoint
Microsoft Publisher
Microsoft Word
Microsoft Works
Pagemaker
Powerpoint
Print Artist
Print Shop
PrintMaster
Quark Xpress
T-Shirt Factory
Wordperfect
WordPerfect Works
and more!

Compatible with all Printers!

PRICING


---

Art Explosion 250,000 MAC, £79.95



Prices include all applicable taxes

P&P will be charged at "light/heavy items" rates (1/2/3 or 3/6) - click here for full Postage & Delivery Details including shipping rates within the UK, Europe and worldwide, and next day before midday options. Email to check latest pricing or stock availability

Check Exchange Rates to convert UK pricing

ORDERING


---

Any questions prior to ordering? - Then Email: sales@bmsoftware.com.

To order, use the online

If the online [Order Form] fails for any reason or your product is not yet listed there, or you wish to print and send your order, then fill in the following, hit the [Select details] button, and copy and paste to your email program or word processor:

Now hit Ctrl+C to copy the selected text to your clipboard and then paste (Ctrl+V) it into your preferred program Make sure you read our Terms and Conditions.

CONTACT DETAILS


---

Click here for full Contact Details including postal address, additional phone lines and technical support email.

Whilst we are based in the UK we can ship most items internationally.



| | | | | | | | |
| --- | --- | --- | --- | --- | --- | --- | --- |
| | RETURN TO TOP OF PAGE | | CLOSE WINDOW | | PRINT PAGE | | HOME |