| | | |
| --- | --- | --- |
| | Avanquest/Nova Art Explosion (Hemera) Photo Objects 150,000 Mac DVD Clip Art | |
| | | | | |
| --- | --- | --- | --- | --- |
| | | Details and specifications on: Avanquest/Nova (Hemera)'s Art Explosion Photo Objects 150,000 Mac on DVD, £99 inc VAT [approx $125 USD] (RRP £149.95). Add a unique, professional look to any project with Art Explosion Photo Objects 150,000 for the MAC . We've included 150,000 high-resolution, royalty-free photos on 2 DVDs, all pre-masked and ready to add to documents in your favorite applications. Strong British/European centric content. An easy-to-use image browser is included for fast keyword searching. Then format, resize, crop and export, all in a single application. Windows PC and Apple MAC versions available. Smaller image quantities also available - see Versions. [Buy now] or call us on 0844 360 3699. See other clipart and crafts and card design software or products from Art Explosion and Hemera. | | |


Art Explosion Photo Objects 150,000 MAC. Add a unique, professionnal look to any project with Photo Objects 150,000. We've included 150,000 high-resolution, royalty-free photos on 2 DVDs, all pre-masked and ready to add to documents in your favorite applications. An easy-to-use image browser is included for fast keyword searching. Then format, resize, crop and export, all in a single application.

Photo Objects 150,000 supports all popular file formats. And because the graphics include clipping paths, they're ideal for use on any color background in Keynote, PowerPoint, Adobe Photoshop, Quark Express and more.

This spectacular library of unique graphics makes it easy to make a powerful impression in print, in presentations and on the Web.

Images up to 1000x1000dpi so for screen resolution and electronic brochures, PDFs etc 75dpi images would be 13.33" 35cm tall or for print at 150dpi 17.5cm or at high quality 300 dpi 9cm tall.

Strong British/European centric content.
SCREENSHOTS


---
None Available
REVIEWS


---
Use your back button to return to this page after viewing the reviews. If the back button is greyed out then you can safely close the window and this one will be behind it.

Reviews
DOWNLOAD


---
This product is not available as a download, free or otherwise.
SUPPORT


---
This version should run under older Power PC Macs and modern Intel OS X 10.2 and later

General Support
Computer software general tips & tricks, maintenance, troubleshooting

Avanquest/Nova Support
Software manufacture or distributor own support and frequently asked questions pages

Art Explosion Support
BMSoftware technical support for Art Explosion

Alternatively email support or phone 0871 560 3699 (calls cost no more than 10p/minute within the UK)
ARTICLES & LINKS


---
When are "Royalty Free" images/photos/clip art free to use, commercially?
What makes images/art "licensed for business use"?
"You may purchase royalty-free clip art and stock images on discs (or download) to use without restriction, commercially and privately—on business cards, websites, personal scrapbooks and projects. The only purpose you cannot use royalty-free images for is to start your own clip art business; you do not have the right to resell or lease the clip art to others."
Clip Art - When It's Illegal

Further links to articles and information on Art Explosion software

Articles
Articles on Avanquest and other clip art/photo/image software

VERSIONS


---
Also see: Hemera Photo Objects 50,000 Volume 1, £79.99
Hemera Photo Objects 50,000 Volume 2, £79.99
Hemera Photo Objects 50,000 Volume 3, £79.99

Art Explosion 150,000, £19.95
Art Explosion 200,000, £29.95
Art Explosion 600,000, £59
Art Explosion Seasons, Events and Holidays, £29.95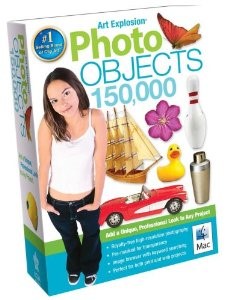 Art Explosion 750,000 (MAC) CD, £149 - On 48 CD-ROMs, includes printed 1800 pages Image Catalogue & Canvas 7
Art Explosion 750,000 (MAC) DVD, £99 - On DVD ROM including printed catalogue (where still available)
Art Explosion 525,000 (MAC), £119.95 - includes printed 1300 pages Image Catalogue & Eye Candy 3
Art Explosion 250,000 (MAC), £79.95 - includes printed 850 pages Image Catalogue & Kai's Photo Soap SE
Art Explosion 125,000 (MAC), £39.95 - includes printed 550 pages Image Catalogue


Also see
Corel Gallery 380,000, £39.95 - no longer available
Focus 20,000 Photos, £9.99
Hemera Big Box of Art
Hemera 50,000 Photo Objects

Clickart 300,000 DVD, £169.95 - now discontinued
SYSTEM REQUIREMENTS


---
Any PowerPC-based Macintosh including iMac and iBook
Power PC or Intel Mac OS X 10.2 or later
Mac OS X (Classic) compatible
DVD
Art Explosion works with all word processing, desktop publishing and graphics programs, including:
Adobe Illustrator
Business Card Factory
Corel Printhouse
CorelDraw
Freehand
Greeting Card Factory
Label Factory
Micrografx Designer
Microsoft Greetings
Microsoft Powerpoint
Microsoft Publisher
Microsoft Word
Microsoft Works
Pagemaker
Powerpoint
Print Artist
Print Shop
PrintMaster
Quark Xpress
T-Shirt Factory
Wordperfect
WordPerfect Works
and more!
Compatible with all Printers!
PRICING


---
Art Explosion Photo Objects 150,000 MAC, £99 [Buy now]



Prices include all applicable taxes

P&P will be charged at "light/heavy items" rates (1/2/3 or 3/6) - click here for full Postage & Delivery Details including shipping rates within the UK, Europe and worldwide, and next day before midday options. Email to check latest pricing or stock availability

Check Exchange Rates to convert UK pricing
ORDERING


---
Any questions prior to ordering? - Then Email: sales@bmsoftware.com.

[Buy now] or call us on 0844 360 3699

Make sure you read our Terms and Conditions.
CONTACT DETAILS


---
Click here for full Contact Details including postal address, additional phone lines and technical support email.

Whilst we are based in the UK we can ship most items internationally.


| | | | | | | | |
| --- | --- | --- | --- | --- | --- | --- | --- |
| | RETURN TO TOP OF PAGE | | CLOSE WINDOW | | PRINT PAGE | | HOME |