| | | |
| --- | --- | --- |
| | Mediagold Virtual CD v4 / CD Copier Pro | |
Details and specifications on: Mediagold Virtual CD 4 (produced by H+H Zentrum für Rechnerkommunikation GmbH), formerly IMSI/Norton CD Copier Pro, £10.95 - £274.95, stand alone, site license & network versions available.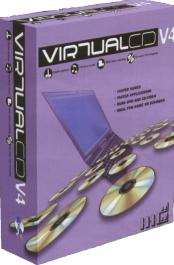 Mediagold Virtual CD v4 (CD Copier Pro)
Now Windows users can run CD & DVD applications and music CDs directly off hard disks, even without a CD drive. The revolutionary Microtest Virtual CD lets you create "virtual" images of CDs on hard disks and access them to run applications. Virtual CD is ideal if you're looking for improved performance or to run CD applications from notebooks and other mobile computers not equipped with CD drives. Instead of changing the CD in the drive just create a compressed image of it at up to 20% the original size and then use this software to convince your machine that its still in the drive! In addition, they will now run up to 50x faster from your hard drive than they ever did from the CD drive. Alternatively, create CD-ROM images for your laptop and then you don't need to carry your CD-ROM drive with you when you travel, you can carry a second battery instead! You'll be able to copy CD-ROMs to your NT server or have educational and reference CD-ROMs available to everyone on a network. Multiple clipart CD-ROMs can be saved onto one hard drive. You'll be able to play games, listen to audio CDs and import images all at the same time as reinstalling that missing component from the Windows CD. Supports audio CDs, photo, video, mixed mode and CD-R disks. Now works from DVD drives as well.

Speed up your CD drive!!
No more hassle with swapping CDs!
More mobility for your laptop
Access multiple CD-ROM/DVD applications simultaneously
Listen to your favorite music CDs without a CD drive!
VCD access over the network
Creates up to 22 virtual CD drives and unlimited amount of virtual CD/DVD images
Windows 98/ME/NT 4/2000/XP compatible
Multi-Session Virtual CD Editor to create customized virtual CDs containing files/folders and audio tracks
CDDB support to retrieve artist, album and audio track titles of audio CDs over the internet
Keyboard shortcuts, task tray icon and command-line control to insert/eject virtual CDs
Supports Data-/Audio-/mixedmode CD, DVD-ROM, non-CSS DVD-Video, Photo-CD and CD-Text.
Optional password protection for virtual CDs
New CD read-out methods (RAW mode including Sub-Channels) to copy latest CD titles
Easy-to-use user wizards and XP look&feel user interface
Organizes virtual CDs in sub folders
ISO image file import (data exchange with CD-R software)
Improved compression also for copy protected CDs
Exclusive access to virtual CDs across the LAN
Support of up to 99 audio tracks per virtual CD
Full support of MS Mediaplayer 7 (Visualisation, Equalizer, playlist, CD recording)
Virtual CD Editor allows to edit already existing virtual CDs
Virtual CD Drive Editor to change amount of virtual CD drives and drive letter association
Speed up your CD drive!!
Virtual CD copies your favorite CDs using advanced compression techniques onto your hard disk. Now you have access to your CDs at lightning speed without any CD drive noise!

No more hassle with swapping CDs!
Are you bothered by programs which require an inserted CD? Virtual CD accesses the CDs through the hard disk - the media itself is no longer required. No more piles of CDs lying around getting scratched or lost.

Watch video DVDs without the noisy DVD drive!
Virtual CD copies video CD and DVD-video including DVD specific features (DVD menu with chapter selection, audio sub titles, etc.). Watch your favourite movie in full picture quality without any noisy DVD drive access!

Faster Games!
Virtual CDs run much faster than CD drives! No more tiresome swapping CDs in the middle of the game. Bored of the game's soundtrack? Then run your favourite audio CD whilst playing the game, and… no more tiresome swapping CDs in the middle of the game

Easy access to your music CD collection
Save up to 95% disk space with MP3 and WMA audio compression. Additionally, Virtual CD retrieves artist, album and track title information of audio CDs over the internet with the included CDDB feature. The new CD text format is also supported to read the album's information directly from the CD. Create your own virtual audio CDs containing a custom selection of your favourite audio tracks with the Virtual CD Editor.

More mobility for your laptop
Travel light and leave your external drive and CDs at home - just load the virtual CD image file from your PC or your network environment! CD drives are power hungry, reducing battery lifetime on mobile computers. Virtual CD does not need to access the physical CD drive and so saves on battery power. In addition many laptops allow you to replace the internal CD drive with an extra battery. You will gain extra lifetime and still have access to your CDs. Virtual CD is a must have for any sub-notebook without built-in CD drive. No more risk of electrical interference in airplanes caused by the CD drive!

Access multiple CD-ROM applications simultaneously
Virtual CD can emulate up to 22 CD drives and an unlimited number of virtual CDs. There's no swapping media while accessing several applications at a time!

Easy CD handling for your children!
Virtual CD optionally creates icons for each virtual CD image on your Windows desktop. Just double-click the icon to instantly insert and run the corresponding CD application. No dangerous splintered CDs with sharp edges or broken CD drive trays anymore!

Build your customized virtual CDs!
Test your CD-R projects with virtual CDs before wasting CD-R media. The Multi-Session Virtual CD Editor allows you to compose your own virtual CD with free selection of audio tracks and data files & folders.

VCD access over the network
Virtual CD allows to access your virtual CDs from any Windows 98/ME/NT/2000/XP clients across the LAN. Just store the virtual CD images on any file server (Windows, Novell or Linux, etc.). The access rights can be definied via the standard file access policies of the Windows file system. Virtual CD also works perfect in any Peer-To-Peer-network. The Virtual CD client automatically recognize any available virtual CD on the network and include it into the management. A Laptop can access virtual CD images across the LAN.

Fully customizable Virtual CD client!
The functionality of the Virtual CD client application is fully customizable. You may limit the functionality e.g. to prevent client users to create, erase or modify virtual CDs. Virtual CD even allows to create a pre-defined setup for the Virtual CD client installation. The administrator determines the desired functionality and Virtual CD creates a customized setup file which may then be distributed over the network to install the client application.

Central administration of the virtual CDs!
The folder structure and location of the virtual CD are stored centrally. So any client recognizes automatically if a new virtual CD is available in the network and include it into the management.

Add licenses as you expand the network
You can mix and match licences on the same network, start with 5 or 25. Private licences are authorised for use only at home for non-public purposes. Use of private licences in schools or industry or government or any other not for profit organisation is NOT authorised. Schools or businesses can buy the relevant 25 user license and then add further 25 user licenses or additional 5 user standard (NOT private) licences instead.


SCREENSHOTS


---
Use you back button to return to this page after viewing the screenshots. If the back button is greyed out then you can close the page down and this page will still be here.

Screenshot 1 | Screenshot 2


REVIEWS


---
Virtual CD 4 has won several comparison tests!

Many PC magazines did comparison tests during the recent past publishing their results in respective lab tests. We are proud to tell you that in all such tests Virtual CD has become "editors choice"! (ComputerBild, c't, PC Praxis, PC Magazine, PC Professionell, etc.)

See the complete list.
VERSIONS


---
Mediagold Virtual CD v4
Mediagold Virtual CD v4 Network edition
Virtual CD TS - Extended edition for Terminal Server/Metaframe
SYSTEM REQUIREMENTS


---
IBM-compatible PC with Pentium CPU or better
MS Windows 95/98/Me/XP/2000/NT 4.0 incl. Service pack 3 (or higher)
Minimum of 32MB RAM (Windows NT/2000: minimum of 64MB RAM)
5 MB on the hard disk for the software plus enough space for the CD image files
MS DirectSound-compatible sound card
CD-ROM/DVD drive
Additional requirements for Windows 95 users: MS DirectX v3 (or higher)
PRICING


---
VCD Upgrade from version 3 to 4 £19.95 / $29
VCD 4 Boxed version £29.95 / $49 / 44.95Euro
5 user licence (private) £59.95 / $99 / 84.95Euro
5 user licence £94.95 / $169 / 139.50Euro
25 user licence £424.95 / $759 / 619.50Euro
25 user licence (schools/education) £279.95 / $469 / 409.00Euro
Site license purchasers should add £3 / $5 for a copy of the media and manuals or contact us with your confirmed order and we can give you access to download the software (9Mb) and then receive your license key by email, same day.
er

Prices include 17.5% VAT

P&P will be charged at "light items" rates (1/2/3 etc) - see below

Email to check latest pricing or stock availability

Check Exchange Rates to convert UK pricing
Postage, Packing & Insurance Rates
1
UK light items (2nd class)
£3 (GBP)
2
UK light items insured (1st class) Any orders over £100
Customers may choose this rate on light items under £100 to speed delivery
£6 (GBP)
3
UK heavy items parcelpost
UK light items next day guaranteed
Europe light items
£9 (GBP)
4
World surface mail
£12 (GBP)
5
Europe heavy items
£15 (GBP)
6
UK heavy items next day guaranteed
World airmail
£18 (GBP)
If you require the outer packaging of your order to be intact for a gift then please add this to any special instructions as normally excess weight is removed before despatch to increase chances of a standard letter box delivery, and thus not require you to wait in to receive your order. Minimum P&P on fully boxed orders is £6
Order direct from BMSoftware
ORDERING


---
Any questions prior to ordering? - Then Email: sales@bmsoftware.com

To order, use the online

If the online ORDER FORM fails for any reason or your product is not yet listed there, or you wish to print and send your order, then fill in the following, hit the Select details button, and copy and paste to your email program or word processor:

Now hit Ctrl+C to copy the selected text to your clipboard and then paste (Ctrl+V) it into your preferred program
CONTACT DETAILS


---
Click here for full Contact Details including postal address, additional phone lines and technical support email.

Whilst we are based in the UK we can ship most items internationally.


| | | | | | | | |
| --- | --- | --- | --- | --- | --- | --- | --- |
| | RETURN TO TOP OF PAGE | | CLOSE WINDOW | | PRINT PAGE | | HOME |