| | | |
| --- | --- | --- |
| | Language Engineering LEC Translate (LogoMedia) | |
Details and specifications of LEC's Translate software, from £89, available in Standard, Pro, Euro, Asian, Magellan and Business editions. This range of translation software used by more than 3 million customers worldwide offers quality machine translation technology for English to/from Arabic, Chinese, Dutch, French, German, Hebrew, Italian, Japanese, Korean, Polish, Portuguese, Russian, Spanish and Ukrainian. Buy LEC Translate (Standard/Business/Pro) now.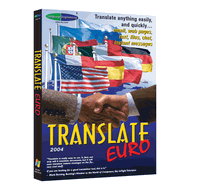 Includes the following features: LogoTrans, FileTrans, TipOfTheDay, Dictionaries (DB), TransIt Options, Editors Options & Control Panel. LEC (LogoMedia) Standard Edition products come with large System Dictionaries for use with general subjects. For the highest translation accuracy on particular documents, add our Technical Dictionaries or create User Dictionaries yourself. The set of Technical Dictionaries can be added by purchasing the Technical Dictionaries package now, or the Add-on CD later. The Dictionaries utility used to create your own dictionaries is included in the Standard edition.

The Standard Edition contains 4 cooperating translation applications that team up with your familiar programs. Use them alone or in combination. You're sure to find a translation application that meshes effortlessly with your own unique needs and work styles.

Use LogoTrans to translate as you type-a few sentences, a few paragraphs, or a small text file. Its two panes let you compare the original text and translation.

Use TransIt to translate a sentence or two and pop them into another application. TransIt is great for translating each chat or instant message as soon as you write it, and you can use the new TransView window to instantly translate arriving messages into a more familiar language.

Use Translation Mirror to monitor your primary application window and automatically translate whatever text appears there. Use it to monitor your email inbox for new messages or monitor your word processor to translate a business letter as you write it. Or use it to check a translation by translating from any other Translate application back into the original language.

Use FileTrans to generate batch translation of files or folders, including HTML. Drag a file or directory icon onto the FileTrans window and the translation is automatic. You can even select which file types are to be translated, copied, or ignored.



Fast

For instant translation of a document, email, web page or message, you don't even have to click a button. Just cut and paste any text for automatic translation.

Easy

If you are using Word, Excel, PowerPoint, or Internet Explorer you simply select the language you want for the document you are viewing. If you want to translate large files, websites, or multi-document folders, the drag-and-drop features allow you to translate content into the language of your choice.

High Quality

The best automatic translation available, Translate features customized translation engines for each language. So you'll get understandable, usable translations for an infinite number of sentences.

Flexible

Create personal dictionaries of your own terms and translations. Then access them, along with our specialized dictionaries, through a single, consistent interface.

To obtain the highest translation accuracy possible, choose a Pro version. Pro versions include Subject Dictionaries and our Dictionary Browser. Use the Dictionary Browser to supplement and refine the system and subject dictionaries. Pro products currently available include Chinese Pro, Dutch Pro, French Pro, German Pro, Italian Pro, Japanese Pro, Korean Pro, Polish Pro, Portuguese Pro, Russian Pro, Spanish Pro, and Ukrainian Pro.

If you require 3 or more languages then consider the Euro, Asian or Magellan product range consisting of from 8-11 languages together.
SCREENSHOTS


---
None Available
REVIEWS


---
None available
VERSIONS


---
Languages available:

Translate English to French with Technical Dictionaries, £89, Buy
Translate English to Spanish , £89, Buy
Translate English to Korean , £89, Buy
Translate English to Portuguese , £89, Buy
Translate English to Russian , £89, Buy
Translate English to Italian , £89, Buy<
Translate English to Ukrainian , £89, Buy<
Translate English to Chinese , £199, Buy<
Translate English to Japanese , £89, Buy<
Translate English to German , £89, Buy<
Translate English to Polish , £89, Buy<

Please see either Translate Bi-Directional Language Range (Eleven languages), from £89 and Translate Bi-Directional Language Range with Technical Dictionaries (Ten Languages), from £199

See also:

Translate Magellan Home, £399
Translate Magellan Business, £799
Translate Magellan Business with Technical Dictionaries, £1299
Translate European Home, £89
Translate European Business, £499
Translate European Business with Technical Dictionaries, £799
Translate Asian Home, £249
Translate Asian Business, £349
Translate Asian with Technical Dictionaries, £549

SYSTEM REQUIREMENTS


---
Windows 98/2000/ME/NT/ XP
CD-Rom
NT4.0 with SP6 or later
64 MB RAM
300-700MB of disk space
PRICING


---
Translate Magellan Business Edition, £799, Buy.


Prices include all applicable taxes

P&P will be charged at "light/heavy items" rates (1/2/3 or 3/6) - click here for full Postage & Delivery Details including shipping rates within the UK, Europe and worldwide, and next day before midday options.

Email to check latest pricing or stock availability

Check Exchange Rates to convert UK pricing or Email us with your country and/or currency for a quote.


ORDERING


---
Any questions prior to ordering? - then email: Sales, otherwise proceed to the Order Form.

If the online Order Form fails for any reason or your product is not yet listed there, or you wish to print and send your order, then fill in the following, hit the [Select details] button below, and copy and paste to your email program or word processor:

Now hit Ctrl+C to copy the selected text to your clipboard and then paste (Ctrl+V) it into your preferred Email program or click here to launch your Email editor.
CONTACT DETAILS


---
Click here for full Contact Details including postal address, additional phone lines and technical support email.

Whilst we are based in Norwich, Norfolk in the UK we can ship most items internationally.


RETURN TO
TOP OF PAGE

CLOSE
WINDOW

PRINT
PAGE

HOME
PAGE

TERMS AND
CONDITIONS

HELP ON USING
THIS SITE