| | | |
| --- | --- | --- |
| | Focus Complete Works of William Shakespeare | |
Details and specifications of Focus's Complete Works of William Shakespeare, (GBP inc VAT RRP £). All of Shakespeare's 37 plays, 5 poems and 154 sonnets are featured in this fascinating CD-ROM. [Buy now] or call us on 0870 766 3699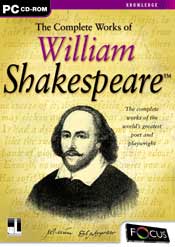 Focus
Complete Works of William Shakespeare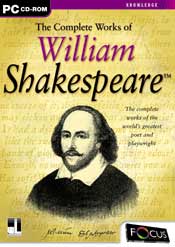 All of Shakespeare's 37 plays, 5 poems and 154 sonnets are featured in this fascinating CD-ROM. Uncover new insights into the writings of one of the world's most important playwrights.
One of the most powerful reference and research tools available today.

Simply search by word, subject, phrase, date, century, era, country and category. Read and compare up to eight works side by side making this an essential GCSE revision tool. Save money on individual collections of hardback books by using the print facility to print screens or entire works.

Complete Listing

All's Well That Ends Well
Antony and Cleopatra
As You Like It
Comedy of Errors
Coriolanus
Cymbeline
Five Poems
Hamlet Prince of Denmark
Henry V
Henry VIII
Julius Caesar
King Henry IV Part 1
King Henry IV Part 2
King Henry V1 Part 1
King Henry V1 Part 2
King Henry VI Part 3
King John
King Lear
King Richard II
King Richard III
Love's Labour's Lost
Lover's Complaint
Macbeth
Measure for Measure
Merchant of Venice
Merry Wives of Windsor
Midsummer Night's Dream
Much Ado About Nothing
Othello
Passionate Pilgrim
Pericles
Phoenix and the Turtle
Rape of Lucrece
Romeo and Juliet
Taming of the Shrew
The Tempest
Timon of Athens
Titus Andronicus
Troilus and Cressida
Twelfth Night
Two Gentlemen of Verona
Venus and Adonis
Winter's Tale
154 Sonnets


Manufacturer's Product Code: Focus Multimedia Ltd ESS034 Our Product Ref: FOCCWS
SCREENSHOTS


---
Use you back button to return to this page after viewing the screenshots.

Screenshot 1
REVIEWS


---
"As you'd rightfully expect, this disc holds the complete works of William Shakespeare. All the plays from All's Well That Ends Well to The Winter's Tale are here, as are the Bard's 154 sonnets. And, as promised, you can either read them on the screen, print part or whole pieces, and search for key words or dates in the texts. For any student of English literature, it seems like an absolute essential.

And when you consider that a single school or university-recommended Shakespeare book can cost more than this entire collection, the CD does appear exceptional value for money. The problem is that, unlike those recommended texts, The Complete Works Of William Shakespeare CD provides no explanatory detail. There are no descriptions of archaic words, or notes on their pronunciation or by-gone usage. Neither will you find any notes about the historical context, such as the Elizabethan political climate or the religious backdrop to Shakespeare's plays, or any discussion of cultural nuances.

For experienced Shakespearean scholars, this is no great shakes. For new or unfamiliar readers, though, these details are essential in bringing the Bard's work to life.

The program's ability to search through the complete works is, however, good fun. It makes it easy to look for those half-remembered lines and quotes. Within seconds you can refresh your memory of the deliciously offensive line "whoreson, beetle-headed, flap-ear'd knave". "

Review from PC Pro


"Consumers gave Complete Works Of William Shakespeare an average rating of 3/5" at Review Index.co.uk mainly commenting on how much you get for how little, yet that it lacks many features beyond search, copy/edit and print.
SYSTEM REQUIREMENTS


---
| | | | |
| --- | --- | --- | --- |
| | Windows 3.1x/95/98/Me | Yes | 486DX2 66MHz processor or faster, 2MB free hard disk space, 8MB RAM, 16 Bit SoundBlaster or 100% compatible soundcard, CD-ROM drive |
| | Apple MAC | N/A | Purchase Virtual PC first |
| | Linux | N/A | |
VERSIONS, OPTIONS & ALTERNATIVES


---
| | | | | | |
| --- | --- | --- | --- | --- | --- |
| Focus | Complete Works of William Shakespeare | | (RRP £) | [FOCCWS] | Buy |

Compare also:


PRICING


---
| | | | | | |
| --- | --- | --- | --- | --- | --- |
| Focus | Complete Works of William Shakespeare | | (RRP £) | [FOCCWS] | Buy |
Prices are in £GBP and include all applicable taxes (VAT etc)

P&P will be charged at "light items" rates
(Some valuable items may have to go special delivery and packages may have outer packaging or inner boxing removed to save weight, if this is a gift or for resale please request intact boxes)

See our full Postage & Delivery Details including shipping rates within the UK, Europe and worldwide, first class and next day before 9 AM and 12 Noon, same day options.

Email to check latest pricing or stock availability

Check Exchange Rates to convert UK pricing or Email us with your country and/or currency for a quote.


ORDERING


---
Any questions prior to ordering? - then email: Sales or call us on 0870 766 3699, otherwise proceed to the Order Form.

If the online Order Form fails for any reason or your product is not yet listed there, or you wish to print and send your order, then fill in the following, hit the [Select details] button below, and copy and paste to your email program or word processor:

Now hit Ctrl+C to copy the selected text to your clipboard and then paste (Ctrl+V) it into your preferred Email program or click here to launch your Email editor.
CONTACT DETAILS


---
Click here for full Contact Details including postal address, additional phone lines and technical support email.

Whilst we are based in Norwich, Norfolk in the UK we can ship most items internationally.


RETURN TO
TOP OF PAGE

CLOSE
WINDOW

PRINT
PAGE

HOME
PAGE

TERMS AND
CONDITIONS

HELP ON USING
THIS SITE