| | | |
| --- | --- | --- |
| | FastTrak Audio Cleaning Lab 2004 | |
Details and specifications of FastTrak's Audio Cleaning Lab 2004 , £9.99 (GBP inc VAT £9.99). Be it from vinyl, cassette, CD or MP3 files out of the Internet. [Buy now] or call us on 0870 766 3699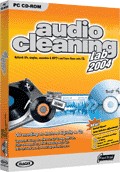 FastTrak Audio Cleaning Lab 2004

Be it from vinyl, cassette, CD or MP3 files out of the Internet - the fully automated and precise MAGIX audio cleaning lab 2004 will give them all new sparkle.

Old recordings burned perfectly onto CD.

Unwanted noises out, effects in: LP, CD, tape, MP3 etc.

Fully automated for perfect sounding music CDs

Incl. surround sound, mastering and much more

An end to hissing, crackles, scratches, etc. Remove unwanted noise, regenerate missing sound spectra, modify tempo – no problem! Fully automated racket elimination!

Pumping bass and sharp treble Transparent frequencies with maximum dynamics, optimal volume for all tracks, and perfect stereo panorama for a totally fresh listening experience. Plus reverb, surround sound and much more.

Burn perfect sounding music onto CD Compile your own music CD automatically. Includes easy fading between tracks and impressive cover and label printing. Save up to 12 hours of MP3 sounds or OGG Vorbis on each CD-ROM. Save money, time and space. Well tidy!

Breathe new life into old recordings! Personal "Best of" compilation CDs – digitally remastered

Modify all music styles to suit the lounge, party and automobile

Archive your own recordings – ideal for music hobbyists

Digital data storage – quick and secure

MORE! 25 special effects for LP, CD, MC, MP3, etc.

Automatic remedy video soundtracks (AVI)

NEW! Incl. revolutionary Sound Cloner, 3 band

1. Record Simply connect the stereo system and transmit. Or load files (WAV, MP3, OGG Vorbis etc.) directly from the hard disk.

2. Restore Identify and eliminate precisely any kind of unwanted background noise (rustling, crackling, etc.), then refresh your sounds with further effects (equaliser, dynamics, etc.). Either complete albums created automatically "as one", track for track, or plotted precisely "by hand". Not a scratch to be heard!

3. The perfect music CD Simply specify the order in which tracks should follow, and burn – your own music CD is complete. Autoplay-capable MP3 CDs are no problem. Up to 12 hours of digital music stored on each disc!

Even with obstinate recordings: Tweak, listen, and be amazed

Rejuvenate old sounds!

NEW! Copy reference sounds & masters (Sound Cloner)

Eliminate clicks (Declicker)

Remove crackles (Decrackler)

Filter out buzzing (Denoiser)

Silence hissing (Dehisser)

NEW! Remove annoying "S" noise (DeEsser)

NEW! Filter out vinyl rumbling (DeRumbler)

Optimize stereo sounds (Stereo FX)

Iron out volume fluctuation (Compressor)

Pumping bass, sharp treble (10 Band EQ)

Regenerate missing sound spectra (Brilliance Enhancer)

Dynamic frequency adjustment (Multi-band mastering)

Delete over-modulation / direct voltage units

Correct tempo and pitch

Time-stretching / Pitch-shifting / Resampling)

Maximize volume (Normalize) Remove clipping and DC offset

Exclusive sound features (Reverb / Delay)

Authentic spatial impressions (Acoustic processor)

Spectacular sound dimensions (Surround Sound)

Plug-in support for further effects (DirectXTM) The unique Object Editor!

All real-time mastering effects can be applied not only to the entire project or CD, but also for each individual title in the object editor. Detailed fine-tuning without having to compromise!

Music was never so much fun!


NEW! Automatic volume adjustment (Auto Volume)
Perfect sound recycling from vinyl, cassette, CD, MP3 etc.
Fully automatic program guidance + intuitive real-time editing
NEW! Timer-controlled recordings (e.g. Internet radio)
Automatic recording: individual tracks identified and selected
MORE! 25 professional studio effects for all applications (non-destructive)
Authentic sound characteristics for every music style (dance, techno, classical, etc.)
Copy frequency spectra from your favorite CDs and sounds –
including many reference sounds (Sound Cloner)
At-a-glance overview with enlargeable wave display and visualizer
2-Track mode for arranging, crossfading and cutting
Karaoke: filter out singing – add your own voices
Recording function connection for microphones, instruments, etc.
BETTER! Automatic video sound track cleaning (AVI)
Burn music CDs, MP3 files and backups (burn-proof support / (DAO)
MORE! Export as WAV, OGG Vorbis, Internet Streaming Format (WMA) or MP3 files (upgradeable MP3 demo encoder with 20 runs)


Manufacturer's Product Code: Our Product Ref: FTAUL4
SCREENSHOTS


---
None Available
REVIEWS


---
None available
SYSTEM REQUIREMENTS


---
Windows 95/98/ME/NT/2000/XP
Yes

Processor from 300 MHz
Main memory from 32 MB (64 MB recommended)
100 MB free harddisk space (minimum)
Resolution 800 x 600 with 16 Bit high color (Minimum)
16-Bit soundcard
CD-ROM drive
Microsoft compatible Mouse
Optional:CD burner with SCSI- or IDE CD recorder.

Apple MAC
N/A
Purchase Virtual PC first
Linux
N/A
VERSIONS, OPTIONS & ALTERNATIVES


---
| | | | | | |
| --- | --- | --- | --- | --- | --- |
| FastTrak | Audio Cleaning Lab 2004 | £9.99 | (£9.99) | [FTAUL4] | Buy |

Compare also:


| | | | | | | |
| --- | --- | --- | --- | --- | --- | --- |
| FastTrak | Audio Cleaning Lab 2005 | £9.99 | (£9.99) | [FTAUL5] | Buy | | View |
PRICING


---
| | | | | | |
| --- | --- | --- | --- | --- | --- |
| FastTrak | Audio Cleaning Lab 2004 | £9.99 | (£9.99) | [FTAUL4] | Buy |

Also see alternative versions and products above

Prices are in £GBP and include all applicable taxes (VAT etc). Purchases of multiple copies may be eligible for discounts of up to 40%, email us for a quote with the quantity you require.

P&P will be charged at "light items" rates
(Some valuable items may have to go special delivery and packages may have outer packaging or inner boxing removed to save weight, if this is a gift or for resale please request intact boxes)

See our full Postage & Delivery Details including shipping rates within the UK, Europe and worldwide, first class and next day before 9 AM and 12 Noon, same day options.

Email to check latest pricing or stock availability

Check Exchange Rates to convert UK pricing or Email us with your country and/or currency for a quote.


ORDERING


---
Any questions prior to ordering? - then email: Sales or call us on 0870 766 3699, otherwise proceed to the Order Form.

If the online Order Form fails for any reason or your product is not yet listed there, or you wish to print and send your order, then fill in the following, hit the [Select details] button below, and copy and paste to your email program or word processor:

Now hit Ctrl+C to copy the selected text to your clipboard and then paste (Ctrl+V) it into your preferred Email program or click here to launch your Email editor.
CONTACT DETAILS


---
Click here for full Contact Details including postal address, additional phone lines and technical support email.

Whilst we are based in Norwich, Norfolk in the UK we can ship most items internationally.


RETURN TO
TOP OF PAGE

CLOSE
WINDOW

PRINT
PAGE

HOME
PAGE

TERMS AND
CONDITIONS

HELP ON USING
THIS SITE