Details and specifications of Cutthroats, £4.99. Rob, loot, plunder, pillage in this adventure in the Caribbean. Based in the 17th Century when the waters were rife with pirates, your aim is to become a Pirate King, are you swashbuckler enough for the job?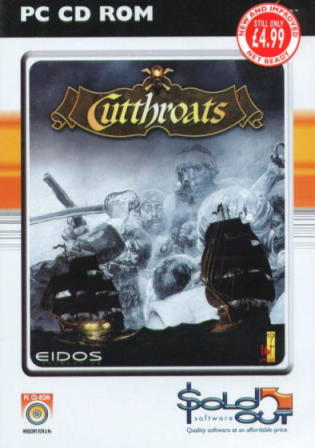 Sophisticated real-time strategy engines enables complex amphibious assaults; Bombard fortesses with ship's cannon, while your men pillage the town. customize your fleet and armies as you prepare to fight on land and sea. 6,000,000 miles of oceans and land to terrorize with over 70 ports to sack and pillage." Wealth is the name of the game, and if you haven't got it...steal it. Raid pillage and plunder your way to infamy on the bounty-laden seas of the 17th century Caribbean. Strike terror into the hearts of your victims, capture ships and ravage towns. Work your way up from a small trading vessel to a galleon bristling with cannons, but remember to keep your crew plied with rum and treasure or face a mutiny!

Will you survive to retire a Pirate King, or end your days by dancing death's jig on Gallows Rock?


Sophisticated real-time strategy requiring all the cunning and aggression you can muster
Experience the freedom of over 6 millions square miles of the Caribbean
Explore and loot over 70 different ports
A thousand different ships sailing around a million square miles of coast
Over 300 settlement Governors with different personalities and political motives
SCREENSHOTS


---
None Available
REVIEWS


---
None available
VERSIONS


---
Cutthroats, £4.99

Compare also:
The other great titles in the bargain 'Sold Out' range:
Tomb Raider, £4.99
Tomb Raider II, £4.99
Tomb Raider III, £4.99
Caesar III, £4.99
Pharaoh, £4.99

SYSTEM REQUIREMENTS


---
Pentium 166 (min.)
Windows 95/98/Me
32 Mb RAM (Min.)
8x CD ROM Drive
2Mb Graphics Card DirectX 6.1 Compatible
DirectX 6.1 compatible sound card
Mouse and keyboard
700 Mb of free hard drive space
PRICING


---
Cutthroats, £4.99


Prices include all applicable taxes

P&P will be charged at "light items" rates (1/2/3) - see below

Email to check latest pricing or stock availability

Check Exchange Rates to convert UK pricing
Postage, Packing & Insurance Rates
1
UK light items (2nd class)
£3 (GBP)
2
UK light items insured (1st class) Any orders over £100
Customers may choose this rate on light items under £100 to speed delivery
£6 (GBP)
3
UK heavy items parcelpost
UK light items next day guaranteed
Europe light items
£9 (GBP)
4
World surface mail
£12 (GBP)
5
Europe heavy items
£15 (GBP)
6
UK heavy items next day guaranteed
World airmail
£18 (GBP)
If you require the outer packaging of your order to be intact for a gift then please add this to any special instructions as normally excess weight is removed before despatch to increase chances of a standard letter box delivery, and thus not require you to wait in to receive your order. Minimum P&P on fully boxed orders is £6
ORDERING


---
Any questions prior to ordering? - Then email: sales@bmsoftware.com.

To order, use the online

If the online [Order Form] fails for any reason or your product is not yet listed there, or you wish to print and send your order, then fill in the following, hit the [Select details] button, and copy and paste to your email program or word processor:

Now hit Ctrl+C to copy the selected text to your clipboard and then paste (Ctrl+V) it into your preferred program Make sure you read our Terms and Conditions.
CONTACT DETAILS


---
Click here for full Contact Details including postal address, additional phone lines and technical support email.

Whilst we are based in the UK we can ship most items internationally.


| | | | | | | | |
| --- | --- | --- | --- | --- | --- | --- | --- |
| | RETURN TO TOP OF PAGE | | CLOSE WINDOW | | PRINT PAGE | | HOME |