Details and specifications of Caesar III, £4.99. This strategy game is based in Roman times, requires you keep lots of people happy! From Caesar to peasants working on the land, to the Gods, who play a big part in how you fare! This another high-rated game form Sold Out, which explains the bargain price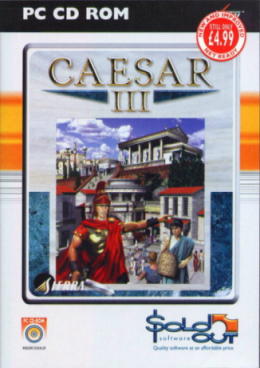 As a privincial governor charged with spreading the glory of Rome your mission is clear: build cities, foster trade and industry, make money. How you accomplish this is entirely up to you. Gain wealth and power, make a career out of pleasing the Emperor. Battle barbarians and repel invaders, or concentrate on building the next Eternal City.

Fail and you'll end up as lunch for the lions. Prove your strength of mind and spirit and you just may be crowned Caesar!

Appease 5 Gods with temples and festivals. Each God haas its own sphere of influence: please Ceres, and your crops will thrive but dishonour Neptune and watch your trade ships sink into the sea.

A truly intuitive, helpful interface lets you jump right in and start building.

Use the city construction kit to build the perfect city.

Build and defend on one screen - no more switching screens.

SCREENSHOTS


---
None Available
REVIEWS


---
None available
VERSIONS


---
Caesar III, £4.99

Compare also:
Tomb Raider, £4.99
Tomb Raider II, £4.99
Tomb Raider III, £4.99
Cutthroats, £4.99
Pharaoh, £4.99

SYSTEM REQUIREMENTS


---
Pentium 90 (min)
Windows 95/98/Me/XP
4x CD ROM Drive
16 Mb RAM (min)
SVGA 16 bit colour Graphics Card
Windows compatible Sound Card
Mouse and Keyboard
150Mb Hard Drive Space
PRICING


---
Caesar III, £4.99


Prices include all applicable taxes

P&P will be charged at "light items" rates (1/2/3) - see below

Email to check latest pricing or stock availability

Check Exchange Rates to convert UK pricing
Postage, Packing & Insurance Rates
1
UK light items (2nd class)
£3 (GBP)
2
UK light items insured (1st class) Any orders over £100
Customers may choose this rate on light items under £100 to speed delivery
£6 (GBP)
3
UK heavy items parcelpost
UK light items next day guaranteed
Europe light items
£9 (GBP)
4
World surface mail
£12 (GBP)
5
Europe heavy items
£15 (GBP)
6
UK heavy items next day guaranteed
World airmail
£18 (GBP)
If you require the outer packaging of your order to be intact for a gift then please add this to any special instructions as normally excess weight is removed before despatch to increase chances of a standard letter box delivery, and thus not require you to wait in to receive your order. Minimum P&P on fully boxed orders is £6
ORDERING


---
Any questions prior to ordering? - Then email: sales@bmsoftware.com.

To order, use the online

If the online [Order Form] fails for any reason or your product is not yet listed there, or you wish to print and send your order, then fill in the following, hit the [Select details] button, and copy and paste to your email program or word processor:

Now hit Ctrl+C to copy the selected text to your clipboard and then paste (Ctrl+V) it into your preferred program Make sure you read our Terms and Conditions.
CONTACT DETAILS


---
Click here for full Contact Details including postal address, additional phone lines and technical support email.

Whilst we are based in the UK we can ship most items internationally.


| | | | | | | | |
| --- | --- | --- | --- | --- | --- | --- | --- |
| | RETURN TO TOP OF PAGE | | CLOSE WINDOW | | PRINT PAGE | | HOME |