| | | |
| --- | --- | --- |
| | TES Bar Ilan Classic Library 13 | |
Details and specifications of TES's Bar Ilan Classic Library 13, £527.95 (GBP inc VAT RRP £). The world's largest and most respected Jewish database on CDROM. [Buy now] or call us on 0870 766 3699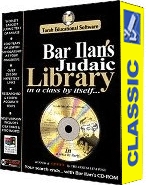 TES Bar Ilan Classic Library 13

Simple to use...
Yet more powerful than anything that exists...
Access and search...
Centuries of scholarship & wisdom in a split second...
View Original Hebrew Text, & Commentaries at once!
HYPER-LINKS throughout make this CD a most productive tool for research...
Everything Printable...

For 2003 Bar Ilan University is introducing a brand new version called The Bar Ilan Classic Library. This new version is the same as Bar Ilans' other two larger versions with the exception of the Responsa texts at a substantially reduced price! Click here to view the text databases included in this product.

Features - Bar Ilan Classic Library
- New Commentary in this version include: Tosafos, with the unparalleled accuracy based on critical checking of the texts, that is Bar Ilan's hallmark.
- New Citations allow you to look up a verse (pasuk) in Tanach, for example, press a button, and automatically have instant access to every place where that verse is discussed on any page of the Talmud (Gemara).
- New Hyperlinks feature - Imagine learning Tosafos who cites a passage in the Midrash Rabbah. Press on a hyperlink and automatically view the relevant passage in the Midrash.

ADDITIONAL NOTEWORTHY FEATURES:

Hypertext Links between: Chiddushei Ritva & Talmud Bavli & Yerushalmi Zohar & Tanach
Ability to display cross references & commentaries on individual Tanach verse
Ability to print multiple texts consecutively without page breaks.
Ability to customize appearance of database tree.
Ability to scroll database with "mouse wheel".
Ability to "drag and drop" text.
Ability to search notes and annotated texts.
Ability to print and save text and notes.
Ability to print and save copy of Shulchan Aruch without references and supercommentaries.
Virtual Hebrew Keyboard for simplified Hebrew text entry.
Index of Periodicals a total of 19,000 article titles
Instant Daf Yomi lookup - Includes: Talmud Rashi & Tosefot - Hypertext - Linked with Rambam - Talmud sentence punctuation, plus Instant Abbreviation Dictionary. In addition you have instant access to Rishonim & Achronim throughout the database.
Hypertext between databases:
Hypertext between the Bible, Mishnah, Talmud Bavli and Minor Tractates.
Hypertext between Rashi/Tosafos and the following databases: Bible Mishnah, Tosefta, Minor Tractates, Talmud Bavli, Rashi, Tosafos, Talmud Yerushalmi, Aggadic Midrashim, Halachic Midrashim
Hypertext between Shulchan Aruch/Rema
Cross references to biblical citations in other databases (Mishnah, Talmud Bavli, Minor Tractates, Rashi on the Bavli, Tosafos)

Enhancements to the Copy and Paste feature:
Pasting to the clipboard, file or printer
Copying selected search results in a window

All words of the search string are highlighted in search results Windows and expanded display windows
Option to display only selected search results
Use of different fonts:
In Parsha databases: dibbur haMaskil appears in a different font than regular text
In Shulchan Aruch database (Beis Yosef and Rema)
Forms in the Filtered Search screen can be listed in order of frequency or in alphabetical order.

ADDITIONAL STUDY TOOLS
GEMATRIA SYSTEM
BOOLEAN SEARCH
QUICK EASY SEARCH
DIKDUK SEARCH
BIOGRAPHIES of RABBIS (In Hebrew or English)
INSTANT DAF YOMI SYSTEM


Manufacturer's Product Code: ISBN 1-931711-27-5 Our Product Ref: BICL13
SCREENSHOTS


---
None Available
REVIEWS


---
None available
SYSTEM REQUIREMENTS


---
| | | | |
| --- | --- | --- | --- |
| | Windows PC | Yes | Pentium etc |
| | Apple MAC | N/A | Purchase Virtual PC first |
| | Linux | N/A | |
VERSIONS, OPTIONS & ALTERNATIVES


---
| | | | | | |
| --- | --- | --- | --- | --- | --- |
| TES | Bar Ilan Classic Library 13 | £527.95 | (RRP £) | [BICL13] | Buy |

Compare also:


PRICING


---
| | | | | | |
| --- | --- | --- | --- | --- | --- |
| TES | Bar Ilan Classic Library 13 | £527.95 | (RRP £) | [BICL13] | Buy |

Also see alternative versions and products above

Prices are in £GBP and include all applicable taxes (VAT etc). Purchases of multiple copies may be eligible for discounts of up to 40%, email us for a quote with the quantity you require.

P&P will be charged at "heavy items" rates
(Some valuable items may have to go special delivery and packages may have outer packaging or inner boxing removed to save weight, if this is a gift or for resale please request intact boxes)

See our full Postage & Delivery Details including shipping rates within the UK, Europe and worldwide, first class and next day before 9 AM and 12 Noon, same day options.

Email to check latest pricing or stock availability

Check Exchange Rates to convert UK pricing or Email us with your country and/or currency for a quote.


ORDERING


---
Any questions prior to ordering? - then email: Sales or call us on 0870 766 3699, otherwise proceed to the Order Form.

If the online Order Form fails for any reason or your product is not yet listed there, or you wish to print and send your order, then fill in the following, hit the [Select details] button below, and copy and paste to your email program or word processor:

Now hit Ctrl+C to copy the selected text to your clipboard and then paste (Ctrl+V) it into your preferred Email program or click here to launch your Email editor.
CONTACT DETAILS


---
Click here for full Contact Details including postal address, additional phone lines and technical support email.

Whilst we are based in Norwich, Norfolk in the UK we can ship most items internationally.


RETURN TO
TOP OF PAGE

CLOSE
WINDOW

PRINT
PAGE

HOME
PAGE

TERMS AND
CONDITIONS

HELP ON USING
THIS SITE