| | | |
| --- | --- | --- |
| | New International Dictionary of New Testament Theology 5 | |
Details and specifications of New International Dictionary of New Testament Theology 5 , £109. Containing more than 3,000 entries, this piece of software enhances understanding of the meanings behind the words in the New Testament.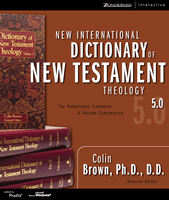 The New International Dictionary of New Testament Theology (NIDOTTE) is the Old Testament counterpart to the acclaimed New International Dictionary of New Testament Theology (Colin Brown, editor). It gives the scholar as well as the nonspecialist a nuanced understanding of the meaning of words and concepts in the context of the Ancient Near East and of the Old Testament, as well as a grasp of similarities and differences among words within the same semantic field or domain.

The New International Dictionary of New Testament Theology contains more than 3,000 separate entries, written by more than 200 scholars from 24 countries and more than 100 academic institutions, as well as thousands of cross-reference entries.

Compatible with Pradis Based Zondervan Bible Study Library Series and other Pradis based titles such as New International Dictionary of New Testament Theology for Windows, New International Dictionary of New Testament Theology for Windows, Expositor's Bible Commentary for Windows 5.0.

NIDOTTE is the ideal tool for anyone wanting to do serious Old Testament study or exegesis: academics, pastors, students, and laypersons. Whether you are a Hebrew scholar or do not know Hebrew at all, this CD-ROM will deepen your understanding of the Old Testatment and the richness of its languange. As you trace a word's development and usage, you can customize your preferences to read that word in full transliteration (useful for technical scholarship), simplified transliteration (especially suitable for the lay person), and actual Hebrew/Armaic (for the dedicated linguist).

Complete 5-Volume Set on your computer!

The NIDOTTE CD-ROM gives you more than a benchmark source of insight into the Old Testatment. It gives you incredible efficiency: remarkable breadth and detail plus lightning swift speed, ease, and flexibility. Whether you're preparing a sermon or lesson, researching for a paper, or just studying for personal growth, you'll find copious, detailed information in minutes, not hours. The NIDOTTE CD-ROM offers such advantages as:

Lightning-fast word searches by English,
transliterated Hebrew/Aramaic, or
Goodrick/Kohlenberger numbers
Hypertext Bible references

Convenient drag-and-drop or cut-and-paste

. . . and more

NIDOTTE's unique organization gives the reader access to insights from past and current scholarship:

1. Guide to New Testament Theology (Volume 1)

Eleven essays give the reader an overview of the field of biblical hermeneutics and interpretation and provide guidelines for using NIDOTTE in the interpretation and exegesis of the Old Testament.

2. The lexical dictionary (Volumes 1–3)

Entries are arranged in Hebrew alphabetical sequence
Each entry heading contains the Goodrick/Kohlenberger number for the Hebrew word (a cross-reference index allows for use with the Strong's numbering system)
Hebrew and Aramaic words are transliterated
Entries in the dictionary discuss the Hebrew word in the context of the Ancient Near East, its use and significance in the Old Testament, its relationship to post-canonical Hebrew and Greek, and New Testament usage
Cross-references suggest to the reader other words that will enhance a nuanced understanding of related words in the semantic domain
A bibliography is found at the end of most articles
3. The topical dictionary (Volume 4)

This section includes articles on the theology of each book of the Old Testament, and on biblical concepts, people, places, events, and literary pieces, as well as some 1,300 topics with cross-references to the lexical volumes (1–3)

4. Indexes (Volume 5)

• Hebrew Index
• Scripture Index
• Subject Index
• Semantic Field Index

The easy-to-use Pradis interface is:

TRANSPARENT - Right click on any word to see the related English or Hebrew topic in NIDOTTE or any Pradis compatible book.

POWERFUL - More powerful than a print volume. Search by G/K number for all instances of a Hebrew word in the NIV.

USER-DRIVEN - Write as manypersonal notes as you need and link them to articles.

INTUITIVE - Navigate by an English or Hebrew (true ortransliterated) word.

FLEXIBLE - Search by Scripturereferences to see all the instances a particular passage is referenced in thedictionary.

More new features of this CD-ROM include a Search Assistant;
Bookmarks for Book, Chapter, Verse, Topic, or Subtopic;
Take notes and attach to Book, Chapter, Verse, Topic, or Subtopic;
Customize text, background colors, font, and point size.

SCREENSHOTS


---
None Available
REVIEWS


---
None available
VERSIONS


---
New International Dictionary of New Testament Theology 5 , £109

Compare also:

SYSTEM REQUIREMENTS


---
Windows 95, 98, ME, 2000, NT, XP
IBM Compatible PC
Pentium 166 MHz or higher processor
32 MB of RAM
54 MB of hard disk space
CD-ROM
VGA or higher resolution monitor
Mouse
PRICING


---
New International Dictionary of New Testament Theology 5 , £109


Prices include all applicable taxes

P&P will be charged at "light items" rates (1/2/3 or 3/6) - see below

Email to check latest pricing or stock availability

Check Exchange Rates to convert UK pricing
Postage, Packing & Insurance Rates
1
UK light items (2nd class)
£3 (GBP)
2
UK light items insured (1st class) Any orders over £100
Customers may choose this rate on light items under £100 to speed delivery
£6 (GBP)
3
UK heavy items parcelpost
UK light items next day guaranteed
Europe light items
£9 (GBP)
4
World surface mail
£12 (GBP)
5
Europe heavy items
£15 (GBP)
6
UK heavy items next day guaranteed
World airmail
£18 (GBP)
If you require the outer packaging of your order to be intact for a gift then please add this to any special instructions as normally excess weight is removed before despatch to increase chances of a standard letter box delivery, and thus not require you to wait in to receive your order. Minimum P&P on fully boxed orders is £6
ORDERING


---
Any questions prior to ordering? - Then email: sales@bmsoftware.com.

To order, use the online

If the online [Order Form] fails for any reason or your product is not yet listed there, or you wish to print and send your order, then fill in the following, hit the [Select details] button, and copy and paste to your email program or word processor:

Now hit Ctrl+C to copy the selected text to your clipboard and then paste (Ctrl+V) it into your preferred program Make sure you read our Terms and Conditions.
CONTACT DETAILS


---
Click here for full Contact Details including postal address, additional phone lines and technical support email.

Whilst we are based in the UK we can ship most items internationally.


| | | | | | | | |
| --- | --- | --- | --- | --- | --- | --- | --- |
| | RETURN TO TOP OF PAGE | | CLOSE WINDOW | | PRINT PAGE | | HOME |