| | | |
| --- | --- | --- |
| | Microsoft Windows 2000 Professional Full Retail Box | |
Details and specifications of Microsoft's Windows 2000 Professional Full Retail Box, (GBP inc VAT RRP £). Windows 2000 Professional is the Windows operating system for business desktop and laptop systems. It is used to run software applications, connect to Internet and intranet sites, and access files, printers, and network resources. [Buy now] or call us on 0870 360 3699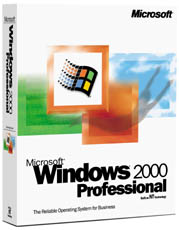 Microsoft
Windows 2000 Professional Full Retail Box
Built on Windows NT® technology and the easy-to-use, familiar Windows® 98 user interface, Windows 2000 Professional gives business users increased flexibility. The integrated Web capabilities let you connect to the Internet from anywhere, at anytime—giving your company access to host of flexible, cost-effective communications options. In addition, broad peripheral and mobile computer support make Windows 2000 Professional an ideal operating system for a workforce that increasingly relies on notebook computers. Further, your support and administrative staff will particularly appreciate the reliability and manageability enhancements that make desktop management simpler and more efficient. Windows 2000 Professional lets you:
Work how and where you want with new peripheral support and features that extend notebook capabilities.
Rely on your PC to be up and running with enterprise level quality.
Work the way you did with Windows 98, only much faster. Combine the ease of Windows 98 with the manageability, reliability, and security of Windows NT, at speeds 30 percent faster than Windows 98 on PCs with 64 MB of RAM or more.
Communicate, share information, and use the Internet quickly and easily. With integrated support for Internet-enabled applications, business software developers incorporate the new ways to create and share information made possible by the Internet.


Manufacturer's Product Code: Our Product Ref: WN2KPB
SCREENSHOTS


---
None Available
REVIEWS


---
None available
SYSTEM REQUIREMENTS


---
| | | | |
| --- | --- | --- | --- |
| | PC | Yes | Pentium 133 MHz, 64MB RAM, 2 GB with 650 MB free HD space*, VGA Display, CDROM drive, Mouse |
| | Apple MAC | N/A | This product cannot be used on a Mac |
| | Linux | N/A | |
*Note that the precise amount depends on your PC configuration and the options you have chosen when installing. Also more HD space will be needed to run applications.

VERSIONS, OPTIONS & ALTERNATIVES


---
| | | | | | |
| --- | --- | --- | --- | --- | --- |
| Microsoft | Windows 2000 Professional Full Retail Box | | (RRP £) | [WN2KPB] | Buy |

Compare also:


PRICING


---
| | | | | | |
| --- | --- | --- | --- | --- | --- |
| Microsoft | Windows 2000 Professional Full Retail Box | | (RRP £) | [WN2KPB] | Buy |
Prices are in £GBP and include all applicable taxes (VAT etc)

P&P will be charged at "heavy items" rates unless you request box removal
(Some valuable items may have to go special delivery and packages may have outer packaging or inner boxing removed to save weight, if this is a gift or for resale please request intact boxes)

See our full Postage & Delivery Details including shipping rates within the UK, Europe and worldwide, first class and next day before 9 AM and 12 Noon, same day options.

Email to check latest pricing or stock availability

Check Exchange Rates to convert UK pricing or Email us with your country and/or currency for a quote.


ORDERING


---
Any questions prior to ordering? - then email: Sales or call us on 0870 766 3699, otherwise proceed to the Order Form.

If the online Order Form fails for any reason or your product is not yet listed there, or you wish to print and send your order, then fill in the following, hit the [Select details] button below, and copy and paste to your email program or word processor:

Now hit Ctrl+C to copy the selected text to your clipboard and then paste (Ctrl+V) it into your preferred Email program or click here to launch your Email editor.
CONTACT DETAILS


---
Click here for full Contact Details including postal address, additional phone lines and technical support email.

Whilst we are based in Norwich, Norfolk in the UK we can ship most items internationally.


RETURN TO
TOP OF PAGE

CLOSE
WINDOW

PRINT
PAGE

HOME
PAGE

TERMS AND
CONDITIONS

HELP ON USING
THIS SITE