| | | |
| --- | --- | --- |
| | The Whole Bible Classic Sermon Collection | |
Details and specifications of The Whole Bible Classic Sermon Collection, £24.95. Features the 32 volume An Exposition of the Sriptures by Alexander MacClaren, who bought together over 4,000 sermons preached over a 65-year period. also includes works by Calvin, Augustine, Chrysostom, Edwards, Finney, and Pink etc...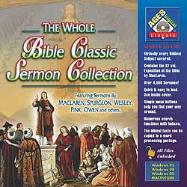 Featuring An Exposition of the Scriptures by Alexander MacClaren (1827-1910)

AGES Software is pleased to present The Whole Bible Sermon Collection. Over 4000 sermons are included on this incredible resource, on virtually every Biblical and theological subject. With over 75 years worth of material, this collection is a must for any pastor or Bible student. The Whole Bible Classic Sermon Collection features the 32 volume An Exposition of the Scriptures by Alexander MacClaren, released in an electronic format for the first time. MacClaren developed his Exposition by bringing together over 65 years of his sermons preached as a minister in the 19th century.

AGES Software has complemented MacClaren's Exposition with sermons from other classic Bible expositors such as Augustin, Chryostom, Calvin, Spurgeon, Owen, Pink, Moody and Wesley.

The sermons are arranged in Biblical order compete with their titles, for the most convenient and efficient use. AGES Software has gone to great lengths to ensure that most Biblical and theological subjects have works from multiple authors, to better assist the student with their study or the pastor with their preparation.

The Whole Bible Sermon Collection designed to leave no Biblical jewel undiscovered, will give today's bible student enough material to last a lifetime. AGES Software is pleased to be able to present this collection for the most affordable price possible. Similar hard-copy collections can cost well over 300$, and for under a half a penny per sermon, countless hours of sermons study and preparation can be saved.

Also Contains:


John Calvin: Lectures on Jeremiah - Malachi
St. Augustine: Homilies on Psalms, John and 1 John
John Chrysostom: Homilies on Matthew, and Galatians-Thessalonians
Jonathan Edwards: Sermons on various subjects (2 volumes)
Charles Finney: The Finney Sermon Collection
John Flavel: The Fountain of Life
Dwight Moody: 12 Select Sermons
John Owen: Sermon Collection (2 volumes)
Arthur Pink: Gleanings from Elijah, Elisha, Joshua, David, and Paul
Charles Spurgeon: Sermon Collection (10 Volumes)
John Wesley: Sermon Collection (3 Volumes)
John Whitefield: 59 Sermons
SCREENSHOTS


---
None Available
REVIEWS


---
None available
VERSIONS


---
The Whole Bible Classic Sermon Collection, £24.95

Compare also:
Master Christian Library, from £33
Ultimate Christian Library, £234.95

SYSTEM REQUIREMENTS


---
PC:
Windows: 95, 98, ME, 2000, NT, XP
IBM PC Compatible
486 or higher processor
10MB of free hard disk space


Mac:

version 7.5.5 or later (8.6 or above recommended)

Linux


IBM PC Comaptible
32 MB of available RAM
12 MB of available hard-disk space
PRICING


---
The Whole Bible Classic Sermon Collection, £24.95


Prices include all applicable taxes

P&P will be charged at "light/heavy items" rates (1/2/3 etc 3/5/6) - see below

Email to check latest pricing or stock availability

Check Exchange Rates to convert UK pricing
Postage, Packing & Insurance Rates
1
UK light items (2nd class)
£3 (GBP)
2
UK light items insured (1st class) Any orders over £100
Customers may choose this rate on light items under £100 to speed delivery
£6 (GBP)
3
UK heavy items parcelpost
UK light items next day guaranteed
Europe light items
£9 (GBP)
4
World surface mail
£12 (GBP)
5
Europe heavy items
£15 (GBP)
6
UK heavy items next day guaranteed
World airmail
£18 (GBP)
If you require the outer packaging of your order to be intact for a gift then please add this to any special instructions as normally excess weight is removed before despatch to increase chances of a standard letter box delivery, and thus not require you to wait in to receive your order. Minimum P&P on fully boxed orders is £6
ORDERING


---
Any questions prior to ordering? - Then email: sales@bmsoftware.com.

To order, use the online

If the online [Order Form] fails for any reason or your product is not yet listed there, or you wish to print and send your order, then fill in the following, hit the [Select details] button, and copy and paste to your email program or word processor:

Now hit Ctrl+C to copy the selected text to your clipboard and then paste (Ctrl+V) it into your preferred program Make sure you read our Terms and Conditions.
CONTACT DETAILS


---
Click here for full Contact Details including postal address, additional phone lines and technical support email.

Whilst we are based in the UK we can ship most items internationally.


| | | | | | | | |
| --- | --- | --- | --- | --- | --- | --- | --- |
| | RETURN TO TOP OF PAGE | | CLOSE WINDOW | | PRINT PAGE | | HOME |