| | | |
| --- | --- | --- |
| | VCOM Partition Commander 8 | |
Details and specifications of VCOM's Partition Commander 8, £34.99 (GBP inc VAT £34.99). The easiest, most powerful partitioning software available. [Buy now] or call us on 0870 766 3699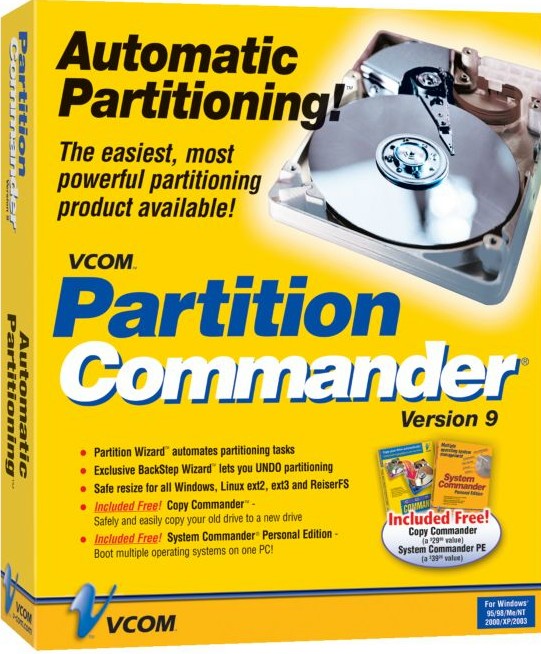 VCOM Partition Commander 8

The easiest, most powerful partitioning software available!
Partition Wizard™ automates partitioning tasks
Exclusive BackStep Wizard lets you UNDO partitioning
Safe resize, create, move & copy for Windows 95/98/Me/NT/2000/XP/2003, Linux and DOS partitions
Free! Includes Copy Commander to transfer all the contents from one drive to another, automatically!
Free! Includes System Commander Personal Edition to run multiple operating systems safely and easily!

Everything you need to safely and easily partition your hard drive!
Partition Commander® lets you reclaim hard disk space, organize your files, add new operating systems (OSes), and in many cases speed up hard drive access speeds. Best of all, you don't have to be an expert. Partition Commander automates the process - guiding you through step-by-step. Where you have a choice, helpful suggestions are made available - the rest is handled automatically!

Automatically partition your hard drive
A VCOM exclusive! Partition Wizard™ provides total automation so there's no need to be an expert on clusters, file allocation tables (FAT) or other technical details. Just choose your reason for partitioning: more storage space, improved performance, better organization, or OS management. Then click on the option you prefer and Partition Commander does the rest.

Partition Commander's exclusive BackStep Wizard can easily return your system to a prior configuration. It allows you to review all of the actions Partition Wizard has performed and any manual partitioning steps you may have done. Simply select the actions or steps you would like to reverse and BackStep Wizard will undo them for you. Nothing could be easier!

Benefits of Partitioning
Reclaim wasted disk space. Is your drive configured to take advantage of all its potential free space? Hard drives can potentially waste up to 40% of their available space. If you're not sure, you may find you're out of disk space when trying to save that one important document. Get every byte for your buck – let Partition Commander reclaim wasted disk space, automatically!

Better organization. Hard drives can become very cluttered. Partition Commander helps you to better organize your drive so you can find files faster and easier. It even helps finish tedious backups quicker. Not sure how you want to organize your drive? Partition Commander prompts you with a few easy questions, and then automatically organizes your drive according to your needs.

Automatic or Manual - your choice! If you prefer a more hands-on approach, the automated wizard steps aside, giving you complete control. Add or create partitions, delete, resize, move and copy them. Set up partitions for data only, or create partitions to handle Internet junk. You can even set up separate partitions for swap files to help increase the performance of your PC.

Partition Commander also provides safe partition resize for FAT/FAT32/NTFS, Linux ext2, ext3 and ReiserFS type partitions. And if you need to convert partition types, Partition Commander let's you convert between FAT, FAT32, NTFS and NTFS compressed volumes. You can also convert Windows 2000/XP/2003 Dynamic Disks back to Basic disks.

The safest way to partition your hard drive
No other utility lets you partition your hard drive with more ease and confidence. It even has built-in safety features to protect against system failures, including power loss while partitioning. And with our exclusive undo feature, you can instantly recover while you're in Partition Commander, if you change your mind after you've deleted or formatted a partition! With any other partitioning product, your data is toast.

Manufacturer's Product Code: Our Product Ref: VCPC8B
SCREENSHOTS


---
None Available
REVIEWS


---
None available
SYSTEM REQUIREMENTS


---
Windows 95/98/Me/NT/2000/XP/2003 or DOS
Yes

Pentium or better
RAM 64 MB, (more is required on some operations with huge drives)
Free disk space 20 MB if installed (less under Windows 9x/Me)

Apple MAC
N/A
Purchase Virtual PC first
Linux
N/A
VERSIONS, OPTIONS & ALTERNATIVES


---
| | | | | | |
| --- | --- | --- | --- | --- | --- |
| VCOM | Partition Commander 8 | £34.99 | (£34.99) | [VCPC8B] | Buy |

Compare also:


| | | | | | | |
| --- | --- | --- | --- | --- | --- | --- |
| VCOM | Recovery Commander 2 | £24.99 | (£24.99) | [VCRCD2] | Buy | | View |
PRICING


---
| | | | | | |
| --- | --- | --- | --- | --- | --- |
| VCOM | Partition Commander 8 | £34.99 | (£34.99) | [VCPC8B] | Buy |

Also see alternative versions and products above

Prices are in £GBP and include all applicable taxes (VAT etc). Purchases of multiple copies may be eligible for discounts of up to 40%, email us for a quote with the quantity you require.

P&P will be charged at "light items" rates
(Some valuable items may have to go special delivery and packages may have outer packaging or inner boxing removed to save weight, if this is a gift or for resale please request intact boxes)

See our full Postage & Delivery Details including shipping rates within the UK, Europe and worldwide, first class and next day before 9 AM and 12 Noon, same day options.

Email to check latest pricing or stock availability

Check Exchange Rates to convert UK pricing or Email us with your country and/or currency for a quote.


ORDERING


---
Any questions prior to ordering? - then email: Sales or call us on 0870 766 3699, otherwise proceed to the Order Form.

If the online Order Form fails for any reason or your product is not yet listed there, or you wish to print and send your order, then fill in the following, hit the [Select details] button below, and copy and paste to your email program or word processor:

Now hit Ctrl+C to copy the selected text to your clipboard and then paste (Ctrl+V) it into your preferred Email program or click here to launch your Email editor.
CONTACT DETAILS


---
Click here for full Contact Details including postal address, additional phone lines and technical support email.

Whilst we are based in Norwich, Norfolk in the UK we can ship most items internationally.


RETURN TO
TOP OF PAGE

CLOSE
WINDOW

PRINT
PAGE

HOME
PAGE

TERMS AND
CONDITIONS

HELP ON USING
THIS SITE