| | | |
| --- | --- | --- |
| | Starry Night Deep Space Explorer | |
Details and specifications of Starry Night's Deep Space Explorer, (GBP inc VAT RRP £14.99). Discover the deep reaches of space with this interactive CDROM. [Buy now] or call us on 0870 766 3699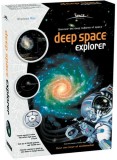 Starry Night Deep Space Explorer

Deep Space Explorer, from the same team that brought you the acclaimed Starry Night family of astronomy software products, is an interactive 3D odyssey through tens of thousands of galaxies and back to the horizons of deep time. World-renowned astronomer Brent Tully has compiled an extensive database of 28,000 galaxies, which has never before been available in a desktop astronomy program. Complementing the 3-dimensional simulator is Deep Space Explorer's special media player, which explains the workings of our universe in over an hour of dynamic, live-action video. Television, feature film and stage performer Chase Masterson (Star Trek DS9) gives voice to the Intelligent Agent that narrates the multimedia elements. Your special Intelligent Agent guides you through 19 different realms of your vast Universe with pop-up multimedia presentations and short documentary explanations detailing the wonderful mechanics of the cosmos. Starship controls allow you to speed up, slow down, or change direction. Features:
Travel anywhere within 700 million light years of Earth
Visit any of 28,000 galaxies and 30,000 stars
Starship controls to speed up, slow down or change direction
Full-colour images of all planets and their moons
Internet database links for more information on any object
Markers for all known Extra-Solar planets
Over one hour of multimedia on 19 different cosmology and astrophysics topics
"Heads-up display" automatically identifies nearby objects
"Find" command quickly locks on any planet, star or galaxy


Manufacturer's Product Code: Our Product Ref: STARDS
SCREENSHOTS


---
None Available
REVIEWS


---
None available
SYSTEM REQUIREMENTS


---
Windows 98/ME/2000/XP
Yes
Pentium, 32MB RAM, 150MB HD space, colour monitor, sound card, CDROM drive
Apple MAC
System 8.5 or higher
Yes
Power PC, 24MB RAM, 75MB HD space, colour monitor, CDROM drive. Note: will run in Classic mode in OS X 10.1 and higher.
Linux
N/A
VERSIONS, OPTIONS & ALTERNATIVES


---
| | | | | | |
| --- | --- | --- | --- | --- | --- |
| Starry Night | Deep Space Explorer | | (RRP £14.99) | [STARDS] | Buy |

Compare also:


PRICING


---
| | | | | | |
| --- | --- | --- | --- | --- | --- |
| Starry Night | Deep Space Explorer | | (RRP £14.99) | [STARDS] | Buy |
Prices are in £GBP and include all applicable taxes (VAT etc)

P&P will be charged at "light items" rates
(Some valuable items may have to go special delivery and packages may have outer packaging or inner boxing removed to save weight, if this is a gift or for resale please request intact boxes)

See our full Postage & Delivery Details including shipping rates within the UK, Europe and worldwide, first class and next day before 9 AM and 12 Noon, same day options.

Email to check latest pricing or stock availability

Check Exchange Rates to convert UK pricing or Email us with your country and/or currency for a quote.


ORDERING


---
Any questions prior to ordering? - then email: Sales or call us on 0870 766 3699, otherwise proceed to the Order Form.

If the online Order Form fails for any reason or your product is not yet listed there, or you wish to print and send your order, then fill in the following, hit the [Select details] button below, and copy and paste to your email program or word processor:

Now hit Ctrl+C to copy the selected text to your clipboard and then paste (Ctrl+V) it into your preferred Email program or click here to launch your Email editor.
CONTACT DETAILS


---
Click here for full Contact Details including postal address, additional phone lines and technical support email.

Whilst we are based in Norwich, Norfolk in the UK we can ship most items internationally.


RETURN TO
TOP OF PAGE

CLOSE
WINDOW

PRINT
PAGE

HOME
PAGE

TERMS AND
CONDITIONS

HELP ON USING
THIS SITE