Details and specifications of Scrabble 2002, £19.99. Play Scrabble on your PC, this excellent game can be bought out and put away without losing pieces! Use the hint function to improve your game by playing against computer generated opponents.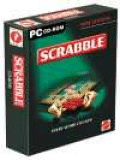 Scrabble 2002
For the Scrabble fan, this excellent program enables you to play anytime even providing opponents if you can't find anyone else who wants to play! Select different abilities and interests in your opponents to enhance your game-playing.

Improve your game (thats not cheating!) with the hint function, find the perfect words with anagram and word search facilities, compare your move with the best one possible.

Check words and spellings instantly with the in-built dictionary.

Includes two bonus games - Anagram and Conundrum, to improve your letter rearranging skills!

This program is a must for anyone who enjoys word games, with four levels of difficulty, its fantastic exercise for the brain.
SCREENSHOTS


---
None Available
REVIEWS


---
None available
VERSIONS


---
Scrabble 2002, £19.99

Compare also:

SYSTEM REQUIREMENTS


---
P166
RAM 32Mb
Windows 95/98/2000/ME/XP
8Mb Hard Disk Space
3D Soundcard
PRICING


---
Scrabble 2002, £19.99


Prices include 17.5% VAT

P&P will be charged at "light/heavy items" rates (1/2/3 etc3/5/6) - see below

Email to check latest pricing or stock availability

Check Exchange Rates to convert UK pricing
Postage, Packing & Insurance Rates
1
UK light items (2nd class)
£3 (GBP)
2
UK light items insured (1st class) Any orders over £100
Customers may choose this rate on light items under £100 to speed delivery
£6 (GBP)
3
UK heavy items parcelpost
UK light items next day guaranteed
Europe light items
£9 (GBP)
4
World surface mail
£12 (GBP)
5
Europe heavy items
£15 (GBP)
6
UK heavy items next day guaranteed
World airmail
£18 (GBP)
If you require the outer packaging of your order to be intact for a gift then please add this to any special instructions as normally excess weight is removed before despatch to increase chances of a standard letter box delivery, and thus not require you to wait in to receive your order. Minimum P&P on fully boxed orders is £6
ORDERING


---
Any questions prior to ordering? - Then Email: sales@bmsoftware.com.

To order, use the online

If the online ORDER FORM fails for any reason or your product is not yet listed there, or you wish to print and send your order, then fill in the following, hit the Select details button, and copy and paste to your email program or word processor:

Now hit Ctrl+C to copy the selected text to your clipboard and then paste (Ctrl+V) it into your preferred program
CONTACT DETAILS


---
Click here for full Contact Details including postal address, additional phone lines and technical support email.

Whilst we are based in the UK we can ship most items internationally.


| | | | | | | | |
| --- | --- | --- | --- | --- | --- | --- | --- |
| | RETURN TO TOP OF PAGE | | CLOSE WINDOW | | PRINT PAGE | | HOME |