Details and specifications of Pocket Quicken 2.0, £34.99. Keep your transactions up to date with this excellent software installed on your handheld!. [Buy now]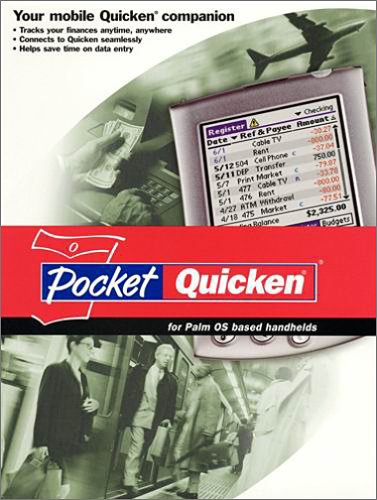 Keep your Quicken information complete, accurate and up-to-date wherever you go
Quickly access account details such as contact names and current and ending balances
Easy transfer of data between PDA and PC--just perform a HotSync
Includes QuickFill and Memorized transactions shortcuts
Select your own private PIN for security
Pocket Quicken places your financial activity at your fingertips making it easy to keep your Quicken information complete, accurate and up-to-date wherever you go.

Effortless data entry coupled with instant access to account balances, transactions, credit limits, budgets and more adds up to financial clarity in the Palm of your hand.

Your mobile Quicken companion
Now its easy to keep your Quicken information complete, accurate and up-to-date wherever you go. Skip the monthly receipt-typing chore by effortlessly capturing everyday transactions directly on your Palm OS/ PocketPC handheld.

Quickly access account details
Important account information such as contact names and numbers, current and ending balances as well as individual transactions are automatically transferred from the desktop.

Connect with one click
Pocket Quicken is a true mobile companion to the Quicken desktop product and provides excellent connectivity via Palm's built-in HotSync technology. There is no double entry and you can always keep your accounts up to date. Transferring data is quick and hassle free- just tap the HotSync button. Pocket Quicken makes it easy to keep your finances organized. With a single tap of the HotSync button your Quicken categories and groups are transferred to the organizer.

Capture your finances with ease
Pocket Quicken makes it easy to keep your Quicken information up to date while you're away from your desk. Now you can use your Palm OS / PocketPC Handheld to effortlessly capture checking, credit card, and cash transactions while you are on the go.

Lightning fast data entry
Included are two of Quicken's most popular time saving shortcuts: QuickFill and Memorized transactions. Combining these features enable you to record day-to-day transactions with only two strokes of the stylus. Just start writing the Payee's name and a new transaction is automatically created with all the details filled out.

Your financial data is protected
Assigning your own private PIN number to Pocket Quicken ensures that only you have access to your financial activity. Pocket Quicken also maintains a backup of your transactions each time you HotSync your Palm OS/ PocketPC handheld.

Key Features
Account balances at a glance
View account registers
Protected data with PIN access
Overdrawn account warnings
Foreign currency support
Flexible overview displays
Seamless single step data transfer
Single-tap data synchronization
Fast data entry with QuickFill
Track budgets
Organize with categories and classes
Built-in calculator
N.B. PC version of Quicken is required.

SCREENSHOTS


---
None Available
REVIEWS


---
None available
VERSIONS


---
Pocket Quicken 2.0, £34.99, Buy

Compare also:

SYSTEM REQUIREMENTS


---
Handheld Requirements
· Pocket PC 2000 or Pocket PC 2002 or Pocket PC 2003
· 400K RAM (approx)

Windows Requirements
· Windows 95, 98, Me, NT, 2000, XP
· ActiveSync 3.5 or later

Quicken Requirements
· Quicken 99, 2000, 2001, 2002, 2003 Basic, Deluxe, Home & Business or Premier (US/Canadian)
· Quicken UK 2002 or later
PRICING


---
Pocket Quicken 2.0, £34.99, Buy.


Prices are in £GBP and include all applicable taxes (VAT etc)

P&P will be charged at "light/heavy items" rates (1/2/3 or 3/6) - click here for full Postage & Delivery Details including shipping rates within the UK, Europe and worldwide, same day and next day before midday options.

Email to check latest pricing or stock availability

Check Exchange Rates to convert UK pricing or Email us with your country and/or currency for a quote.


ORDERING


---
Any questions prior to ordering? - then email: Sales, otherwise proceed to the Order Form.

If the online Order Form fails for any reason or your product is not yet listed there, or you wish to print and send your order, then fill in the following, hit the [Select details] button below, and copy and paste to your email program or word processor:

Now hit Ctrl+C to copy the selected text to your clipboard and then paste (Ctrl+V) it into your preferred Email program or click here to launch your Email editor.
CONTACT DETAILS


---
Click here for full Contact Details including postal address, additional phone lines and technical support email.

Whilst we are based in the UK we can ship most items internationally.


RETURN TO
TOP OF PAGE

CLOSE
WINDOW

PRINT
PAGE

HOME
PAGE

TERMS AND
CONDITIONS

HELP ON USING
THIS SITE