Details and specifications of Daniel and the Lions, £5 (£9.99 RRP). Featuring a the story of Daniel and the Lions, narrated and with the words on every page, and games to keep children interested. . Buy Daniel and the Lions now.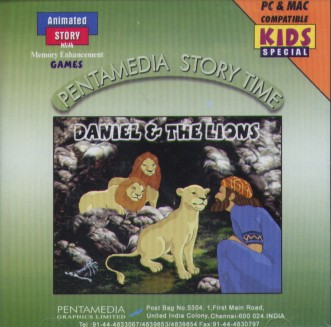 A storybook on CD-ROM, this program has the option for narration whilst you read along. The interface is easy for youngsters to operate, the pictures bright and colourful, and there are memory enhancement games to play too. The stories featured in the Pentamedia range are six of the Biblical are timeless classics and generate interest and awe in children.

The titles featured are:
The Birth of Jesus
Daniel and the Lions
Faith of Abraham
Joseph and his Dreams
The Miracles of Jesus
Noah and the Ark
buy all six for £19.95 saving over £10!

Both comatible for the MAC and the PC, these really are suitable for all.

SCREENSHOTS


---
None Available
REVIEWS


---
None available
VERSIONS


---
Birth of Jesus, £5 (£9.99 RRP), Buy
Daniel and the Lions, £5 (£9.99 RRP), Buy
The Faith of Abraham, £5 (£9.99 RRP), Buy
Joseph and his Dreams, £5 (£9.99 RRP), Buy
The MIracles fo Jesus, £5 (£9.99 RRP), Buy
Noah and the Ark, £5 (£9.99 RRP), Buy
Storytime Collection, £19.95 , Buy
SYSTEM REQUIREMENTS


---
PC
Windows 95 and above
100Mb Hard Disk
32Mb RAM or greater
133Mhz processor speed - Best on 233 Mhz
256 Colours
MAC


100Mb hard disk
32Mb RAM
132Mhz
256 Colours
PRICING


---
Daniel and the Lions, £5 (£9.99 RRP), Buy.


Prices include all applicable taxes

P&P will be charged at "light/heavy items" rates (1/2/3 or 3/6) - click here for full Postage & Delivery Details including shipping rates within the UK, Europe and worldwide, same day and next day before midday options.

Email to check latest pricing or stock availability

Check Exchange Rates to convert UK pricing or Email us with your country and/or currency for a quote.


ORDERING


---
Any questions prior to ordering? - then email: Sales, otherwise proceed to the Order Form.

If the online Order Form fails for any reason or your product is not yet listed there, or you wish to print and send your order, then fill in the following, hit the [Select details] button below, and copy and paste to your email program or word processor:

Now hit Ctrl+C to copy the selected text to your clipboard and then paste (Ctrl+V) it into your preferred program
CONTACT DETAILS


---
Click here for full Contact Details including postal address, additional phone lines and technical support email.

Whilst we are based in the UK we can ship most items internationally.


RETURN TO
TOP OF PAGE

CLOSE
WINDOW

PRINT
PAGE

HOME
PAGE

TERMS AND
CONDITIONS

HELP ON USING
THIS SITE