Details and specifications of Paint Shop Photo Album, £29.95. Everything you need to quickly enhance, organise and share digital photos.... Buy Paint Shop Photo Album now.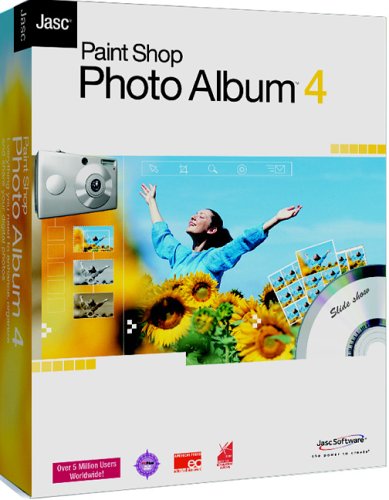 Paint Shop Photo Album has everything you need to quickly and easily enhance, organize, and share digital photos. Whether you're e-mailing photos, creating a photo keepsake, or burning a Video CD, Photo Album is your complete Make the most of your digital photos with Paint Shop Photo Album. Get your photos from camera to computer in just two clicks. Then quickly and easily enhance, organize, and share those digital memories in a flash with Photo Album's fast and easy-to-use tools.

Quickly e-mail photos or create a fabulous Video CD slide show with music. Click once for Quick Fix color corrections or create a keepsake in sepia with a classy photo edge. Do a quick search of your collection or develop your own personalized keyword checklist system. It's all right here. Paint Shop Photo Album is your complete digital photography center.

Burn Video CDs Create CD albums to watch with family and friends on a TV with a DVD player. Add an MP3 soundtrack and a variety of background templates for a complete, fun audio-visual experience.

Archive photos on CD Archive full resolution copies of your favorite shots automatically when you create a Video CD -- a valuable backup to safeguard your memories.

Optimize photos for e-mail Easily send photos to friends and family with enhanced e-mail capabilities that automatically optimize photos for quicker download. Now Photo Album is compatible with the AOL e-mail client.

Control enhancements Take control over photo enhancements with the new Adjust Wizard that guides you through key correction processes to get the best color and exposure correction possible.

Add Flash and fix backlight Correct imperfections with flash and backlight controls that brighten only the dark areas of photos or reduce backlighting in over exposed areas.

Jazz up your images Add an elegant finishing touch by framing photos, applying creative edges, or adding artistic borders.

Create classic images Easily convert color photos to sepia or black and white.

Thinify! Enhance proportions to give yourself or your friends a new look with the Thinify tool unique to Jasc Software.

Find photos quicker Catalog and access photos faster, import and backup your keywords, and more with improved database performance. Plus you can view and search EXIF 2.2 data.

Work the way you want Personalize your workspace with adjustable thumbnail sizes and background colors.

SCREENSHOTS


---
None Available
REVIEWS


---
None available
VERSIONS


---
Paint Shop Photo Album, £29.95, Buy

Compare also:

SYSTEM REQUIREMENTS


---
Minimum
Pentium® processor or equivalent
Microsoft® Windows® (98 SE, NT4, 2000, ME, XP)
64 MB of computer RAM memory minimum; 128 MB recommended
120 MB of disk space for full install
CD-ROM drive (for installation, unless product is downloaded)
High Color (16 bit) display colors setting (True Color recommended)
800x600 display screen area (1024x768 or higher recommended)


Optional Requirements, to use selected features
Microsoft® Internet Explorer® 5 or higher (to access Help, Web Galleries, and Photo Sharing sites)
Macromedia Flash™ browser plug-in (to view feature demo movies within Help)
Microsoft® Outlook Express® or other MAPI-compliant e-mail software (to e-mail from the product)
Adobe® Acrobat® Reader® (to access online User Guide)
Apple® QuickTime® 5 or greater (to handle movie files)
CD-R, CD-RW, or DVD-R drive (to create Video CDs)
Up to 1 GB free temporary hard drive space (to create Video CDs)
PRICING


---
Paint Shop Photo Album, £29.95, Buy.


Prices include all applicable taxes

P&P will be charged at "light/heavy items" rates (1/2/3 or 3/6) - click here for full Postage & Delivery Details including shipping rates within the UK, Europe and worldwide, same day and next day before midday options.

Email to check latest pricing or stock availability

Check Exchange Rates to convert UK pricing or Email us with your country and/or currency for a quote.


ORDERING


---
Any questions prior to ordering? - then email: Sales, otherwise proceed to the Order Form.

If the online Order Form fails for any reason or your product is not yet listed there, or you wish to print and send your order, then fill in the following, hit the [Select details] button below, and copy and paste to your email program or word processor:

Now hit Ctrl+C to copy the selected text to your clipboard and then paste (Ctrl+V) it into your preferred program
CONTACT DETAILS


---
Click here for full Contact Details including postal address, additional phone lines and technical support email.

Whilst we are based in the UK we can ship most items internationally.


RETURN TO
TOP OF PAGE

CLOSE
WINDOW

PRINT
PAGE

HOME
PAGE

TERMS AND
CONDITIONS

HELP ON USING
THIS SITE