Details and specfications on: OnePen £149-£699. 160+ language multilingual, advanced featured, utility allowing foreign language text input to word processors, spreadsheets, databases, DTP programs etc.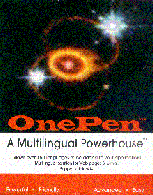 Up to 165 language groups
Automatic right-left/left-right typing
Automatic vowel placement in Middle-Eastern languages
Automatic selection of Arabic middle and final character forms
Save as graphic options
Send as Unicode
Customisable pop-up foreign language keyboard layouts
Hundreds of foreign fonts
OnePen is a revolutionary new program for Windows 95 (a European only equivalent is now available for Windows CE). OnePen allows you to type in almost any foreign language (150+ supported with hundreds of fonts - Complete language list) including right-left languages with full support for their unique ways of handling vowels (e.g., above and/or below the consonants as in Hebrew/Arabic). Some Ancient languages are also supported including Syriac, Ugaritic, Phoenician etc. The program works as a pop-up utility enabling you to send your foreign text to any WordProcessor, Database, Spreadsheet, DTP, TextArt program . . . the possibilities are endless.
---
Also see: Universal Word, another product from the same company, is a fully featured program for more extensive specifically word processing work, in other words, more suitable than OnePen for long document input. Prices for the European and Hebrew version begin at £149+p&p+17.5%VAT / all International languages £449+p&p+17.5% VAT. Details
---
SCREENSHOTS


---
Use you back button to return to this page after viewing the screenshots.

Screenshot 1 | Screenshot 2

ONEPEN has a pop-up foreign keyboard for each language which can be re-edited to allow typing direct from, say, nearest English equivalent transliterations and works in programs as basic as WordPad.
REVIEWS


---
Use you back button to return to this page after viewing the reviews.

Reviews
VERSIONS


---
OnePen is available in several versions:
English, European
English, Arabic European languages, Greek, Russian & Hebrew, Arabic English, Asian languages All International languages OnePen International+Academic/Ancient

Complete language list
SYSTEM REQUIREMENTS


---
PC using Windows 95 or above (i.e., 95/98/NT)
486/Pentium processor
8 MB RAM
PRICING


---
English, European £149
English, Arabic £249 European languages, Greek, Russian & Hebrew, Arabic £299 English, Asian languages £299 All International languages £499 OnePen International+Academic/Ancient £699 (ring for latest prices)
Other language sets on request Email to check latest pricing or stock availability

Check Exchange Rates to convert UK pricing
Postage, Packing & Insurance Rates
1
UK light items (2nd class)
£3 (GBP)
2
UK light items insured (1st class) Any orders over £100
Customers may choose this rate on light items under £100 to speed delivery
£6 (GBP)
3
UK heavy items parcelpost
UK light items next day guaranteed
Europe light items
£9 (GBP)
4
World surface mail
£12 (GBP)
5
Europe heavy items
£15 (GBP)
6
UK heavy items next day guaranteed
World airmail
£18 (GBP)
If you require the outer packaging of your order to be intact for a gift then please add this to any special instructions as normally excess weight is removed before despatch to increase chances of a standard letter box delivery, and thus not require you to wait in to receive your order. Minimum P&P on fully boxed orders is £6
This product will attract the heavy/insured level of postage becuase of its high value, and may require a signature upon delivery.
UK residents please add 17.5% VAT
Order direct from BMSoftware
If you are interested in purchasing the program or have any further questions please contact us first as we can arrange the most competitive prices and offer you additional pre-programmed Hebrew an other language keyboard layouts and other additional help/tutorial files including foreign language texts.
ORDERING


---

Any questions prior to ordering? - Then Email: sales@bmsoftware.com

To order, use the online

If the online ORDER FORM fails for any reason then select, copy and paste, the following and then send an email to us, filling in the details in the text of your email:

Please send me the following Software Products:

Name:
Address:


Phone:
Email:

I enclose a cheque/IMO for £ (payable to "BMSoftware")
Please charge my Credit Card with £
Card No.:
(MC/Visa):
Expiry:

CONTACT DETAILS


---
Click here for full Contact Details including postal address, additional phone lines and technical support email.

Whilst we are based in the UK we can ship most items internationally.


| | | | | | | | |
| --- | --- | --- | --- | --- | --- | --- | --- |
| | RETURN TO TOP OF PAGE | | CLOSE WINDOW | | PRINT PAGE | | HOME |