| | | |
| --- | --- | --- |
| | Nelson Word Biblical Commentary 58/60 Volume Edition | |
Details and specifications on: Nelson Word Biblical Commentary 58/60 Volume Edition, £299 (GBP inc VAT RRP £799). The best evangelical commentary, 15 years in the making by a team of international scholars, Word Biblical Commentary covers the Old and New Testaments, taking into account textual, linguistic, structural, historical, and theological contexts. [Buy now] or call us on 0870 766 3699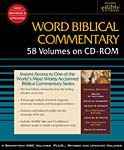 Nelson Word Biblical Commentary - from Nelson Electronic Publishing. : Now all 60 volumes of the acclaimed Word Biblical Commentary are powered by eBible's lightning-fast Libronix technology! Autopilot researcher compiles and compares vast databases of scholarship---effortlessly. Eight Bibles (NKJV, NRSV, NLT) * NA26 NT and BHS OT with morphologies * Louw-Nida Greek and Brown-Driver-Briggs Hebrew lexicons * And more! * 128MB RAM * Windows 98 or higher

The Culmination of more than fifteen years of research by a team of international scholars, Word Biblical Commentary covers the Old and New Testaments, taking into account textual, linguistic, structural, historical, and theological distinctions. More than 50 contributors, all of whom rank among the leading Christian scholars of the English-speaking world, wrote authoritatively on the portions of Scripture in which they specialize. This collection also includes an enviable scholar's array of Bible translations (9 bible versions), and Greek and Hebrew resources for in-depth research.

Nelson Word Biblical Commentary fully integrates with Microsoft Word and adds an icon to your toolbar to insert a bible version or commentary note in your word processor.

Completely compatible with Nelson's Electronic Bible Reference Library, this electronic commentary makes a great add-on resource for current users. It's flexible, fast, and equipped with leading-edge Logos Library System (LLS) technology. This lets you search, cross-reference, work easily between various texts, and add new volumes instantly as you customize your own electronic reference library.

This incredible software package saves you many hundreds of pounds over print editions (£1000+) and several metres of bookshelf space, making Word Biblical Commentary on CD-ROM one of the greatest values in convenience, comprehensiveness, and unrivaled content!

If you are not certain about investing in this excellent package you can try the top five titles for under a hundred pounds and reclaim this against the full version if you upgrade. Top 5 edition includes Genesis, Psalms, Luke, John, 1&2 Thessalonians.

Word Biblical Commentary on CD-ROM Top 5 Volume edition contains:
Genesis
Psalms
Luke
John
1&2 Thessalonians


WBC 6-Volume Upgrade CD-ROM. Utilizing the technology of eBibleT, we add to our successful Word Biblical Commentary software collection. the 6 most recent print volumes.

[Buy now] or call us on 0870 766 3699

Nelson Word Biblical Commentary, Manufacturer's Product Code: Our Product Ref: WBC58V
SCREENSHOTS


---
None Available
REVIEWS


---
None available
SYSTEM REQUIREMENTS


---
Windows 98/Me/NT4(SP6a)/2000/XP
350 MHz Pentium II (700 MHz recommended)
64 MB RAM (128 MB recommended)
Yes
CD-ROM drive, 800x600 display (1024x768 recommended)
The Libronix DLS requires Microsoft Internet Explorer 6.0.
You are not required to use Internet Explorer as your primary web browser, but it needs to be on your system.
Apple MAC
N/A
Purchase Virtual PC first
Linux
N/A
VERSIONS, OPTIONS & ALTERNATIVES


---
| | | | | | |
| --- | --- | --- | --- | --- | --- |
| Nelson | Word Biblical Commentary 58/60 volume edition | £299 | (RRP £599) | [WBC58V] | Buy |

Compare also:


| | | | | | |
| --- | --- | --- | --- | --- | --- |
| Nelson | Word Biblical Commentary 54/55 volume edition | £199 | (RRP £299) | [WBC54V] | Buy |
| Nelson | Word Biblical Commentary Top 5 volume edition | £49 | (RRP £99) | [WBCT5V] | Buy |
| Nelson | Word Biblical Commentary 6 volume upgrade edition | £99 | (RRP £239) | [WBC6VU] | Buy |
PRICING


---
| | | | | | |
| --- | --- | --- | --- | --- | --- |
| Nelson | Word Biblical Commentary 58/60 volume edition | £299 | (RRP £599) | [WBC58V] | Buy |

Also see alternative versions and products above

Prices are in £GBP and include all applicable taxes (VAT etc)

P&P will be charged at "light/heavy items" rates
(Some valuable items may have to go special delivery and packages may have outer packaging or inner boxing removed to save weight, if this is a gift or for resale please request intact boxes)

See our full Postage & Delivery Details including shipping rates within the UK, Europe and worldwide, first class and next day before 9 AM and 12 Noon, same day options.

Email to check latest pricing or stock availability

Check Exchange Rates to convert UK pricing or Email us with your country and/or currency for a quote.


ORDERING


---
Any questions prior to ordering? - then email: Sales or call us on 0870 766 3699, otherwise proceed to the Order Form.

If the online Order Form fails for any reason or your product is not yet listed there, or you wish to print and send your order, then fill in the following, hit the [Select details] button below, and copy and paste to your email program or word processor:

Now hit Ctrl+C to copy the selected text to your clipboard and then paste (Ctrl+V) it into your preferred Email program or click here to launch your Email editor.
CONTACT DETAILS


---
Click here for full Contact Details including postal address, additional phone lines and technical support email.

Whilst we are based in Norwich, Norfolk in the UK we can ship most items internationally.


RETURN TO
TOP OF PAGE

CLOSE
WINDOW

PRINT
PAGE

HOME
PAGE

TERMS AND
CONDITIONS

HELP ON USING
THIS SITE