Details and specifications of Microsoft's Access 97, (GBP inc VAT RRP £). This is the industry standard database usually shipped with Microsoft Office 97 Pro. Limited availability - Please call before ordering or consider Microsoft Office 97 Professional [Buy now] or call us on 0870 360 3699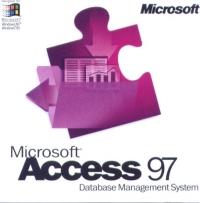 Microsoft Access 97

Microsoft Access provides relational database provide users with necessary information quickly and efficiently. Being a member of the Microsoft Office family of products, Microsoft Access possesses a convenient interactive interface that is familiar to Office users and will make your work absorbing and exciting. Access is 100% compatible with other Office applications, so it will be no problem to import and export your data from spreadsheets and texts and to insert it to your database.

Access automatically builds tables, queries, forms, and reports from more than 20 types of full-featured templates, giving you the option to further customize them to suit your needs. The program now can filter your data according to the data you highlight, presenting only the information that corresponds to your selections. You can even built your database on hyperlinks that connect different documents between each other, so you can easily link your database with any word or Excel data. This version of Access can now save files in HTML format that will enable you to publish your data on the Web. Besides, improved 32-bit performance makes Microsoft Access much faster and more responsive with smaller forms, better compilation, and faster 32-bit data manipulation. An autoconversion function allows users to migrate existing Microsoft Access databases to the latest version. As users open a database created in an earlier version, they are prompted to convert to the current format.

With Microsoft Access 97 you can:

create tables
create forms
create relational databases
create relational queries
generate calculation queries
import data
export data
customise menus and toolbars
create a macro
use hyperlinks in tables and forms
produce reports
create a shared database


Please Email or Call 0870 360 3699 to enquire about site licenses, network versions, bulk discounts or educational pricing.

[Buy now] or call us on 0870 360 3699

Manufacturer's Product Code: Microsoft - BMSoftware Product Code: ACCE97
SCREENSHOTS


---
REVIEWS


---
Reviews, tests and comparisons of office software:
SYSTEM REQUIREMENTS


---
Windows PC
Processor
Yes
Windows 95, NT 4.0 workstation, RAM, HD, CD-ROM drive
Apple MAC
N/A
Purchase Virtual PC first
Linux
N/A
VERSIONS, OPTIONS & ALTERNATIVES


---
| | | | | | |
| --- | --- | --- | --- | --- | --- |
| Microsoft | Access 97 | | (RRP £) | [ACCE97] | Buy or Phone 0870 360 3699 |

Compare also:


PRICING


---
| | | | | | |
| --- | --- | --- | --- | --- | --- |
| Microsoft | Access 97 | | (RRP £) | [ACCE97] | Buy or Phone 0870 360 3699 |

Also see alternative versions and products above

Prices are in £GBP and include all applicable taxes (VAT etc)

P&P will be charged at "light/heavy items" rates
(Some valuable items may have to go special delivery and packages may have outer packaging or inner boxing removed to save weight, if this is a gift or for resale please request intact boxes)

See our full Postage & Delivery Details including shipping rates within the UK, Europe and worldwide, first class and next day before 9 AM and 12 Noon, same day options.

Email to check latest pricing or stock availability or for a bulk discount quote of up to 40%.

Check Exchange Rates to convert UK pricing or Email us with your country and/or currency for a quote.


ORDERING


---
Any questions prior to ordering? - then email: Sales or call us on 0870 360 3699, otherwise proceed to the Order Form.

If the online Order Form fails for any reason or your product is not yet listed there, or you wish to print and send your order, then fill in the following, hit the [Select details] button below, and copy and paste to your email program or word processor:

Now hit copy (Ctrl+C) the selected text to your clipboard and then paste (Ctrl+V) it into your preferred Email program or click here to launch your Email editor.
CONTACT DETAILS


---
Click here for full Contact Details including postal address, additional phone lines and technical support email.

Whilst we are based in Norwich, Norfolk in the UK we can ship most items internationally.


RETURN TO
TOP OF PAGE

CLOSE
WINDOW

PRINT
PAGE

HOME
PAGE

TERMS AND
CONDITIONS

HELP ON USING
THIS SITE