| | | |
| --- | --- | --- |
| | Global Software Publishing Test For Success Age 11 - Maths | |
Details and specifications of Global Software Publishing's Test For Success Age 11 - Maths, £9.99 (GBP inc VAT £9.99). Ensure your child gets the best results with Dorling Kindersley's Test for Success series. [Buy now] or call us on 0870 766 3699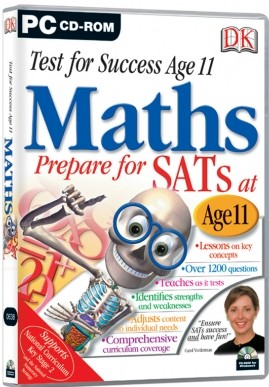 Global Software Publishing Test For Success Age 11 - Maths

Ensure your child gets the best results with Dorling Kindersley's Test for Success series. With the help of an on-screen computer buddy and a variety of immersive tasks and lessons, children will gain the vital skills they need during their crucial primary years.

Test for Success Age 11: Maths is ideal for general maths practice throughout Key Stage 2 as well as for children about to sit their National Tests.

Ages 7-11

How this interactive software helps your child:

Builds confidence: Help relieve anxiety over maths study through understanding practice and praise.
Teaches as it tests: Features a series of engaging, interactive lessons that over key maths concepts.
Provides hours of fun: Meet Seemore Skinless, who will keep your child endlessley amused with his hilarious on-screen antics.
Supports and extends school work: Written by a team of primary teachers, this disc covers all area of the maths curriculum for Key Stage 2.
Provides a personal study programme: Watch as the software adjusts the content to suit your child's needs, targeting areas of wekness.
Gives detailed user feedback: Follow your child's learning progress throughout Key Stage 2 with clear, informative on-screen assessments.
Also useful for 11 year olds working towards:
5-14 English Levels B & C (SQA)
Pre-Junior Certificate (Ireland)


Manufacturer's Product Code: Our Product Ref: GTS11M
SCREENSHOTS


---
None Available
REVIEWS


---
None available
SYSTEM REQUIREMENTS


---
Windows 95, 98, Me, XP*
Yes

32MB RAM for Windows
Any Pentium Processor
640 x 480 screen display
256 colour screen
Double speed CD ROM
20Mb hard drive space
8-bit sound card
Loudspeakers or headphones
Mouse

To access the online feature in this product, you will need Internet access.
*For XP, this product must be installed & run using an Administrator account.
Apple MAC
N/A
Purchase Virtual PC first
Linux
N/A
VERSIONS, OPTIONS & ALTERNATIVES


---
| | | | | | |
| --- | --- | --- | --- | --- | --- |
| Global Software Publishing | Test For Success Age 11 - Maths | £9.99 | (£9.99) | [GTS11M] | Buy |

Compare also:


| | | | | | | |
| --- | --- | --- | --- | --- | --- | --- |
| Global Software Publishing | I Love Maths | £9.99 | (£9.99) | [GSPILM] | Buy | | View |
PRICING


---
| | | | | | |
| --- | --- | --- | --- | --- | --- |
| Global Software Publishing | Test For Success Age 11 - Maths | £9.99 | (£9.99) | [GTS11M] | Buy |

Also see alternative versions and products above

Prices are in £GBP and include all applicable taxes (VAT etc). Purchases of multiple copies may be eligible for discounts of up to 40%, email us for a quote with the quantity you require.

P&P will be charged at "light items" rates
(Some valuable items may have to go special delivery and packages may have outer packaging or inner boxing removed to save weight, if this is a gift or for resale please request intact boxes)

See our full Postage & Delivery Details including shipping rates within the UK, Europe and worldwide, first class and next day before 9 AM and 12 Noon, same day options.

Email to check latest pricing or stock availability

Check Exchange Rates to convert UK pricing or Email us with your country and/or currency for a quote.


ORDERING


---
Any questions prior to ordering? - then email: Sales or call us on 0870 766 3699, otherwise proceed to the Order Form.

If the online Order Form fails for any reason or your product is not yet listed there, or you wish to print and send your order, then fill in the following, hit the [Select details] button below, and copy and paste to your email program or word processor:

Now hit Ctrl+C to copy the selected text to your clipboard and then paste (Ctrl+V) it into your preferred Email program or click here to launch your Email editor.
CONTACT DETAILS


---
Click here for full Contact Details including postal address, additional phone lines and technical support email.

Whilst we are based in Norwich, Norfolk in the UK we can ship most items internationally.


RETURN TO
TOP OF PAGE

CLOSE
WINDOW

PRINT
PAGE

HOME
PAGE

TERMS AND
CONDITIONS

HELP ON USING
THIS SITE