| | | |
| --- | --- | --- |
| | Global Software Publishing Letts Maths Lessons | |
Details and specifications of Global Software Publishing's Letts Maths Lessons, £9.99 (GBP inc VAT £9.99). A study aid, designed to cover al the key topics. [Buy now] or call us on 0870 766 3699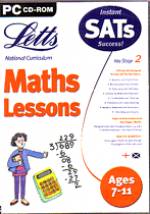 Global Software Publishing Letts Maths Lessons

A study aid, designed to cover al the key topics:

Addition and Subtraction
Multiplication and Division
Place value and Decimals
Decimal Numbers and Fractions
Co-ordinates and Planning
Probability and Data Handling
Weights, Meaures and Perimeters
Time, Area and Volume

Give your child the latest in interactive, educational software from the company you know and trust; Letts, the UK's leading publisher of home study materials

This program is designed for children ages between 7 and 11. They can use it throughout years 3,4,5 and 6 when they will be studying Key Stage 2 Maths. It is intended to reinforce and consolidate what your children learn at school.

Teachers will vary the order in which they address Maths topics but they must all cover the National Curriculum. Every major Key Stages 2 Maths topic is included in the program and children can focus on each topic as it is introduced in their own classroom studies.

Allow working alone, or in small groups, children work through the program at their own pace. They will move quickly through the sections they find easy, but slow down as they find other topics more challenging. This keeps them motivated and provides a real sense of achievement.

By sitting with your children, as they use the program, you will be able to gauge their progress in Maths. You can praise their achievements and work with them to master topics where they may have difficulty. You may also want to use the program when they children aren't around - it can help you re-learn any forgotten Maths skills.

Manufacturer's Product Code: Our Product Ref: GSPLML
SCREENSHOTS


---
None Available
REVIEWS


---
None available
SYSTEM REQUIREMENTS


---
Windows 95/98
Yes

Compatible with PCs
486 processor or above
8Mb RAM
CD-ROM drive
16 bit colour SVGA Screen
Mouse, Soundcard, Speaker

Apple MAC
N/A
Purchase Virtual PC first
Linux
N/A
VERSIONS, OPTIONS & ALTERNATIVES


---
| | | | | | |
| --- | --- | --- | --- | --- | --- |
| Global Software Publishing | Letts Maths Lessons | £9.99 | (£9.99) | [GSPLML] | Buy |

Compare also:


| | | | | | | |
| --- | --- | --- | --- | --- | --- | --- |
| Global Software Publishing | Letts Maths Test KS2 | £9.99 | (£9.99) | [GSPMT2] | Buy | | View |
PRICING


---
| | | | | | |
| --- | --- | --- | --- | --- | --- |
| Global Software Publishing | Letts Maths Lessons | £9.99 | (£9.99) | [GSPLML] | Buy |

Also see alternative versions and products above

Prices are in £GBP and include all applicable taxes (VAT etc). Purchases of multiple copies may be eligible for discounts of up to 40%, email us for a quote with the quantity you require.

P&P will be charged at "light items" rates
(Some valuable items may have to go special delivery and packages may have outer packaging or inner boxing removed to save weight, if this is a gift or for resale please request intact boxes)

See our full Postage & Delivery Details including shipping rates within the UK, Europe and worldwide, first class and next day before 9 AM and 12 Noon, same day options.

Email to check latest pricing or stock availability

Check Exchange Rates to convert UK pricing or Email us with your country and/or currency for a quote.


ORDERING


---
Any questions prior to ordering? - then email: Sales or call us on 0870 766 3699, otherwise proceed to the Order Form.

If the online Order Form fails for any reason or your product is not yet listed there, or you wish to print and send your order, then fill in the following, hit the [Select details] button below, and copy and paste to your email program or word processor:

Now hit Ctrl+C to copy the selected text to your clipboard and then paste (Ctrl+V) it into your preferred Email program or click here to launch your Email editor.
CONTACT DETAILS


---
Click here for full Contact Details including postal address, additional phone lines and technical support email.

Whilst we are based in Norwich, Norfolk in the UK we can ship most items internationally.


RETURN TO
TOP OF PAGE

CLOSE
WINDOW

PRINT
PAGE

HOME
PAGE

TERMS AND
CONDITIONS

HELP ON USING
THIS SITE