Details and specifications of Greenstreet's Trivia Trek, £14.99 (GBP inc VAT £14.99). A madcap, fun and challenging Geography Trivia Quiz game. [Buy now] or call us on 0870 766 3699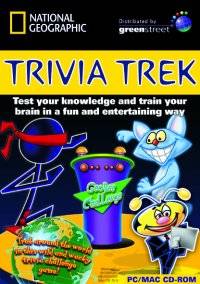 Greenstreet Trivia Trek

A madcap, fun and challenging Geography Trivia Quiz game, with interactive, fast-paced gameplay and over 2,000 mind-bending questions on geography, culture and exotic locations. Trivia Trek will provide the entire family with over 60 hours of hilariously entertaining, fun packed learning!!

This unique quiz uses a comical game show approach complete with a host called Reginald, a 'fastest finger first' buzz in and a loveable animated bee called BuzzBee. Play on your own or pit your brains against up to 3 friends, with each of you picking a quirky cartoon character to represent you throughout the game. The quiz takes the form of multiple choice questions, which at first have the choices displayed before buzz in, but don't get too smug because as the game progresses it makes things more challenging by only providing the answer choices after you have buzzed in! To keep you even more on your toes the multiple choice questions are also interspersed with surprise quick fire rounds, puzzle rounds and games like 'Believe it or Don't' an entertaining true or false game - so you'll never get bored!!

As well as being incredible fun, the educational content of the product is second to none as all answers are explained and expanded upon.

Hilarious, entertaining and educational - so go on get buzzing!!

Features:

Over 2000 accurate questions and answers set by National Geographic Experts
Constant feedback for players
Wide variety of topics
Visually appealing with an array of beautiful maps and gorgeous photos
Combines surprises and humour to keep interest levels high
Fun, educational content, allowing children to learn without effort


Manufacturer's Product Code: Our Product Ref: GSTRVT
SCREENSHOTS


---
None Available
REVIEWS


---
None available
SYSTEM REQUIREMENTS


---
Windows 95OSR2/98/ME/NT/2000/XP
Yes

Pentium 266
32MB RAM
100 MB Hard disk space
100% Sound Blaster compatible sound card
4 speed CD-ROM

Apple MAC
N/A
Purchase Virtual PC first
Linux
N/A
VERSIONS, OPTIONS & ALTERNATIVES


---
| | | | | | |
| --- | --- | --- | --- | --- | --- |
| Greenstreet | Trivia Trek | £14.99 | (£14.99) | [GSTRVT] | Buy |

Compare also:


| | | | | | | |
| --- | --- | --- | --- | --- | --- | --- |
| Greenstreet | Trivia Trek | £14.99 | (£14.99) | [GSTRVT] | Buy | | View |
PRICING


---
| | | | | | |
| --- | --- | --- | --- | --- | --- |
| Greenstreet | Word Island | £9.99 | (£9.99) | [GSWRDI] | Buy |

Also see alternative versions and products above

Prices are in £GBP and include all applicable taxes (VAT etc). Purchases of multiple copies may be eligible for discounts of up to 40%, email us for a quote with the quantity you require.

P&P will be charged at "light items" rates
(Some valuable items may have to go special delivery and packages may have outer packaging or inner boxing removed to save weight, if this is a gift or for resale please request intact boxes)

See our full Postage & Delivery Details including shipping rates within the UK, Europe and worldwide, first class and next day before 9 AM and 12 Noon, same day options.

Email to check latest pricing or stock availability

Check Exchange Rates to convert UK pricing or Email us with your country and/or currency for a quote.


ORDERING


---
Any questions prior to ordering? - then email: Sales or call us on 0870 766 3699, otherwise proceed to the Order Form.

If the online Order Form fails for any reason or your product is not yet listed there, or you wish to print and send your order, then fill in the following, hit the [Select details] button below, and copy and paste to your email program or word processor:

Now hit Ctrl+C to copy the selected text to your clipboard and then paste (Ctrl+V) it into your preferred Email program or click here to launch your Email editor.
CONTACT DETAILS


---
Click here for full Contact Details including postal address, additional phone lines and technical support email.

Whilst we are based in Norwich, Norfolk in the UK we can ship most items internationally.


RETURN TO
TOP OF PAGE

CLOSE
WINDOW

PRINT
PAGE

HOME
PAGE

TERMS AND
CONDITIONS

HELP ON USING
THIS SITE