| | | |
| --- | --- | --- |
| | Greenstreet Publishing Studio Edition 4 | |
Details and specifications of Greenstreet's Publishing Studio Edition 4, £99.99 (GBP inc VAT £99.99). The complete creative experience in one box. [Buy now] or call us on 0870 766 3699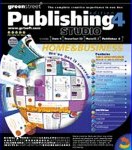 Greenstreet Publishing Studio Edition 4

The complete creative experience in one box.

greenstreet Publisher, Draw, PhotoFX and PowerText 3D, combined, give you unbelievable software power, so you spend less time swapping between applications and more time designing.

Greenstreet Publisher
The easiest to use desktop publishing software you can buy. The combination of page layout, draw, photo editing and 3D text effects at your fingertips is incredibly powerful and simple to use in parallel, to create stunning documents. Publisher is more efficient, more effective and packed with more features than any other DTP product on the market. It couldn't be easier! More information.

Greenstreet Draw
7 Need to create a logo or want to re-draw or re-colour clipart? No problem, select Draw with a simple click on the launch icon, (no need to close Publisher), create your artwork and then drop it into your Publisher page layout. If you need to edit it in any way then simply double-click on your illustration and as if by magic, you are back in Draw! More information.

Greenstreet PhotoFX
Picture editing of immense power. 100s of special effects can be applied at a click of a button to your photo images. Once you have created your desired effects, save your image and import it into your layout. Double-clicking on the image takes you instantly back to editing. More information.

Greenstreet PowerText
Dynamic 3D letter effects in real time. Use this software to add a new dimension to your documents. Stunning 3D effects, you can have fun creating, adjusting perspectives, textures, lighting and shadows. More information.


Picture Browser
Export in 10 different formats using the save as function. JPEG Bitmap (Internet), PCX Bitmap, PNG Bitmap, Tiff Bitmap, Targa Bitmap, Photoshop Bitmap, Windows Bitmap, Windows Metafile, Metafiles can also be exported as CGM & GEM formats. Drag&Drop your chosen image into any application that supports OLE2 with greenstreet's PictureBrowser. Unsupported formats can be automatically converted into a generic format to work with your chosen application.



Snapshot
An excellent utility to capture images on your screen. You can capture the screen, window, region or object and export in three file formats, WMF, TIF, or PCX. Select your hotkey in preferences for quick, easy and effective usage. A perfect compliment.



Font Manager
Preview print, install any number of fonts at one time, double click on preview for more detail. Categorise your fonts and use with existing fonts.



KeyPad
An incredibly useful utility for locating special characters not available on a standard keyboard. Alt+0128 will take you direct to the Euro symbol.


Manufacturer's Product Code: Our Product Ref: GSPBS4

SCREENSHOTS


---

None Available

REVIEWS


---

Included in Publishing Studio is a massive 125,000 images.


100,000 Alphabetart
10,000 Clipart
10,000 Photos
5000 Sniparts

SYSTEM REQUIREMENTS


---

| | | | |
| --- | --- | --- | --- |
| | Windows PC | Yes | Pentium etc |
| | Apple MAC | N/A | Purchase Virtual PC first |
| | Linux | N/A | |




VERSIONS, OPTIONS & ALTERNATIVES


---

| | | | | | |
| --- | --- | --- | --- | --- | --- |
| Greenstreet | Publishing Studio Edition 4 | £99.99 | (£99.99) | [GSPBS4] | Buy |


Compare also:



PRICING


---

| | | | | | |
| --- | --- | --- | --- | --- | --- |
| Greenstreet | Publishing Studio Edition 4 | £99.99 | (£99.99) | [GSPBS4] | Buy |


Also see alternative versions and products above

Prices are in £GBP and include all applicable taxes (VAT etc). Purchases of multiple copies may be eligible for discounts of up to 40%, email us for a quote with the quantity you require.

P&P will be charged at "light items" rates
(Some valuable items may have to go special delivery and packages may have outer packaging or inner boxing removed to save weight, if this is a gift or for resale please request intact boxes)

See our full Postage & Delivery Details including shipping rates within the UK, Europe and worldwide, first class and next day before 9 AM and 12 Noon, same day options.

Email to check latest pricing or stock availability

Check Exchange Rates to convert UK pricing or Email us with your country and/or currency for a quote.



ORDERING


---

Any questions prior to ordering? - then email: Sales or call us on 0870 766 3699, otherwise proceed to the Order Form.

If the online Order Form fails for any reason or your product is not yet listed there, or you wish to print and send your order, then fill in the following, hit the [Select details] button below, and copy and paste to your email program or word processor:

Now hit Ctrl+C to copy the selected text to your clipboard and then paste (Ctrl+V) it into your preferred Email program or click here to launch your Email editor.

CONTACT DETAILS


---

Click here for full Contact Details including postal address, additional phone lines and technical support email.

Whilst we are based in Norwich, Norfolk in the UK we can ship most items internationally.



RETURN TO
TOP OF PAGE

CLOSE
WINDOW

PRINT
PAGE

HOME
PAGE

TERMS AND
CONDITIONS

HELP ON USING
THIS SITE