| | | |
| --- | --- | --- |
| | Greenstreet Junior Paintbox | |
Details and specifications of Greenstreet's Junior Paintbox, £9.99 (GBP inc VAT £9.99). Junior Paintbox is the ideal painting "game" for young computer users. [Buy now] or call us on 0870 766 3699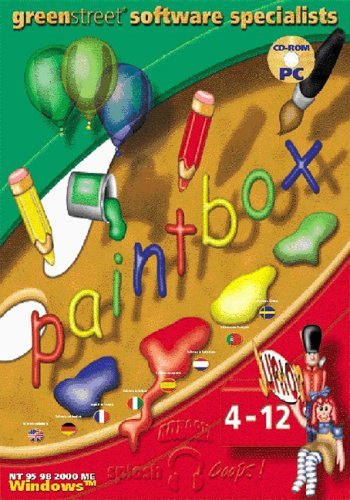 Greenstreet Junior Paintbox

Suitable for ages 4 to 12, it will keep them amused for hours creating great pictures. This software is the best way a young user can start drawing and developing their computer skills. greenstreet junior Paintbox is a sight and sound delight, perfectly designed to stimulate imagination and develop mouse co-ordination and control. There are lots of exciting effects for example blobs, spray cans, various ink stamps which can all be scattered anywhere on the making this, the one creative piece of software kids love to use! One of the most intuitive and charming highlights of the program is the addition of sound. Each of the buttons and tools has an appropriate sound to help your child associate their actions with what they see on the screen for instance the eraser tool squeaks realistically and the Undo button says "Ooops!".

Interface:
There are no hidden features or functions, they are all accessible from the onset. Its big and bold interface needs no explanation so even the youngest user can get stuck in straight away! It is a joy to use with only one click of the mouse on each button displayed to change the tool, colour or special effect.


Colour palette
Drawing tools
Pencil Freestyle
Paintbrush
Square shape
Circle shape
Paint bucket
Letter stamp
Pencil
Straight line
Clipart stamp
Mix-it-all-up and rub-it-out.
Content:
32 activities
73 backgrounds
145 colouring-in line drawings
Additional Utilities


Picture Browser:
Export in 10 different formats using the save as function. JPEG Bitmap (Internet), PCX Bitmap, PNG Bitmap, Tiff Bitmap, Targa Bitmap, Photoshop Bitmap, Windows Bitmap, Windows Metafile, Metafiles can also be exported as CGM & GEM formats. Drag&Drop your chosen image into any application that supports OLE2 with greenstreet®'s Picture Browser. Unsupported formats can be automatically converted into a generic format to work with your chosen application.

Manufacturer's Product Code: Our Product Ref: GSJPTB
SCREENSHOTS


---
None Available
REVIEWS


---
None available
SYSTEM REQUIREMENTS


---
Windows 95/98/NT/2000/ME/XP
Yes

i486 DX2/66
8MB RAM
30MB Free HDD Space
VGA Graphics
Soundcard

Apple MAC
N/A
Purchase Virtual PC first
Linux
N/A
VERSIONS, OPTIONS & ALTERNATIVES


---
| | | | | | |
| --- | --- | --- | --- | --- | --- |
| Greenstreet | Junior Paintbox | £9.99 | (£9.99) | [GSJPTB] | Buy |

Compare also:


| | | | | | | |
| --- | --- | --- | --- | --- | --- | --- |
| Greenstreet | Junior Colouring Book | £9.99 | (£9.99) | [GSJCLB] | Buy | | View |
PRICING


---
| | | | | | |
| --- | --- | --- | --- | --- | --- |
| Greenstreet | Junior Paintbox | £9.99 | (£9.99) | [GSJPTB] | Buy |

Also see alternative versions and products above

Prices are in £GBP and include all applicable taxes (VAT etc). Purchases of multiple copies may be eligible for discounts of up to 40%, email us for a quote with the quantity you require.

P&P will be charged at "light items" rates
(Some valuable items may have to go special delivery and packages may have outer packaging or inner boxing removed to save weight, if this is a gift or for resale please request intact boxes)

See our full Postage & Delivery Details including shipping rates within the UK, Europe and worldwide, first class and next day before 9 AM and 12 Noon, same day options.

Email to check latest pricing or stock availability

Check Exchange Rates to convert UK pricing or Email us with your country and/or currency for a quote.


ORDERING


---
Any questions prior to ordering? - then email: Sales or call us on 0870 766 3699, otherwise proceed to the Order Form.

If the online Order Form fails for any reason or your product is not yet listed there, or you wish to print and send your order, then fill in the following, hit the [Select details] button below, and copy and paste to your email program or word processor:

Now hit Ctrl+C to copy the selected text to your clipboard and then paste (Ctrl+V) it into your preferred Email program or click here to launch your Email editor.
CONTACT DETAILS


---
Click here for full Contact Details including postal address, additional phone lines and technical support email.

Whilst we are based in Norwich, Norfolk in the UK we can ship most items internationally.


RETURN TO
TOP OF PAGE

CLOSE
WINDOW

PRINT
PAGE

HOME
PAGE

TERMS AND
CONDITIONS

HELP ON USING
THIS SITE