| | | |
| --- | --- | --- |
| | Greenstreet Business Label Maker | |
Details and specifications of Greenstreet's Business Label Maker, £19.99 (GBP inc VAT £19.99). Award winning desktop publishing and drawing package. [Buy now] or call us on 0870 766 3699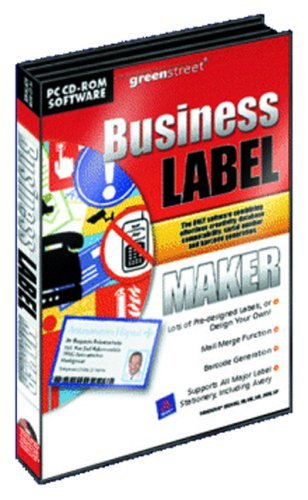 Greenstreet Business Label Maker

Business Label Maker, one of six in the Office range, allows you to export Comma Separated Value (CSV) files from any contact database able to do so, to include as a mail merge field in Business Label Maker, providing unprecedented cross-application communication. Business Label Maker is also the only product in the Office range that combines mailmerge functionality with full barcode support. Business Label Maker is the latest title from greenstreet® Software Limited, the development experts of award winning desktop publishing and drawing packages. The Office range is the culmination of an extensive three-year project resulting in a range of products that are both powerful and intuitive in their design.

Content:

Barcode support. Includes EAN, UPS and ISBN.
Over 200 pre-made labels and templates for all major brand label stock manufacturers. Pre-made label categories include: Mailing, Instruction, Information and Fire.
Incremental serial numbers can be inserted into text and barcode frames
Exported CSV files can be integrated into Business Label Maker database fields, making information transfer between applications both quick and efficient
Powerful editing functionality
Comprehensive tools. Frames can be rotated, stretched, resized, flipped and re-coloured. Text frames can be rotated and resized, while the text they contain can be resized and re-coloured.
Import various file formats to work with including: JPG, BMP, WMF and GIF.


Manufacturer's Product Code: Our Product Ref: GSBSLM
SCREENSHOTS


---
None Available
REVIEWS


---
None available
SYSTEM REQUIREMENTS


---
Windows 95OSR2/98/ME/NT4/2000/XP
Yes

P166
16MB RAM
126MB Free HDD Space
SVGA Graphics
CD-ROM Drive

Apple MAC
N/A
Purchase Virtual PC first
Linux
N/A
VERSIONS, OPTIONS & ALTERNATIVES


---
| | | | | | |
| --- | --- | --- | --- | --- | --- |
| Greenstreet | Business Label Maker | £19.99 | (£19.99) | [GSBSLM] | Buy |

Compare also:


| | | | | | | |
| --- | --- | --- | --- | --- | --- | --- |
| Greenstreet | T-Shirt Maker 3 | £14.99 | (£14.99) | [GSTSHM] | Buy | | View |