| | | |
| --- | --- | --- |
| | Focus I SPY Treasure Hunt | |
Details and specifications of Focus's I SPY Treasure Hunt, £9.99 (GBP inc VAT £9.99). Brain–Building Games for Kids. [Buy now] or call us on 0870 766 3699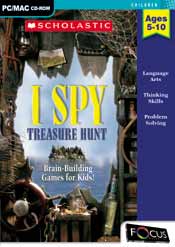 Focus I SPY Treasure Hunt

(Age 5-10) Brain–Building Games for Kids!

Embark on an adventure to Smuggler's Cove, a community bursting with pirate history, elusive clues and spectacular hidden treasures. Exploring the town and playing I Spy riddles cleverly reveal pieces of three mysterious treasure maps. Assemble the pieces and follow the clues on your exciting hunt to discover the unique treasures left behind by the town's legendary pirates.

Special Features:
• Three separate treasure hunts, each with a unique ending.
• 60 challenging I Spy™ riddles with pirate clues that help guide you to the treasures.
• 40 engaging locations.
• Fun pirate map games.
• Over 500 amusing animations and musical surprises.

Based on the award-winning and best-selling book, I SPY Treasure Hunt, text by Jean Marzollo, photographs by Walter Wick.

Carefully search Shipwreck Shore to solve the riddle and earn another map piece! The words highlight as you find each object.

Learn about the legendary pirates by visiting the museum exhibit. Use the magnifying glass to find the historical objects and solve the riddle!

Develops a wide range of skills:
• Critical Thinking
• Mapping
• Vocabulary
• Rhyming
• Logic & Reasoning
• Cause & Effect
• Following Directions
• Visual Memory & Discrimination
• Problem Solving

Manufacturer's Product Code: ESS509 Our Product Ref: FISSTH
SCREENSHOTS


---
Screenshot 1 | Screenshot 2 | Screenshot 3 | Screenshot 4
REVIEWS


---
2002 Parenting Magazine Software of the Year Award

2001/2002 BESSIE (Best Educational Software) Award

The National Parenting Center's Seal of Approval 2001

Best Selling PC Games PlayDate 2001

2001 Parents' Choice Software Recommended Award

2001 Parent's Guide to Children's Media Award

Warren Buckleitner, Parade Magazine (November 25, 2001): "It's the best interactive I SPY product yet."

James Oppenheim, Child Magazine (December/January 2002): "This entertaining program gets children thinking visually."

2001 Choosing Children's Software Best Pick Award

Parents Magazine (September 2001): Best Back-to-School Software

Jane Clifford, Copley News Service (December 11, 2001): "One of the most engaging series of programs ever for the young and young at heart..."

Robin Ray, Boston Herald (October 7, 2001): "Scholastic continues its wonderful series of riddle-puzzle games with I SPY Treasure Hunt..."

Children's Software Revue (November/December 2001): "The graphics are mesmerizing, drawing kids (and adults) into the game."

EdutainingKids.com (November 2001): "...it's fun and absorbing, and parents will agree that all the time their kids spend with the game will be time well spent."
SYSTEM REQUIREMENTS


---
Windows 95/98/Me/2000/XP
Yes
486 Mhz or equivalent (Pentium recommended)

10MB Hard Drive Space

16MB RAM

Any DirectX 8.0a compatible graphics card (640x480x16bit colour)

CD-ROM Speed 4x or faster

Any 100% DirectX 8.0a compatible sound card
Apple MAC System 7.6.1 or later, OS X
Yes
Power PC 120 MHz or faster

12MB Hard Drive Space

32MB RAM

640x480 Thousands of colours

CD-ROM Speed 4x or faster

Soundcard required
Linux
N/A
VERSIONS, OPTIONS & ALTERNATIVES


---
| | | | | | |
| --- | --- | --- | --- | --- | --- |
| Focus | I SPY Treasure Hunt | £9.99 | (£9.99) | [FISSTH] | Buy |

Compare also:


| | | | | | | |
| --- | --- | --- | --- | --- | --- | --- |
| Focus | I SPY Spooky Mansion | £9.99 | (£9.99) | [FISYSM] | Buy | | View |
PRICING


---
| | | | | | |
| --- | --- | --- | --- | --- | --- |
| Focus | I SPY Treasure Hunt | £9.99 | (£9.99) | [FISSTH] | Buy |

Also see alternative versions and products above

Prices are in £GBP and include all applicable taxes (VAT etc). Purchases of multiple copies may be eligible for discounts of up to 40%, email us for a quote with the quantity you require.

P&P will be charged at "light items" rates
(Some valuable items may have to go special delivery and packages may have outer packaging or inner boxing removed to save weight, if this is a gift or for resale please request intact boxes)

See our full Postage & Delivery Details including shipping rates within the UK, Europe and worldwide, first class and next day before 9 AM and 12 Noon, same day options.

Email to check latest pricing or stock availability

Check Exchange Rates to convert UK pricing or Email us with your country and/or currency for a quote.


ORDERING


---
Any questions prior to ordering? - then email: Sales or call us on 0870 766 3699, otherwise proceed to the Order Form.

If the online Order Form fails for any reason or your product is not yet listed there, or you wish to print and send your order, then fill in the following, hit the [Select details] button below, and copy and paste to your email program or word processor:

Now hit Ctrl+C to copy the selected text to your clipboard and then paste (Ctrl+V) it into your preferred Email program or click here to launch your Email editor.
CONTACT DETAILS


---
Click here for full Contact Details including postal address, additional phone lines and technical support email.

Whilst we are based in Norwich, Norfolk in the UK we can ship most items internationally.


RETURN TO
TOP OF PAGE

CLOSE
WINDOW

PRINT
PAGE

HOME
PAGE

TERMS AND
CONDITIONS

HELP ON USING
THIS SITE