Details and specifications of Focus's I SPY School Days, £9.99 (GBP inc VAT £9.99). Brain-Building Games for Kids. [Buy now] or call us on 0870 766 3699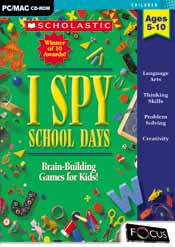 Focus I SPY School Days

(Age 5-10) Brain-Building Games for Kids!

Solve rhyming riddles by finding hundreds of cleverly hidden objects, race against the clock playing Oops Hoops and Codebreaker, or create your own I Spy™ picture riddles. I Spy School Days challenges you to use your brain!

Special Features:
• Nine unique play areas offer irresistible game play: Nature, Chalkboard, Craft Projects, Balloon Popper, Codebreaker, Wood Block City, Oops Hoops, Make Your Own I Spy and Find Me.
• Over 1,600 object and word searches are built into dozens of riddles, puzzles and games.
• Charming riddles reinforce reading principles using rhyme, rhythm and alliteration.
• Voice-over instructions allow children to play independently.
• Your child's name appears throughout the game.


Craft Projects:
Use your eyes and your brain to solve clever riddles. As you play, practice reading and build vocabulary.

Logic and Reasoning:
This unusual machine won't work because it is missing pieces. Use reasoning skills to follow the clues and find the objects that make the machine POP the balloon.

Develops a wide range of skills:
• Reading
• Rhyming
• Visual Discrimination
• Word-Object Association
• Vocabulary
• Sorting & Classifying
• Cause & Effect
• Problem Solving
• Creativity
• Logic & Reasoning
• Visual Memory


Craft Projects:
Use your eyes and your brain to solve clever riddles. As you play, practice reading and build vocabulary.

Logic and Reasoning:
This unusual machine won't work because it is missing pieces. Use reasoning skills to follow the clues and find the objects that make the machine POP the balloon.

Develops a wide range of skills:
• Reading
• Rhyming
• Visual Discrimination
• Word-Object Association
• Vocabulary
• Sorting & Classifying
• Cause & Effect
• Problem Solving
• Creativity
• Logic & Reasoning
• Visual Memory


Manufacturer's Product Code: ESS508 Our Product Ref: FISJSD
SCREENSHOTS


---
Screenshot 1 | Screenshot 2 | Screenshot 3 | Screenshot 4
REVIEWS


---
Oppenheim Toy Portfolio Blue Chip Award: "...combining the best visual puzzles with the best artwork...Go get this program; you'll enjoy playing it with your child!"

2000 Parents' Choice Silver Honor Award

2000 Parent's Guide to Children's Media Award

The National Parenting Center's Seal of Approval (Holiday 2000)

Children's Software Revue (September/October 2000): 4.7 All Star Software Award

Holiday 2000 Best Pick: Best Logic Game by Choosing Children's Software

The Review Corner Award of Excellence/Best of 2000: "Screens come alive with the click of a mouse. This title is packed with material to please the eyes, ears, and mind."

FamilyLife Favorite December 2000/January2001

Parenting Magazine Software Magic Award

Jane Clifford, The San Diego Union Tribune (November 28, 2000): "...promotes hours and hours of entertainment and learning."

Anne Reeks, The Houston Chronicle (September 22, 2000): A- "...the cleverly worded riddles send children on gleeful hunting expeditions amid gorgeous photo-montages of everyday objects and bits of nature."

Suzi Sez, KidZone: "I give this software a high five, two thumbs up and Grandma's Platinum Seal of Approval! My hat is off to Scholastic, Inc. for bringing us another fine learning software program."
SYSTEM REQUIREMENTS


---
Windows 95/98/Me/2000/XP
Yes
Pentium 90 MHz or equivalent

10MB Hard Drive Space

16MB RAM

vAny DirectX 8.0a compatible graphics card (640x480x256 colours)

CD-ROM Speed 4x or faster

Any 100% DirectX 8.0a compatible sound card
Apple MAC OS 7.5 or later
Yes
PowerPC 90 MHz or faster

10MB Hard Drive Space

16MB RAM

640x480x256 colours

CD-ROM Speed 4x or faster

Sound card required

Linux
N/A
VERSIONS, OPTIONS & ALTERNATIVES


---
| | | | | | |
| --- | --- | --- | --- | --- | --- |
| Focus | I SPY School Days | £9.99 | (£9.99) | [FISJSD] | Buy |

Compare also:


| | | | | | | |
| --- | --- | --- | --- | --- | --- | --- |
| Focus | I SPY Spooky Mansion Deluxe | £9.99 | (£9.99) | [FISSMD] | Buy | | View |
PRICING


---
| | | | | | |
| --- | --- | --- | --- | --- | --- |
| Focus | I SPY School Days | £9.99 | (£9.99) | [FISJSD] | Buy |

Also see alternative versions and products above

Prices are in £GBP and include all applicable taxes (VAT etc). Purchases of multiple copies may be eligible for discounts of up to 40%, email us for a quote with the quantity you require.

P&P will be charged at "light items" rates
(Some valuable items may have to go special delivery and packages may have outer packaging or inner boxing removed to save weight, if this is a gift or for resale please request intact boxes)

See our full Postage & Delivery Details including shipping rates within the UK, Europe and worldwide, first class and next day before 9 AM and 12 Noon, same day options.

Email to check latest pricing or stock availability

Check Exchange Rates to convert UK pricing or Email us with your country and/or currency for a quote.


ORDERING


---
Any questions prior to ordering? - then email: Sales or call us on 0870 766 3699, otherwise proceed to the Order Form.

If the online Order Form fails for any reason or your product is not yet listed there, or you wish to print and send your order, then fill in the following, hit the [Select details] button below, and copy and paste to your email program or word processor:

Now hit Ctrl+C to copy the selected text to your clipboard and then paste (Ctrl+V) it into your preferred Email program or click here to launch your Email editor.
CONTACT DETAILS


---
Click here for full Contact Details including postal address, additional phone lines and technical support email.

Whilst we are based in Norwich, Norfolk in the UK we can ship most items internationally.


RETURN TO
TOP OF PAGE

CLOSE
WINDOW

PRINT
PAGE

HOME
PAGE

TERMS AND
CONDITIONS

HELP ON USING
THIS SITE