| | | |
| --- | --- | --- |
| | Focus Driving Test Success Practical | |
Details and specifications of Focus's Driving Test Success Practical, £9.99 (GBP inc VAT RRP £9.99). Advance Through Your Lessons to Driving Test Standard. [Buy now] or call us on 0870 766 3699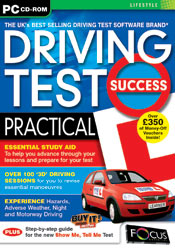 Focus Driving Test Success Practical

Advance Through Your Lessons to Driving Test Standard.

Get the confidence and knowledge you need to become a safe and considerate driver, whilst saving you time and money.
Practice, revise and refresh the essential driving skills taught to you by your Approved Driving Instructor, before and after lessons.
Featuring a virtual 3D car and town you will be able to practice, under instruction, the many vital driving routines on your PC - at your leisure! Watch the supporting video clips of mock driving lessons to get professional advice on observation issues, safe driving practices and techniques. Including a step-by-step guide to prepare you for the new "Show Me, Tell Me" part of the test. Prepare for your driving lessons and impress your instructor with your new knowledge with this essential study aid. KEY FEATURES:
Information Centre:advice on what you need to know before starting your driving lessons.
Know Your Car find out about the main car controls and how they work.
Easy to Use keyboard and mouse controls to drive the car.
Over 100 "3D" Driving Sessions for you to revise essential manoeuvres.
Tutorial Videos watch how a professional instructor performs a variety of manoeuvres.
Show Me, Tell Me step-by-step guide for the new question and answer test.
Virtual Test Section identify your strengths and weaknesses.
Printable Fact Sheets breaking down complex manoeuvres.
Over £350 worth of Money-Off Vouchers Inside!

Driving Sessions Cover:
. Pre-drive safety checks
. Moving off procedure
. Moving off uphill and downhill
. Safely stopping the car
. Stopping distances
. Separation distances
. Mirror Signal Manoeuvre Routine (MSM)
. Position Speed Look Routine (PSL)
. Assessing and driving through bends
. Assessing/Driving through double bends
. Emerging and exiting at junctions
. Negotiating give way junctions
. Negotiating stop junctions
. Negotiating controlled crossroads
. Turning and passing through roundabouts
. Reversing issues
. Reversing into a side road
. Turn in the road
. Reverse park beside the road
. Bay parking
. Uphill and downhill parking
. Encountering pedestrian crossings
. Encountering hazards
. Road condition hazards
. Completing safe emergency stops
. Driving in fog, wind, rain, ice and at night
. Joining and exiting a dual carriageway
. Driving on a dual carriageway
. Joining and exiting a motorway
. Overtaking on a motorway
. Motorway signs and signals
. Applying the Two Second Rule


Manufacturer's Product Code: ESS428 Our Product Ref: PRCODE
SCREENSHOTS


---
None Available
REVIEWS


---
"Slickly done and better than many other similar packages on the market." 5/5 Driving Instructor Magazine
SYSTEM REQUIREMENTS


---
Windows 98/Me/2000/XP
Yes
Pentium III 450 or equivalent
211MB Hard Drive Space
64MB RAM (128MB recommended)
Any 16MB 100% DirectX 8.1 compatible graphics card (800x600x16bit or higher)
CD-ROM Speed 4x or faster if running videos from CD
Any 100% DirectX 8.1 compatible soundcard
AppleMac Apple MAC
N/A
Purchase Virtual PC first
Linux
N/A
VERSIONS, OPTIONS & ALTERNATIVES


---
| | | | | | |
| --- | --- | --- | --- | --- | --- |
| Focus | Driving Test Success Practical | £9.99 | (RRP £9.99) | [PRCODE] | Buy |

Compare also:


| | | | | | | |
| --- | --- | --- | --- | --- | --- | --- |
| Focus | Driving Test Success Road Signs | £9.99 | (RRP £9.99) | [FDTSRS] | Buy | | View |
PRICING


---
| | | | | | |
| --- | --- | --- | --- | --- | --- |
| Focus | Driving Test Success Practical | £9.99 | (RRP £9.99) | [PRCODE] | Buy |

Also see alternative versions and products above

Prices are in £GBP and include all applicable taxes (VAT etc). Purchases of multiple copies may be eligible for discounts of up to 40%, email us for a quote with the quantity you require.

P&P will be charged at "light items" rates
(Some valuable items may have to go special delivery and packages may have outer packaging or inner boxing removed to save weight, if this is a gift or for resale please request intact boxes)

See our full Postage & Delivery Details including shipping rates within the UK, Europe and worldwide, first class and next day before 9 AM and 12 Noon, same day options.

Email to check latest pricing or stock availability

Check Exchange Rates to convert UK pricing or Email us with your country and/or currency for a quote.


ORDERING


---
Any questions prior to ordering? - then email: Sales or call us on 0870 766 3699, otherwise proceed to the Order Form.

If the online Order Form fails for any reason or your product is not yet listed there, or you wish to print and send your order, then fill in the following, hit the [Select details] button below, and copy and paste to your email program or word processor:

Now hit Ctrl+C to copy the selected text to your clipboard and then paste (Ctrl+V) it into your preferred Email program or click here to launch your Email editor.
CONTACT DETAILS


---
Click here for full Contact Details including postal address, additional phone lines and technical support email.

Whilst we are based in Norwich, Norfolk in the UK we can ship most items internationally.


RETURN TO
TOP OF PAGE

CLOSE
WINDOW

PRINT
PAGE

HOME
PAGE

TERMS AND
CONDITIONS

HELP ON USING
THIS SITE