| | | |
| --- | --- | --- |
| | FastTrak Punch Home Design Platinum | |
Details and specifications of FastTrak's Punch Home Design Platinum, £39.99 (GBP inc VAT £39.99). BriefDescription. [Buy now] or call us on 0870 766 3699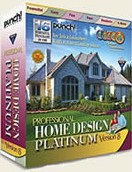 FastTrak Punch Home Design Platinum

Punch! Professional Home Design Suite Platinum 8.0 is a special two-for-one package loaded with incredible capabilities. You get all of the features of both industry-acclaimed Punch! Master Landscape and Punch! Professional Home Design Suite ...in one easy-to-use product.

Design and view your home design with incredible 3D realism!

Our PhotoView technology lets you combine real-world photos with your own designs to create a truly realistic image of your design. You can import a photo of your own home, add landscaping or a deck, then view it from any angle--with realistic, 3D perspective. And our LiveView window continually previews your work, in real-time 3D, as you draw.

Interior and exterior 2D elevations are available with a single mouse click and the exclusive ClearView tool renders your design with a "glass house" effect. You can actually see through walls to maximize your design space.

And you'll be amazed at our powerful 3D graphics engine that lets you create real-time walk or fly-throughs--for a Hollywood-style voyage through your new creation!

The choice for total garden and landscape design.

Create multi-level or multi-story decks with 3D photo-realistic textures, stairs, railings, object placement, and color capabilities. Deck Wizards walk you through railing, baluster options, and more. Choose a basic shape or create one from scratch and watch the program draft a beautiful 3D rendering of your deck concept.

Your deck and landscaping come to life with photo-realistic 3D--complete with shadows--giving you a stunning, true-to-life representation of your design.

Our PlantFinder provides extensive information for a wide plant species including botanical name, soil and moisture requirements, mature height, and other facts so you choose exactly what you want. Tap into information for over 2,000 selections of flowers, shrubs, trees, ornamental grasses, ground cover, and more.

Features:

3D home exterior design
Ultimate Deck
Master Landscape
3D Custom Workshop
FloorPlan Trace
Home Estimator
PlantFinder sortable database
Breakthrough PhotoView technology
ClearView transparent viewer
Cabinet Wizard
Texture Builder
RealModel (patented)
HVAC planner
Plumbing planner
Foundation planner
Electrical planner


Punch! Professional Home Design Platinum Version 8 takes the current No. 1 selling home design product to a new level. Sixteen powerful programs in one, including the new Roofing Wizard, Topo designer, Advanced lighting capabilities, and Deck Wizard. Cabinet Wizard for automatic cabinet design, Custom Texture Builder, PlantFinder sort able database, and PhotoView for importing real world photos to your design. The enhanced user interface with 3D cut away viewing tools, makes millions of design combinations easier than ever before.

Manufacturer's Product Code: Our Product Ref: FTPHDP
SCREENSHOTS


---
Screenshot 1 | Screenshot 2 | Screenshot 3
REVIEWS


---
None available
SYSTEM REQUIREMENTS


---
Windows 95/98/Me/2000/XP/NT
Yes

Pentium processor
16 MB RAM (32 MB RAM for Windows 2000 or above)
VGA video card set to 800x600 and 16-bit color (24-bit color or more recommended)
100 MB of free hard drive space
CD-ROM drive
Mouse or other pointing devices

Apple MAC
N/A
Purchase Virtual PC first
Linux
N/A
VERSIONS, OPTIONS & ALTERNATIVES


---
| | | | | | |
| --- | --- | --- | --- | --- | --- |
| FastTrak | Punch Home Design Platinum | £39.99 | (£39.99) | [FTPHDP] | Buy |

Compare also:


| | | | | | | |
| --- | --- | --- | --- | --- | --- | --- |
| FastTrak | Punch Home Design Architectural Series 18 | £69.99 | (£69.99) | [FTPH18] | Buy | | View |
PRICING


---
| | | | | | |
| --- | --- | --- | --- | --- | --- |
| FastTrak | Punch Home Design Platinum | £39.99 | (£39.99) | [FTPHDP] | Buy |

Also see alternative versions and products above

Prices are in £GBP and include all applicable taxes (VAT etc). Purchases of multiple copies may be eligible for discounts of up to 40%, email us for a quote with the quantity you require.

P&P will be charged at "light items" rates
(Some valuable items may have to go special delivery and packages may have outer packaging or inner boxing removed to save weight, if this is a gift or for resale please request intact boxes)

See our full Postage & Delivery Details including shipping rates within the UK, Europe and worldwide, first class and next day before 9 AM and 12 Noon, same day options.

Email to check latest pricing or stock availability

Check Exchange Rates to convert UK pricing or Email us with your country and/or currency for a quote.


ORDERING


---
Any questions prior to ordering? - then email: Sales or call us on 0870 766 3699, otherwise proceed to the Order Form.

If the online Order Form fails for any reason or your product is not yet listed there, or you wish to print and send your order, then fill in the following, hit the [Select details] button below, and copy and paste to your email program or word processor:

Now hit Ctrl+C to copy the selected text to your clipboard and then paste (Ctrl+V) it into your preferred Email program or click here to launch your Email editor.
CONTACT DETAILS


---
Click here for full Contact Details including postal address, additional phone lines and technical support email.

Whilst we are based in Norwich, Norfolk in the UK we can ship most items internationally.


RETURN TO
TOP OF PAGE

CLOSE
WINDOW

PRINT
PAGE

HOME
PAGE

TERMS AND
CONDITIONS

HELP ON USING
THIS SITE