| | | |
| --- | --- | --- |
| | FastTrak Music Studio 2004 Deluxe | |
Details and specifications of FastTrak's Music Studio 2004 Deluxe, £39.99 (GBP inc VAT £39.99). Magix music studio 2004 deLuxe is the ideal tool . [Buy now] or call us on 0870 766 3699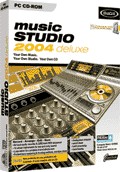 FastTrak Music Studio 2004 Deluxe

From musical idea to completed CD, MAGIX music studio 2004 deLuxe is the ideal tool - record and compose music, utilize and control MIDI equipment, mix optimal sounds and burn it all onto CD. The perfect PC recording studio. Fast and intuitive for perfect production.

AUDIO STUDIO
Record:

NEW! Freeze tracks and free up computer power
Tuner & IMPROVED! Audio metronome
Multi I/O, multi-track mixer for up to 64 stereo channels
Real-time effects: delay, parametric 4 band EQ, dynamics
Stereo enhancer, drawable FFT filter, graphic 10 band EQ
multi-band compressor, vocoder, tube amp simulation
Edit:
NEW! Vocoder with side chain input
IMPROVED! Transport control with snap, tempo & beat input
Non-destructive WAV and MP3 editing
Reverse, re-sampling, tempo and pitch adjustment
Drum loop function - dismantle single sounds
Echo, surround & 3D room simulator
NEW! Variable track depths
Undo history list - up to 100 Undo & Redo
NEW! Real-time vocoder - with 2nd input for carriers
NEW! Easy tempo adjustment of entire songs including objects
Master:
NEW! Sound cloner preset
MAGIX MultiMax multi-band compressor
32 bit float support, 24 bit export
Master 10 band equalizer
Sound restoration: denoising, declipping, dehissing
Sound optimization: stereo enhancer, compressor, normalizer
MIDI STUDIO
Arrange & Compose:
4 stereo outputs
Sequencer with 2,000 MIDI tracks and 48 audio tracks
Groove quantization, song editing with 6 editors
Crossfades, precision video dubbing (AVI)
IMPROVED! Loop production set: royalty-free samples
Detailed note printouts with lyrics
Instruments & Plug-ins:
4 drum modules (rock, acoustic, techno, hip-hop)
6 virtual instruments for all types of sounds
Sample editor: time & pitch, groove machine, audio energizer
Auto/manual mixer - up to 48 effects inserts, 2 master inserts
14 real-time effects: reverb, delay, distorter, chorus, filter pitch-shifter, 15 band graphic EQ and much more
NEW! MAGIX Robota: virtual analog drum computer
NEW! SilverSynth & drum & bass machine
NEW! Batch processing, including master effects
Interfaces & Import/Export:
VSTTM, DirectXTM, ASIO support
Music CD and project backup burning
IMPROVED! Audio CD import with pre-listen
Internet publishing - songs, data, photos, lyrics
Audio Email: send directly from the program
Synchronize with SMPTE, MTC, MC - master and slave
Export streaming audio - WMATM, RealAudioTM, QuickTimeTM
MIDI & Sample formats: GM, GS, XG & SF2 & EXS WAV, WAV with Codec, NEW! OGG Vorbis and MP3 (upgradeable MP3 Demo Encoder with 20 free runs - unlock upgrade available at £9.99 at any time)
Import AIFF, AVI, MOV
IMPROVED! Extract and export video sound
Export in 24 bit WAV, Import 24 bit and 32 bit float WAV


Manufacturer's Product Code: Our Product Ref: FTMS04
SCREENSHOTS


---
None Available
REVIEWS


---
None available
SYSTEM REQUIREMENTS


---
Windows 98/98SE/2000/ME/XP
Yes

Processor from 400 MHz, Memory from 64 MB
Hard disk: Minimum 100 MB free
Graphic card resolution of at least 800 x 600 with 16 bit hi-colour
Full duplex 16 bit soundcard or ASIO-capable soundcard (recommended)
CD-ROM drive
Microsoft-compatible mouse
Optional: CD burning with CD recorder
Emails sent with standard Email software - Microsoft OutlookT or Microsoft Outlook Express
ASIO & VST are registered trademarks of Steinberg Soft- und Hardware GmbH

Apple MAC
N/A
Purchase Virtual PC first
Linux
N/A
VERSIONS, OPTIONS & ALTERNATIVES


---
| | | | | | |
| --- | --- | --- | --- | --- | --- |
| FastTrak | Music Studio 2004 Deluxe | £39.99 | (£39.99) | [FTMS04] | Buy |

Compare also:


| | | | | | | |
| --- | --- | --- | --- | --- | --- | --- |
| FastTrak | Music Studio 2005 Deluxe | £49.99 | (£49.99) | [FTMS05] | Buy | | View |
PRICING


---
| | | | | | |
| --- | --- | --- | --- | --- | --- |
| FastTrak | Music Studio 2004 Deluxe | £39.99 | (£39.99) | [FTMS04] | Buy |

Also see alternative versions and products above

Prices are in £GBP and include all applicable taxes (VAT etc). Purchases of multiple copies may be eligible for discounts of up to 40%, email us for a quote with the quantity you require.

P&P will be charged at "light items" rates
(Some valuable items may have to go special delivery and packages may have outer packaging or inner boxing removed to save weight, if this is a gift or for resale please request intact boxes)

See our full Postage & Delivery Details including shipping rates within the UK, Europe and worldwide, first class and next day before 9 AM and 12 Noon, same day options.

Email to check latest pricing or stock availability

Check Exchange Rates to convert UK pricing or Email us with your country and/or currency for a quote.


ORDERING


---
Any questions prior to ordering? - then email: Sales or call us on 0870 766 3699, otherwise proceed to the Order Form.

If the online Order Form fails for any reason or your product is not yet listed there, or you wish to print and send your order, then fill in the following, hit the [Select details] button below, and copy and paste to your email program or word processor:

Now hit Ctrl+C to copy the selected text to your clipboard and then paste (Ctrl+V) it into your preferred Email program or click here to launch your Email editor.
CONTACT DETAILS


---
Click here for full Contact Details including postal address, additional phone lines and technical support email.

Whilst we are based in Norwich, Norfolk in the UK we can ship most items internationally.


RETURN TO
TOP OF PAGE

CLOSE
WINDOW

PRINT
PAGE

HOME
PAGE

TERMS AND
CONDITIONS

HELP ON USING
THIS SITE