| | | |
| --- | --- | --- |
| | Fasttrak Music Maker 2005 Deluxe | |
Details and specifications of Fasttrak's Music Maker 2005 Deluxe, £49.99 (GBP inc VAT £49.99). A sophisticated music tool with a professional range of functions . [Buy now] or call us on 0870 766 3699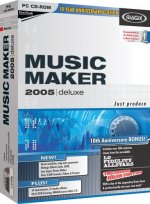 Fasttrak Music Maker 2005 Deluxe

MAGIX is celebrating music maker's 10th birthday. The anniversary version is being released with numerous new features that simplify the music making process.

MAGIX I music maker is a sophisticated music tool with a professional range of functions for detailed arranging and editing, straightforward remixing and flawless CD mastering. It now provides fully-professional sound quality while retaining the renowned simplicity of its user interface from the creative spark all the way to the finished CD.

NEW! MAGIX Robota
Analog feeling! Virtual analog 4-track drum synthesizer featuring an integrated step sequencer. This synthesizer emulates the classic analog drum machines of the 70s and 80s, offering a huge collection of sounds ranging from shrill beeps and white noise to saturated bass drums. All parameters can be automated with the integrated sequencer. Operation was never easier than with Robota's step-by-step recording function! A virtual tube amp adds analog warmth, and the funkiest drum feels are only a button away with the drum synth's groove and velocity templates.

NEW! Ringtone generator
Cell-phone tuning! Convert your own sounds or songs directly into your cell-phone's ringtone format. Tunes can be exported into the following formats: WAV, ADPCM, MP3, MIDI and more.

NEW! Professional effects: Chorus, Flanger, and Delay
A fresh breeze! These three new effects will inject some added vitality into your songs. Chorus adds warmth and depth, Flanger creates jet-like sounds, Delay provides echos and stereo ping-pong delays these standard effects are a must for every sound enthusiast.

NEW! Task Assistant help videos for common tasks
Learn about the software! The new task assistant provides support for complex, demanding productions. Our short instructional videos can surprise even the most seasoned music maker users. Simply watch and learn!

IMPROVED! Professional mixer
The core component! The mixer now features direct access to parametric EQs, new effects such as Chorus, Flanger and Delay as track inserts, and additional mastering effects.

IMPROVED! MAGIX Remix Maker
Foundation for creative ideas. The new Remix Maker detects the beat in your audio files, segmenting songs into slices and automatically generating remixes. Simply insert your CD and your remix starts at the press of a button!

IMPROVED! Expanded MIDI editor
Maximum MIDI! The new MIDI editor provides added support for your MIDI instruments. MIDI recording, in-depth editing and inserting plug-in instruments do it all with this easy-to-use editor. Additional features: drawing of controller data, detailed event editing, other powerful MIDI tools.

Features:

NEW! MAGIX LiViD virtual drummer with human performance qualities
NEW! Ringtone generator export your own sounds to common cell-phone audio formats
NEW! 3 CDs with 5,000+ new loops, samples, effect presets, video clips and more
NEW! DVD support burn data to DVD, archive entire sound libraries
NEW! Professional effects Chorus, Flanger and Delay
IMPROVED! Extended mixer functions now featuring EQs and insert effects
IMPROVED! MAGIX Remix Maker extended remix automation
IMPROVED! Optimised start and end marker handling faster arrangements
IMPROVED! Expanded MIDI Editor intuitive MIDI handling with the new MIDI editor
NEW! MAGIX LoLa fast response times for realtime recording and live audio inputs (Low Latency)


Box Contents:
4 CD-ROMs
1 manual

Manufacturer's Product Code: Our Product Ref: FTMM05
SCREENSHOTS


---
None Available
REVIEWS


---
None available
SYSTEM REQUIREMENTS


---
Windows 98/98SE/2000/ME/XP
Yes

400 MHz+ processor
64 MB RAM (128 MB recommended) Min. 350 MB free hard disk space
Graphics card with at least 800 x 600 resolution at 16-bit high colour
16-bit sound card (3D sound functionality with DirectSound3DTM compatible sound card)
CD-ROM drive, Microsoft compatible mouse

Optional: CD burner/recorder Video recording and playback Video-for-Windows or DirectShow compatible video card, TV card or graphics card with video inputMAGIX Online Content Library and publishing on www.magix.com requires an Internet connection and Microsoft Internet ExplorerTM 4.0 or higher Send video e-mails with standard e-mail software Microsoft OutlookTM or Microsoft Outlook ExpressTM.
Apple MAC
N/A
Purchase Virtual PC first
Linux
N/A
VERSIONS, OPTIONS & ALTERNATIVES


---
| | | | | | |
| --- | --- | --- | --- | --- | --- |
| Fasttrak | Music Maker 2005 Deluxe | £49.99 | (£49.99) | [FTMM05] | Buy |

Compare also:


| | | | | | | |
| --- | --- | --- | --- | --- | --- | --- |
| Fasttrak | Music Maker 2004 Deluxe | £39.99 | (£39.99) | [FTMM04] | Buy | | View |
PRICING


---
| | | | | | |
| --- | --- | --- | --- | --- | --- |
| Fasttrak | Music Maker 2005 Deluxe | £49.99 | (£49.99) | [FTMM05] | Buy |

Also see alternative versions and products above

Prices are in £GBP and include all applicable taxes (VAT etc). Purchases of multiple copies may be eligible for discounts of up to 40%, email us for a quote with the quantity you require.

P&P will be charged at "light items" rates
(Some valuable items may have to go special delivery and packages may have outer packaging or inner boxing removed to save weight, if this is a gift or for resale please request intact boxes)

See our full Postage & Delivery Details including shipping rates within the UK, Europe and worldwide, first class and next day before 9 AM and 12 Noon, same day options.

Email to check latest pricing or stock availability

Check Exchange Rates to convert UK pricing or Email us with your country and/or currency for a quote.


ORDERING


---
Any questions prior to ordering? - then email: Sales or call us on 0870 766 3699, otherwise proceed to the Order Form.

If the online Order Form fails for any reason or your product is not yet listed there, or you wish to print and send your order, then fill in the following, hit the [Select details] button below, and copy and paste to your email program or word processor:

Now hit Ctrl+C to copy the selected text to your clipboard and then paste (Ctrl+V) it into your preferred Email program or click here to launch your Email editor.
CONTACT DETAILS


---
Click here for full Contact Details including postal address, additional phone lines and technical support email.

Whilst we are based in Norwich, Norfolk in the UK we can ship most items internationally.


RETURN TO
TOP OF PAGE

CLOSE
WINDOW

PRINT
PAGE

HOME
PAGE

TERMS AND
CONDITIONS

HELP ON USING
THIS SITE