| | | |
| --- | --- | --- |
| | FastTrak Magix Guitar Workshop 2nd Edition | |
Details and specifications of FastTrak's Magix Guitar Workshop 2nd Edition , £10.99 (GBP inc VAT £10.99). Quickly learn to play rock and pop . [Buy now] or call us on 0870 766 3699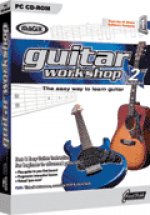 FastTrak Magix Guitar Workshop 2nd Edition

MAGIX Guitar Workshop 2nd edition

Play guitar in your first lesson! Step-by-step video lessons from professional instructors will have beginners playing guitar with the very first lesson. More advanced players will learn the latest techniques to refine their skills.

Start playing today
Quickly learn to play rock and pop standards and practice your timing in the Magix guitar music maker virtual jam room.

MAGIX guitar workshop 2nd edition teaching program is the ideal package for anyone wanting to learn guitar.
Your private lessons 'in a box', this program offers comprehensive exercises for both novice and advanced players.
The lessons cover all of the basics for playing classical, western and electric guitars at a price that would normally cover just one lesson with a private instructor. Learn step-by-step from your own professional instructor and proceed at your own pace as you master each lesson.
You will soon be practicing with a 'band' in the virtual jam room, pursuing more advanced techniques, and even composing your own music.

Start playing today!

Learn song accompaniment
Quickly learn to play rock and pop standards.

Experience playing with a band
Prepare for a live performance, learn to interact with other musicians and practice your timing in the MAGIX guitar music maker virtual jam room.

Involve the whole family
Learn to play children's favorites and hold a performance for the kids - you'll have fun and they'll develop a life-long appreciation for music.

Create your own music
Quickly learn to compose your own songs.

Split screen for both hands
Learn proper placement of BOTH hands while playing. Split-screen videos provide more detailed instruction.

Complete Introduction and Overview
Parts of the guitar, guitar types, tuning
The Tablature, notes & note values, keys, staffs
The Circle of Fifths
Beginner Lessons
Grip hand positioning, first chords
Bar chords & exercises
Strumming hand positioning, accompaniment & picking
Intermediate-Advanced Lessons
Rock & Blues Guitar, 12-Bar Blues chord instruction
The A-Minor Pentatonic and A Blues Scales
Power chords, Basics of Latin & Classical Guitar
Assessment and Individualized Lessons
Record* your playing and obtain performance feedback
Design custom lessons to focus on a particular skill
Gain skill through interactive practice sessions.
Each learning unit exercise corresponds with an arrangement that may be practiced separately, at your own pace.
Each accompanying instrumentmay be changed or activated individually.
Sessions with Magix guitar music maker
16 stereo audio tracks
Virtual instruments: drum machine and silver synth
Remix music CDs, integrate MIDI files
Real-time effects & multi-track mixer
Import music CD tracks
Professional multi-track mixer
Real-time effects including reverb and delay
Selectable pitch (half-tones) and tempo adaptation (BPM)
Variable master tempo (time stretching)
Pro-quality sound loops (44.1 kHz, 16 bit, stereo WAV samples)
Import & Export
Import MP3
WAV, AVI and WMF
Export WAV, WMF, AVI and publish to web
* Direct recording requires additional cable to connect your guitar to your soundcard and may require additional free space on your hard drive.
Contents:
2 CD-ROM
1 manual & chord book


Manufacturer's Product Code: Our Product Ref: FTMGWS
SCREENSHOTS


---
None Available
REVIEWS


---
None available
SYSTEM REQUIREMENTS


---
Windows 98/98 SE/2000/ME/XP
Yes

350 MHz processor
64 MB RAM
150 MB free hard disk space
800x600 screen resolution/16 bit high color
CD-ROM drive for installation
full duplex 16-bit sound card
Microsoft compatible mouse

Apple MAC
N/A
Purchase Virtual PC first
Linux
N/A
VERSIONS, OPTIONS & ALTERNATIVES


---
| | | | | | |
| --- | --- | --- | --- | --- | --- |
| FastTrak | Magix Guitar Workshop 2nd Edition | £10.99 | (£10.99) | [FTMGWS] | Buy |

Compare also:


| | | | | | | |
| --- | --- | --- | --- | --- | --- | --- |
| FastTrak | Piano & Keyboard Workshop 2nd Edition | £10.99 | (£10.99) | [FTPKWS] | Buy | | View |
PRICING


---
| | | | | | |
| --- | --- | --- | --- | --- | --- |
| FastTrak | Magix Guitar Workshop 2nd Edition | £10.99 | (£10.99) | [FTMGWS] | Buy |

Also see alternative versions and products above

Prices are in £GBP and include all applicable taxes (VAT etc). Purchases of multiple copies may be eligible for discounts of up to 40%, email us for a quote with the quantity you require.

P&P will be charged at "light items" rates
(Some valuable items may have to go special delivery and packages may have outer packaging or inner boxing removed to save weight, if this is a gift or for resale please request intact boxes)

See our full Postage & Delivery Details including shipping rates within the UK, Europe and worldwide, first class and next day before 9 AM and 12 Noon, same day options.

Email to check latest pricing or stock availability

Check Exchange Rates to convert UK pricing or Email us with your country and/or currency for a quote.


ORDERING


---
Any questions prior to ordering? - then email: Sales or call us on 0870 766 3699, otherwise proceed to the Order Form.

If the online Order Form fails for any reason or your product is not yet listed there, or you wish to print and send your order, then fill in the following, hit the [Select details] button below, and copy and paste to your email program or word processor:

Now hit Ctrl+C to copy the selected text to your clipboard and then paste (Ctrl+V) it into your preferred Email program or click here to launch your Email editor.
CONTACT DETAILS


---
Click here for full Contact Details including postal address, additional phone lines and technical support email.

Whilst we are based in Norwich, Norfolk in the UK we can ship most items internationally.


RETURN TO
TOP OF PAGE

CLOSE
WINDOW

PRINT
PAGE

HOME
PAGE

TERMS AND
CONDITIONS

HELP ON USING
THIS SITE