| | | |
| --- | --- | --- |
| | FastTrak Magix Digital Photo Maker 2004 | |
Details and specifications of FastTrak's Magix Digital Photo Maker 2004 , £29.99 (GBP inc VAT £29.99). Immediately view photos, organise and optimise then burn onto CD . [Buy now] or call us on 0870 766 3699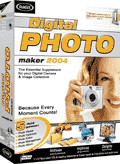 FastTrak Magix Digital Photo Maker 2004

EVERYBODY knows the story. No sooner has the long-awaited digital camera been purchased, then exciting photo material sits around in countless files on the hard disk waiting to be enjoyed.

There's no clear overview of the images which results in data chaos. But with MAGIX Digital Photo Maker 2004, you can finally clear up the mess - immediately view photos, organise and optimise then burn onto CD to create amazing presentations. Because every moment counts!

EXTRA! - 50 LICENSE-FREE FILES OF BACKGROUND MUSIC FOR YOUR PC SLIDESHOWS

MANAGE & ORGANISE

• Load digital photos from camera- By drag & drop, incl. image information (Exif)
• Import from a PC, email, Internet - Support all common formats (JPG, BMP, PSD etc.)
• Import pictures from photo - Displays CD archives without long loading times, supports Kodak
• CD-ROM, memory stick etc. - Photo CD (PCD), USB 1&2, serial interface and much more
• Scan in paper prints - Simple device connection (TWAIN)
• View image files - Familiar Explorer structure for childishly simple navigation
• View using image browser - In any size or automatically as a PC slideshow,incl. preview (thumbnail) and detailed tour
• Sensational immediate display - Display all images in the database without long loading times
MANAGE AND ORGANISE:
Intelligent photo database - Purely virtual without bothersome moving and copying of titles
Time-saving cleanup - Automatic cataloging during viewing
Thematic sorting - According to any category (e.g. friends, holiday etc.)
Practical calendar structure - Clear display according to year,
month, week, day
Quick finder & photo detective - Quick access (favourites), keyword search, image notes
Effortless browsing - If desired, displays only folders containingphotos
Creates interactive photo albums - Multimedia picture collections, incl. videos and music
RETOUCH AND IMPROVE:
Automatic optimisation - Corrects brightness, contrast, gamma curve
Brilliant image quality - Crop, rotate, change the size and colours, zoom
Special effects for any subject - Remove red eye from flash pictures, level the horizon,eliminate edges from scanned photos
Real-time image correction - With a click, no later than during automatic viewer
Nondestructive photo retouching - Practical: if desired, the original photo is not modified
CREATE AND PRESENT:
Create PC slideshows - With a click, as a screen saver, .EXE orvideo file
Create desktop shows - Turns your desktop into a slideshow
Send photo emails - Design and send photos and PC slideshows
Comfortable batch processing- The files of entire photo sessionscan be titled, reduced, converted, copied and much more, all at the same time
Print to photo paper - All standard formats, poster prints, contact prints
ARCHIVE AND BURN:
Archive clearly - Turns the PC into an uncluttered photo archive
Burn photo CD-ROMs - Preserves entire photo archives for posterity on CD-ROMs
Burn PC slideshow CDs - Interactive photo albums, incl. transi-
tions, music and software (MAGIX Media Manager Silver)
FILE SUPPORT AND CONVERSION:
Photo and image files:-Import/export
JPG,BMP,TIFF(uncompressed +JPG-
compressed),PSD,RLE,PNG,TGA,PCX and many others
Video files: - Import/export AVI,WMV 9,MOV,MPEG and many
others/export Real Helix TM
Music files: - Import audio CD,MP3,OGG,WAV,sound from digital
cameras and much more.
BONUS! PHOTO CLINIC 3.0
Processing & Distortion - Provides additional high-quality image processing with all the trimmings.
• Create panoramas - Astounding easy to do using simple photomontage • Remove scratches, tears, spots - Plus 40 additional effects (soft-focus, distortion etc.) • Create collages - With practical selection tools (magic wand, lasso etc.) • Artistic effects - With a click, transform photos into realistic oil paintings,pencil drawings, caricatures and much more


Manufacturer's Product Code: Our Product Ref: FTMDPM
SCREENSHOTS


---
None Available
REVIEWS


---
None available
SYSTEM REQUIREMENTS


---
Windows 98 / 98 SE / ME / 2000 / XP
Yes

Intel Pentium II 266 MHz or similar processor (400 MNz recommended)
64 MB RAM (128 MB recommended)
Hard disk space for program files: min. 250 MB
SVGA graphics card with at least 4 MB RAM; at least 800x600 resolution at 16-bit high colour
CD-ROM drive, Microsoft®-compatible mouse
Audio playback with 16-bit audio card
CD burning with SCSI or IDE CD-R(W) recorder
Digital camera, USB, USB2, serial interface
Scanner with 32-bit TWAIN interface
Colour printer

Apple MAC
N/A
Purchase Virtual PC first
Linux
N/A
VERSIONS, OPTIONS & ALTERNATIVES


---
| | | | | | |
| --- | --- | --- | --- | --- | --- |
| FastTrak | Magix Digital Photo Maker 2004 | £29.99 | (£29.99) | [FTMDPM] | Buy |

Compare also:


| | | | | | | |
| --- | --- | --- | --- | --- | --- | --- |
| FastTrak | Magix Home Photo Wizard | £16.99 | (£16.99) | [FTMHPW] | Buy | | View |
PRICING


---
| | | | | | |
| --- | --- | --- | --- | --- | --- |
| FastTrak | Magix Digital Photo Maker 2004 | £29.99 | (£29.99) | [FTMDPM] | Buy |

Also see alternative versions and products above

Prices are in £GBP and include all applicable taxes (VAT etc). Purchases of multiple copies may be eligible for discounts of up to 40%, email us for a quote with the quantity you require.

P&P will be charged at "light items" rates
(Some valuable items may have to go special delivery and packages may have outer packaging or inner boxing removed to save weight, if this is a gift or for resale please request intact boxes)

See our full Postage & Delivery Details including shipping rates within the UK, Europe and worldwide, first class and next day before 9 AM and 12 Noon, same day options.

Email to check latest pricing or stock availability

Check Exchange Rates to convert UK pricing or Email us with your country and/or currency for a quote.


ORDERING


---
Any questions prior to ordering? - then email: Sales or call us on 0870 766 3699, otherwise proceed to the Order Form.

If the online Order Form fails for any reason or your product is not yet listed there, or you wish to print and send your order, then fill in the following, hit the [Select details] button below, and copy and paste to your email program or word processor:

Now hit Ctrl+C to copy the selected text to your clipboard and then paste (Ctrl+V) it into your preferred Email program or click here to launch your Email editor.
CONTACT DETAILS


---
Click here for full Contact Details including postal address, additional phone lines and technical support email.

Whilst we are based in Norwich, Norfolk in the UK we can ship most items internationally.


RETURN TO
TOP OF PAGE

CLOSE
WINDOW

PRINT
PAGE

HOME
PAGE

TERMS AND
CONDITIONS

HELP ON USING
THIS SITE