| | | |
| --- | --- | --- |
| | FastTrak Desktop Lawyer Personal | |
Details and specifications of FastTrak's Desktop Lawyer Personal , £19.99 (GBP inc VAT £19.99). Now everyone can have access to high quality legal document. [Buy now] or call us on 0870 766 3699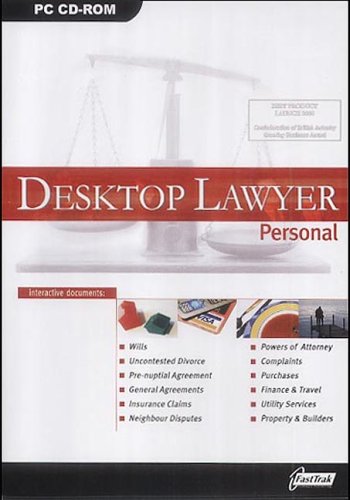 FastTrak Desktop Lawyer Personal

Now everyone can have access to high quality legal documents without resorting to great expense and time-consuming effort. Desktop Lawyer allows anyone to produce professional legally sound documents and contracts with ease. And because it's from Desktop Lawyer you also have the option to have your documents checked by a lawyer if you require, at the click of a button!

OVERVIEW:

Wills
Uncontested Divorce
Pre-nuptial Agreement
General Agreements
Insurance Claims
Neighbour Disputes
Powers of Attorney
Complaints
Purchases
Finance & Travel
Utility Services
Property & Builders


Our documents are "intelligent" and flexible to take into account many varied legal circumstances - one document from Desktop Lawyer is often equivalent to purchasing multiple documents.

All our documents are fully reusable, interactive and customisable, so you can make any number of individual documents you wish!

As you are asked questions you can actually see the document creating itself to meet your circumstances live on screen.

All our documents can be saved at any time and even before all the questions are answered.

DOCUMENT LIST

COMPLAINT:

High telephone bill
High meter reading
Noisy neighbour
Damage to vehicle during service and repair work
Lost luggage
Substandard vehicle servicing
To a hotel about an unsatisfactory room
To a professional body
To a removal company for damaged items
To a tour operator or airline about a flight delay
To a dry cleaners about garment damage
To environmental health officer about noisy neighbours
To neighbour about damage caused by tree roots
To travel agent about unrealised holiday expectations
INFORM:
Credit card company of unknown charges
A manufacturer of an injury caused by goods
Neighbour of your intent to trim an overhanging tree
LETTER:
Enclosing a statutory demand to a company
Notifying change of address
Claim against builder for non-performance
Refuting estate agent's commission
Requesting access to view medical records
Terminating builder's contract
Refuse faulty goods
CLAIM:
Insurance involving damage to property
Against a motor insurance policy
Against holiday insurance for cancellation
Against holiday policy for loss, damage or theft
REFUSE:
Travel agent's offer of compensation
Goods that do not match their description
Goods damaged during delivery
REQUEST:
Neighbour to cut back a tree or plant blocking light
Refund for goods purchased with credit card
Compensation for repair of damage caused by faulty goods
For mediation by OFGEM relating to electricity or gas
For mediation by OFTEL
For mediation by OFWAT
For NHBC to mediate in a building matter
Repair of faulty goods at no charge to the buyer
Bank to stop a cheque
Credit reference agency for a credit report
Name to be removed from junk mail lists
SALE:
Dog or puppy
Horse
Motor vehicle
WILLS:
Married person
Single person
MISC:
Pre-nuptial agreement
Undefended divorce and judicial separation package
Cancelling a contract for goods
Change of name deed for a surname
Power of attorney to collect debts
Landlord's demand for rent
Demand a refund from a credit card company
Demand compensation for an interrupted utility service
Agreement for sharing a house or flat
Agreement to let a room to a lodger on a B&B basis
Terminate case following settlement of a claim
Unauthorised cashpoint withdrawal
Disagreement about a motor vehicle service charge
Ending a contract through failure to complete work on time
General power of attorney


Manufacturer's Product Code: Our Product Ref: FTDTLP
SCREENSHOTS


---
None Available
REVIEWS


---
"Great if you're putting together your own personal documents for wills, divorce, property, tenancy agreements, disputes and traffic incidents." The Daily Mirror

"Never use a solicitor again!" Computeractive!

Costs little can save you lots! PC Utilities

"Excellent legal advice at a very reasonable price!" Windows XP
SYSTEM REQUIREMENTS


---
| | | | |
| --- | --- | --- | --- |
| | Windows PC | Yes | Pentium etc |
| | Apple MAC | N/A | Purchase Virtual PC first |
| | Linux | N/A | |
VERSIONS, OPTIONS & ALTERNATIVES


---
| | | | | | |
| --- | --- | --- | --- | --- | --- |
| FastTrak | Desktop Lawyer Personal | £19.99 | (£19.99) | [FTDTLP] | Buy |

Compare also:


| | | | | | | |
| --- | --- | --- | --- | --- | --- | --- |
| FastTrak | Desktop Lawyer business Edition | £14.99 | (£14.99) | [FTDTLB] | Buy | | View |
PRICING


---
| | | | | | |
| --- | --- | --- | --- | --- | --- |
| FastTrak | Desktop Lawyer Personal | £19.99 | (£19.99) | [FTDTLP] | Buy |

Also see alternative versions and products above

Prices are in £GBP and include all applicable taxes (VAT etc). Purchases of multiple copies may be eligible for discounts of up to 40%, email us for a quote with the quantity you require.

P&P will be charged at "light items" rates
(Some valuable items may have to go special delivery and packages may have outer packaging or inner boxing removed to save weight, if this is a gift or for resale please request intact boxes)

See our full Postage & Delivery Details including shipping rates within the UK, Europe and worldwide, first class and next day before 9 AM and 12 Noon, same day options.

Email to check latest pricing or stock availability

Check Exchange Rates to convert UK pricing or Email us with your country and/or currency for a quote.


ORDERING


---
Any questions prior to ordering? - then email: Sales or call us on 0870 766 3699, otherwise proceed to the Order Form.

If the online Order Form fails for any reason or your product is not yet listed there, or you wish to print and send your order, then fill in the following, hit the [Select details] button below, and copy and paste to your email program or word processor:

Now hit Ctrl+C to copy the selected text to your clipboard and then paste (Ctrl+V) it into your preferred Email program or click here to launch your Email editor.
CONTACT DETAILS


---
Click here for full Contact Details including postal address, additional phone lines and technical support email.

Whilst we are based in Norwich, Norfolk in the UK we can ship most items internationally.


RETURN TO
TOP OF PAGE

CLOSE
WINDOW

PRINT
PAGE

HOME
PAGE

TERMS AND
CONDITIONS

HELP ON USING
THIS SITE