| | | |
| --- | --- | --- |
| | Jane Greenoff's Cross Stitch Designer | |
Details and specifications of Jane Greenoff's Cross Stitch Designer, £9.99. From the Queen of Cross Stitch, features all the tools and editing functions required to produce the highest quality cross stitch patterns...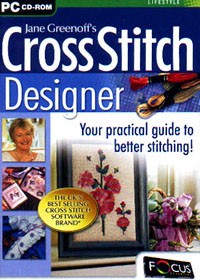 With the help of the latest computer multimedia, my program will not only guide you through the basics of cross stitch but will help you to create gorgeous designs to get you stitching today!

Create your own cross stitch patterns with ease by placing colour blocks, or black and white symbols on the grid to represent your stitches or import your own photographs, favourite paintings, drawings or clip art images. Then convert them into scrumptious cross stitch designs, with colours matched to your favourite stranded cotton or wool shade range to give you many hours of stitching pleasure.

Containing over 1,500 of my very own motifs, borders and charts this irresistible collection will inspire you to create practical ideas for your home. Combine motifs to produce samplers for all the rooms in the house or use the smaller designs for mini projects like birthday, anniversary or thank you cards.

Or why note learn lots and lots of lovely things in the tutorial section by following my step-by-step instructions.

Over 20 videos will teach you about fabrics and how to select them, how to do a loop start, 3/4 stitch or tent stitch, and much, much more. Plus the tutorials include plenty of my handy tips to help make things easier when you are stitching!

Jane Greenoff
Includes shade cards from leading manufactures.
Create gorgeous cross stitch patterns with ease.
My step-by-step video clips are so simple and easy to follow.
Use the smaller designs to create mini projects including birthday cards.
Contains over 1,500 motifs, borders and charts.
SCREENSHOTS


---
None Available
REVIEWS


---
None available
VERSIONS


---
Jane Greenoff's Cross Stitch Designer, £9.99

Compare also:
Cross Stitch Designer Gold, £19.99
Cross Stitch Patter Creator, £9.99
Cross Stitch Patter Creator 2, £9.99
Cross Stitch Patter Creator 2 Deluxe, £24.99
SYSTEM REQUIREMENTS


---
Operating System Windows® 95 / 98 / Me / NT / 2000 or Windows® XP
CPU Type Pentium 100 or faster
2x speed CD-Rom or faster
10Mb Hard Drive space
16Mb Ram
Graphics 800 x 600 High Colour 16bit
Audio Windows® compatible sound card
Printer Recommended (required to print designs)
PRICING


---
Jane Greenoff's Cross Stitch Designer, £9.99


Prices include all applicable taxes

P&P will be charged at "light/heavy items" rates (1/2/3 or 3/6) - see below

Email to check latest pricing or stock availability

Check Exchange Rates to convert UK pricing
Postage, Packing & Insurance Rates
1
UK light items (2nd class)
£3 (GBP)
2
UK light items insured (1st class) Any orders over £100
Customers may choose this rate on light items under £100 to speed delivery
£6 (GBP)
3
UK heavy items parcelpost
UK light items next day guaranteed
Europe light items
£9 (GBP)
4
World surface mail
£12 (GBP)
5
Europe heavy items
£15 (GBP)
6
UK heavy items next day guaranteed
World airmail
£18 (GBP)
If you require the outer packaging of your order to be intact for a gift then please add this to any special instructions as normally excess weight is removed before despatch to increase chances of a standard letter box delivery, and thus not require you to wait in to receive your order. Minimum P&P on fully boxed orders is £6
ORDERING


---
Any questions prior to ordering? - Then email: sales@bmsoftware.com.

To order, use the online

If the online [Order Form] fails for any reason or your product is not yet listed there, or you wish to print and send your order, then fill in the following, hit the [Select details] button, and copy and paste to your email program or word processor:

Now hit Ctrl+C to copy the selected text to your clipboard and then paste (Ctrl+V) it into your preferred program Make sure you read our Terms and Conditions.
CONTACT DETAILS


---
Click here for full Contact Details including postal address, additional phone lines and technical support email.

Whilst we are based in the UK we can ship most items internationally.


| | | | | | | | |
| --- | --- | --- | --- | --- | --- | --- | --- |
| | RETURN TO TOP OF PAGE | | CLOSE WINDOW | | PRINT PAGE | | HOME |