| | | |
| --- | --- | --- |
| | BVRP Mobile PhoneTools Pro DVD | |
Details and specifications of BVRP's Mobile PhoneTools Pro DVD, £39.95 (GBP inc VAT £39.95). Connect your laptop to your mobile phone. [Buy now] or call us on 0870 766 3699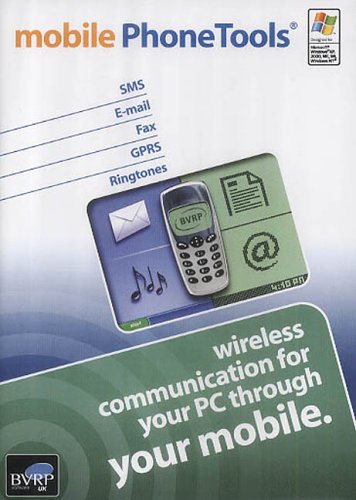 BVRP Mobile PhoneTools Pro DVD

Connect your laptop to your mobile phone… and Mobile PhoneTools* makes it happen: a real mobile office to keep you communicating anywhere, anytime! With new communication technologies (GPRS, UMTS…), mobile PhoneTools gives you access to Surf the Internet, send and view emails, synchronize agendas, contacts and calendars in MS Outlook, manage your fax, SMS, MMS, pictures, ring tones...
> Be mobile: Get connected anywhere, anytime > Synchronize your cell phone and PC data > Multimedia Studio: manage your multimedia files

Be mobile: Get connected anywhere, anytime Connect your cell phone to your laptopand use it as a modem to surf the Web, send/view email, fax, SMS and MMS on your PC.

Get connected to the Internet wherever you are via your laptop
Get connected to the Internet thanks to your cell phone GSM, GPRS or UMTS connection
Surf on the Web, manage your emails
mobile PhoneTools includes all major mobile phone operator connection parameters and automatically sets them up
Quickly send SMS and MMS from your laptop. As well as if you were at your office, use your own groups of recipients and messages priority and acknowledgements of receipt options
Send and receive emails: also, only download your email titles to save money on your GPRS or UMTS connection. Just select the interesting messages to download
Send fax and use predefined cover pages, groups of recipients, fax preview...
Manage SMS, emails and fax with a single interface


Synchronize cell phone and PC to keep your data up to date
Keep all your contacts in just one phonebook and synchronize your laptop and mobile phone contacts bases.


Direct access and dynamic management of Outlook, Outlook Express and BVRP Software contact base formats; you can open and modify contact files directly in mobile phoneTools without having to import or export.
Import and export a range of formats: text, Dbase, continual fields, BVRP Software, Outlook, Outlook Express, Vcard.
Retrieve and manage your mobile contacts base from the mobile PhoneTools' interface on your laptop without having to type the information in twice.
Use mobile PhoneTools for all your communications and enjoy direct access to your contacts base saving you from having to look up and copy the numbers you need.
With the multi-group contact and multiple phonebook management features, users can easily manage their contacts stored on several mobile phones. Contact groups can be created easily by manual selection or using search criteria.
Keep your contact bases up to date by synchronizing your laptop and mobile phone (SIM card and phone memory) files.
Modify your mobile phone contacts according to your needs. For example, make use of your professional contacts in the week and replace them with your personal contacts at the weekend.
Compatible with multi-number contact records (Nokia, Ericsson), mobile PhoneTools enables you to optimize the use of your mobile phone contacts.
Make sure you never lose your contacts thanks to mobile PhoneTools' Back-up and Restoration Wizard; if your phone gets lost or stolen simply transfer all your contacts to your new one.
Use the same contacts base when communicating with any mobile PhoneTools' feature.
Add a photo to your contact records.
Keep a complete record of your contact details, both personal and professional: postal address, e-mail, telephone numbers, fax numbers...


GPRS:
Simplify your GPRS configuration and management with the powerful, integrated wizard.


Predefined settings (APN, login, password, IP Address, DNS,..) for the major European telecom operators.
Forget tedious and complicated settings, with the GPRS connection wizard all it takes is a few clicks!
If necessary, the defined settings can be modified. For example, if you wish to add a new telecom operator.
Deconnect from the GPRS network with just one click. Under Windows 2000 & XP, launch the GPRS connection directly in your browser - no need to launch it beforehand.
In Windows NT4, 98 and Millennium your browser can be launched automatically after connecting to the GPRS network.
Dialer:
Make calls directly from your laptop
Use the dialer in the main interface to make phone calls.
Make phone calls directly from the Phonebook with just one click!
Access the last 10 numbers dialed, as with your mobile phone, and recall a number directly from the list


Multimedia Studio:
Multimedia Studio is a multimedia files management module composed of Mobile Explorer, Image Studio, Melody Studio, and MMS Studio.


Mobile Explorer: Save your pictures, ring tones on your PC hard drive
Quickly preview your cell phone content thanks to organized thumbnails and delete unwanted files
Visualise your cell phone content in Mobile Explorer. Import/export the chosen data from your PC to your cell phone or from your cell phone to your PC
Transfer your files in just a click with Mobile Explorer double pane view interface
Use your cell phone as a USB key to carry files
Image Studio / Melody Studio: Personalize your cell phone
Transfer photos taken with your cellphone to your PC to save and modify them
Edit and modify your personal pictures before transferring them on your phone
Create wallpapers and screensavers for your cell phone
Use your favourite music tunes as ring tones for your cell phone: you can also select just a part of your favourite CD
Image studio and Melody studio automatically convert all sound and image files to the right format to be cell phone supported
MMS Studio: Send Multimedia Messages (MMS)
Create MMS by compiling pictures, sound and text
MMS studio automatically sets up your MMS connection parameters for you to keep focused on your message creation


Ringtones:
Personalize your mobile phone ringtones and save them on your laptop.

Manage a wide range of ring tone and melody text formats: .NOK (Nokia composer), .MR1 (Motorola v1), .SIE (Siemens composer), .MID (midi), .RTX, .TXT (texte), .EMY (E-melody composer), I-melody, RTX.
Multi-format ring tone converter: Open and save any format as a file on your laptop PC. For example, if the ring tone you want to use only exists in the Siemens format, you can easily convert it to the Nokia format.
Just one click to save a ring tone on your mobile phone.
Charge your mobile phone ring tone directly onto your laptop.
Listen to ring tones on your laptop or mobile phone before choosing the one you want to install, or use your PC to listen to the predefined ring tones of your mobile phone.
Use the melody text manager (by typing directly on your mobile phone's composer) to import files or copy and paste ring tones downloaded from the web.
Ring tones, logos and games web site: > www.mobileffects.com

Be original and compose your own ring tone with the integrated melody editor and musical keyboard: Insert and delete, ascend and descend, in crease or reduce the length of notes, change the tempo.... Play back your melody on your laptop and follow the notes as they are displayed.

Mobile information:

Enjoy easy access to important mobile phone details.
If you have several mobile phones, differentiate between them using the international mobile phone ID (IMEI) display in mobile PhoneTools.
Use mobile Phonetools to identify with ease the brand, model and firmware of your mobile phone.
Check the available and maximum contact capacity on the SIM card or the mobile phone memory.
Check the number of SMS and the maximum capacity on the SIM card or the mobile phone memory.
New skins mobile PhoneTools offers new colored and shiny skins for every mood and style.

Manufacturer's Product Code: Our Product Ref: BVMPTP
SCREENSHOTS


---
Screenshot 1 | Screenshot 2 | Screenshot 3 | Screenshot 4
REVIEWS


---
None available
SYSTEM REQUIREMENTS


---
Windows 98 SE/Millenium/2000/XP
Yes

Pentium 233 Mhz or higher
64 Mb of RAM
60 Mb of disk space

Suggested hardware

GPRS compatible mobile phone
Mobile phone equipped with a data/fax modem and which supports AT commands
Serial or USB cable, IrDA port or Bluetooth adapter to connect the laptop PC and mobile phone

Apple MAC
N/A
Purchase Virtual PC first
Linux
N/A
VERSIONS, OPTIONS & ALTERNATIVES


---
| | | | | | |
| --- | --- | --- | --- | --- | --- |
| BVRP | Mobile PhoneTools Pro DVD | £39.95 | (£39.95) | [BVMPTP] | Buy |

Compare also:


| | | | | | | |
| --- | --- | --- | --- | --- | --- | --- |
| BVRP | PhoneTools Expert | £49.95 | (£49.95) | [BVPTLE] | Buy | | View |
PRICING


---
| | | | | | |
| --- | --- | --- | --- | --- | --- |
| BVRP | Mobile PhoneTools Pro DVD | £39.95 | (£39.95) | [BVMPTP] | Buy |

Also see alternative versions and products above

Prices are in £GBP and include all applicable taxes (VAT etc). Purchases of multiple copies may be eligible for discounts of up to 40%, email us for a quote with the quantity you require.

P&P will be charged at "light items" rates
(Some valuable items may have to go special delivery and packages may have outer packaging or inner boxing removed to save weight, if this is a gift or for resale please request intact boxes)

See our full Postage & Delivery Details including shipping rates within the UK, Europe and worldwide, first class and next day before 9 AM and 12 Noon, same day options.

Email to check latest pricing or stock availability

Check Exchange Rates to convert UK pricing or Email us with your country and/or currency for a quote.


ORDERING


---
Any questions prior to ordering? - then email: Sales or call us on 0870 766 3699, otherwise proceed to the Order Form.

If the online Order Form fails for any reason or your product is not yet listed there, or you wish to print and send your order, then fill in the following, hit the [Select details] button below, and copy and paste to your email program or word processor:

Now hit Ctrl+C to copy the selected text to your clipboard and then paste (Ctrl+V) it into your preferred Email program or click here to launch your Email editor.
CONTACT DETAILS


---
Click here for full Contact Details including postal address, additional phone lines and technical support email.

Whilst we are based in Norwich, Norfolk in the UK we can ship most items internationally.


RETURN TO
TOP OF PAGE

CLOSE
WINDOW

PRINT
PAGE

HOME
PAGE

TERMS AND
CONDITIONS

HELP ON USING
THIS SITE