Details and specifications of Aquarium, £4.99 (GBP inc VAT). Design and run your own sea life centre! Buy and display fish, create attractions to bring in the vistors and the cash.. [Buy now]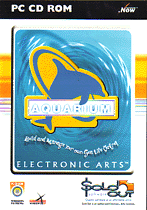 Ever wanted to explore the mysteries of the ocean? Well now you can!

Design, build and manage your own sea life centre!

This is your chance to run an aquarium the way you want and to ensure your visitors are having fun. It's a dream job and it's in your hands!

Build - You create and build your own sub aqua kingdom.
Learn - Use your handy fish guide to recreate the correct environments for your star attractions.
Manage and Research - Hire staff and ensure that their working conditions are maintained to keep them happy.
Buy and Fish - You can use either method to gain fish and aquatic animals for the centre.
Train and Show - Train your dolphins and put on a show to please the visitors.

SCREENSHOTS


---
None Available
REVIEWS


---
None available
SYSTEM REQUIREMENTS


---
Pentium 90 (min), 133 (rec)
MS-DOS or Windows 95/98 or ME
X4 CD ROM drive
16Mb RAM,
Graphics Card DirectX™ 5 compatible
DirectX™ 5 compatible Soundcard
Mouse and keyboard
Install.NOW™ (optional) requires Pentium compatible PC and 16Mb RAM (IE5 installation requires 18.5 Mb free hard disk space
VERSIONS & ALTERNATIVES


---
Aquarium, £4.99, Buy

Compare also:

PRICING


---
Aquarium, £4.99, Buy.


Prices are in £GBP and include all applicable taxes (VAT etc)

P&P will be charged at "light/heavy items" rates (1/2/3 or 3/6) - click here for full Postage & Delivery Details including shipping rates within the UK, Europe and worldwide, same day and next day before midday options.

Email to check latest pricing or stock availability

Check Exchange Rates to convert UK pricing or Email us with your country and/or currency for a quote.


ORDERING


---
Any questions prior to ordering? - then email: Sales, otherwise proceed to the Order Form.

If the online Order Form fails for any reason or your product is not yet listed there, or you wish to print and send your order, then fill in the following, hit the [Select details] button below, and copy and paste to your email program or word processor:

Now hit Ctrl+C to copy the selected text to your clipboard and then paste (Ctrl+V) it into your preferred Email program or click here to launch your Email editor.
CONTACT DETAILS


---
Click here for full Contact Details including postal address, additional phone lines and technical support email.

Whilst we are based in the UK we can ship most items internationally.


RETURN TO
TOP OF PAGE

CLOSE
WINDOW

PRINT
PAGE

HOME
PAGE

TERMS AND
CONDITIONS

HELP ON USING
THIS SITE