| | | |
| --- | --- | --- |
| | Alohabob PC Relocator Ultra Control | |
Details and specifications of Alohabob's PC Relocator Ultra Control, £59 (GBP inc VAT RRP £59.99). PC Relocator Ultra Control will automatically transfer entire programs, preferences and documents to a new computer. You'll be up and running in no time. [Buy now] or call us on 0870 766 3699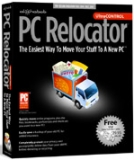 Alohabob PC Relocator Ultra Control

Selectively transfer the programs, files, e-mails, shortcuts, games, mp3's, photos, bookmarks you choose to a new PC. Or save to removable media for backup protection.
Packaged with it's own USB data transfer cable, Alohabob PC Relocator Ultra Control is the most complete PC migration tool available today.

Quickly move entire programs, plus the files, bookmarks, preferences and shortcuts you want to a new PC!
Easily save a backup of your old PC for added insurance.
Completely protect your privacy and permanently delete data from your old PC before donating or recycling.
2005 Edition - New Features!

PC Relocator Ultra Control offers 5 new features to make your upgrade even easier and more reliable.

Connectivity
SmartConnect
Automatically establishes a connection between your two PCs. A handy wizard shows you the cables and connections, and helps you along the way.

Selection
SmartPicks If you like simplicity, then use SmartPicks to easily filter and find common items like e-mail messages, pictures, home videos, music, and more.
SmartRating Not sure it's safe to move a particular program? SmartRating aides you in your selection process. Programs that are safe to migrate are flagged in green for easy identification.
SmartShield Automatically prevents the transfer of many potentially harmful programs and spyware to your new PC.
SmartRank If you are looking for more control over what's transferred, then use SmartRank to quickly find, sort, and identify important files and folders on your computer using a five-star ranking system.
SmartSearch If you need to transfer a specific file, SmartSearch offers an intuitive way to locate any particular file or folder on your PC and automatically add it to your migration.

Complete your PC Upgrade (included)
Backup Protection: PC Backup Lite Easily protect your e-mails, photos, wallpaper, music, financial information, internet favorites and much more, as often as needed. Save backups directly to CDs, DVDs and other high capacity storage media using an easy-to-use drag and drop interface.
Privacy Protection: Blancco Data Cleaner Before recycling or donating your old PC, you can securely erase all data from your old PC. Prevent identity theft and ensure that all passwords, financial information and other confidential data is wiped clean from the old machine before passing it along - completely and permanently.


--o--


It's Flexible!
Alohabob PC Relocator Ultra Control offers the ability to select specific items to transfer - including applications! You can also choose where to move those items to on your new computer. Alohabob PC Relocator Ultra Control painlessly migrates:
Applications
Data Files
Desktop and Internet Setting
Email (including encryption)
Bookmarks and Favorites
Internet Connections
User Profiles
Digital Signatures
And Everything Else
Not sure it's safe to move something? We help you out with that too! The Alohabob wizard interface includes a rating, which warns against the migration of any application that could cause potential conflicts with the newer operating system.

It's Safe!
Alohabob PC Relocator Ultra Control leaves your old PC completely unchanged after the relocation and also includes a simple undo function. Should you not be satisfied with your new PC after the relocation, you can restore it to the original state in one simple step.
It's Quick!
Alohabob PC Relocator Ultra Control migrates applications, files and settings between two computers in just a fraction of the time it would take to manually perform the process. Gone are the days of manually reinstalling applications, transferring data files and reconfiguring your preferences. Once you tell Alohabob PC Relocator what to do you can leave and let it do its thing. Once it is finished, your new PC will look and feel just like your favorite old computer - but better!

Manufacturer's Product Code: Our Product Ref: APCRUC
SCREENSHOTS


---
None Available
REVIEWS


---
None available
SYSTEM REQUIREMENTS


---
Two separate PCs
The operating system on each PC must be a version of Windows 95, 98, Me, NT4 Workstation* (see restrictions below), 2000 Professional, XP Home or XP Professional.
The version and release of Windows on the Target PC must be the same or higher as compared to the version and release on the Source PC.
Windows NT4/2000/XP Professional users: The "Service Pack" level on the Target PC must be the same or higher as compared with the Service Pack on the Source PC.
Windows NT is not supported as a Target operating system when relocating programs.
A PC-to-PC parallel transfer cable (included in box version of product) or a USB bridge cable.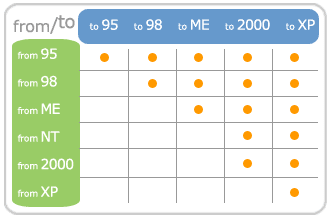 VERSIONS, OPTIONS & ALTERNATIVES


---
| | | | | | |
| --- | --- | --- | --- | --- | --- |
| Alohabob | PC Relocator Ultra Control | £59 | (RRP £59.99) | [APCRUC] | Buy |
| | | | | | |
| --- | --- | --- | --- | --- | --- |
| Alohabob | PC Relocator | £39 | (RRP £39.99) | [APCREL] | Buy |

Compare also:


PRICING


---
| | | | | | |
| --- | --- | --- | --- | --- | --- |
| Alohabob | PC Relocator Ultra Control | £59 | (RRP £59.99) | [APCRUC] | Buy |

Also see alternative versions and products above

Prices are in £GBP and include all applicable taxes (VAT etc)

P&P will be charged at "light items" rates
(Some valuable items may have to go special delivery and packages may have outer packaging or inner boxing removed to save weight, if this is a gift or for resale please request intact boxes)

See our full Postage & Delivery Details including shipping rates within the UK, Europe and worldwide, first class and next day before 9 AM and 12 Noon, same day options.

Email to check latest pricing or stock availability

Check Exchange Rates to convert UK pricing or Email us with your country and/or currency for a quote.


ORDERING


---
Any questions prior to ordering? - then email: Sales or call us on 0870 766 3699, otherwise proceed to the Order Form.

If the online Order Form fails for any reason or your product is not yet listed there, or you wish to print and send your order, then fill in the following, hit the [Select details] button below, and copy and paste to your email program or word processor:

Now hit Ctrl+C to copy the selected text to your clipboard and then paste (Ctrl+V) it into your preferred Email program or click here to launch your Email editor.
CONTACT DETAILS


---
Click here for full Contact Details including postal address, additional phone lines and technical support email.

Whilst we are based in Norwich, Norfolk in the UK we can ship most items internationally.


RETURN TO
TOP OF PAGE

CLOSE
WINDOW

PRINT
PAGE

HOME
PAGE

TERMS AND
CONDITIONS

HELP ON USING
THIS SITE