| | | |
| --- | --- | --- |
| | Age of Empires II - The Age of Kings | |
Details and specifications of Age of Empires II - The Age of Kings, £39.99. The sequel to the hugely successful 'Age of Empires', continue with one of the most highly rated strategy game so far...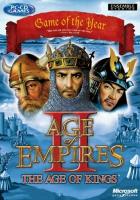 Age of Empires II: The Age of Kings is the sequel to the award-winning, best-selling real-time strategy game Age of Empires. Age of Empires II spans a thousand years, from the fall of Rome through the Middle Ages in which players lead one of 13 civilizations into greatness. The game keeps the epic scope of Age of Empires' game play while evolving the combat and economic features.

In addition to all the features found in the original Age of Empires, Age of Empires II enhances game play in the following areas:

Players can use garrisoning and military formations that add interesting tactical choices. Units are also smarter, with new artificial intelligence (AI) options like Guard, Patrol and Follow as well as multiple aggression levels.

Players can improve the economy of their civilization through trade and diplomacy options. In addition to gathering resources, they can trade at their own market or use trading routes with their allies. A market-based economy gives new options for players to buy, sell, and speculate on resources.

Gamers command one of 13 mighty civilizations. These include the Franks, Japanese, Byzantines, Vikings, Mongols and Celts civilizations. Each civilization has unique attributes, buildings and technologies as well as a unique combat unit based on its historical counterpart.

The William Wallace learning campaign makes it incredibly easy for new users to get started. The new two-layer interface lets players select the level of command buttons displayed based on their needs. Additionally, the game also includes production queues, rally points, customizable hot-key system, as well as expanded rollover help.

In contrast to the linear game play found in other real-time games, Age of Empires II lets gamers choose one of several ways to achieve world domination and ultimate victory:


Domination of enemy civilizations
Economic victory through accumulation of wealth
Building and defending wonders of the world
Age of Empires II lets gamers choose from numerous technological paths to help lead their civilization to greatness. From an economic path of farming and craftsmanship to a military route of siege and naval warfare, the game comes with a technology tree that has more than 100 nodes, larger than one player could possibly complete in just one game.

Story based campaigns focus on historical figures and their struggles like William Wallace, Joan of Arc, Genghis Khan, Barbarossa and Saladin bring the player much deeper into the game as they strive with the hero to victory.
A new expert system driven computer player with artificial intelligence providing a solitaire opponent who seems human.
Maps are larger which adds to the sense of exploration and allows more options for extended play particularly in multiplayer.
The very popular Random map generator brings unlimited replay value for both multiplayer and single player.
In addition to the traditional Deathmatch option, there is a new gameplay mode: Regicide, where players have to protect their Queen or King while they try to assassinate the enemy one. A Map editor extends also the game play by allowing users to create and exchange scenarios or link them into campaigns.

Internet play for up to eight players via the MSN Gaming Zone, over a LAN or modem to modem.

SCREENSHOTS


---
None Available
REVIEWS


---
Use you back button to return to this page after viewing the reviews.

Reviews
VERSIONS


---
Age of Empires II - The Age of Kings, £39.99

Compare also:

SYSTEM REQUIREMENTS


---
Multimedia PC with Pentium 166MHz or higher processor.
Microsoft Windows 95, Windows 98, Windows NT 4.0 with Service Pack 5 operating system.
32 MB of RAM
200 MB of hard disk space; additional 100 MB of hard disk space for swap file.
Super VGA monitor supporting 800x600 resolution.
Local bus video card that supports 800x600, 256 color resolution and 2 MB of VRAM
Quad-speed CD-ROM drive.
Microsoft Mouse or compatible pointing device.
28.8Kbps modem (or higher recommended) for internet or head-to-head play.
Audio board with speakers or headphones.
To access the MSN Gaming Zone you need Internet Explorer 3.02 or later software or Netscape Communicator 4.0 or later.
PRICING


---
Age of Empires II - The Age of Kings, £39.99


Prices include all applicable taxes

P&P will be charged at "light/heavy items" rates (1/2/3 or 3/6) - see below

Email to check latest pricing or stock availability

Check Exchange Rates to convert UK pricing



P&P will be charged at "light/heavy items" rates (1/2/3 or 3/6) - click here for full Postage & Delivery Details including shipping rates within the UK, Europe and worldwide, and next day before midday options.


ORDERING


---
Any questions prior to ordering? - Then email: sales@bmsoftware.com.

To order, use the online

If the online [Order Form] fails for any reason or your product is not yet listed there, or you wish to print and send your order, then fill in the following, hit the [Select details] button, and copy and paste to your email program or word processor:

Now hit Ctrl+C to copy the selected text to your clipboard and then paste (Ctrl+V) it into your preferred program Make sure you read our Terms and Conditions.
CONTACT DETAILS


---
Click here for full Contact Details including postal address, additional phone lines and technical support email.

Whilst we are based in the UK we can ship most items internationally.


| | | | | | | | |
| --- | --- | --- | --- | --- | --- | --- | --- |
| | RETURN TO TOP OF PAGE | | CLOSE WINDOW | | PRINT PAGE | | HOME |