| | | |
| --- | --- | --- |
| | ABBYY Fine Reader 5 Pro for MAC | |
Details and specifications of ABBYY's Fine Reader 5 Pro for MAC, £69.99 (GBP inc VAT £69.99). An extensive set of capabilities to give users full control over the OCR process. [Buy now] or call us on 0870 766 3699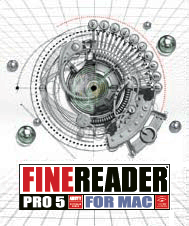 ABBYY Fine Reader 5 Pro for MAC

FineReader 5 Pro for Mac provides an extensive set of capabilities to give users full control over the OCR process, in addition to the features unique to the Mac OS. These features include:


One-button OCR – converts paper documents with a single click of the Scan&Read button.
OCR Assistant – guides users through the OCR process, allowing them to select preferred settings, which can then be saved to automate repetitive projects.
Runs from MS Word.
Multi-language Recognition – recognizes any of 117 languages, including multiple languages within the same document.
Spellchecker – highlights questionable words (in any of 23 languages) and suggests possible alternatives. Users can magnify the image area containing questionable text for easy verification.
Advanced document layout analysis – retains the original document layout, including columns, tables, pictures, graphics, wrapped text, dropped capitals and superscript symbols.
Image Processing – gives users control of scanned images with tools such as despeckle, rotate, invert or locate blocks.
Batch Processing – enables users to quickly and easily scan multipage documents and universally apply functions such as read, rotate, locate blocks, despeckle and save.
Image File Input - supports a wide range of image formats, including TIFF, JPEG, and PICT.
Saving Formats – supports a wide range of output formats, including AppleWorks (RTF), MS Word (RTF), MS Excel, or SimpleText. Users can also choose to publish documents in the HTML or PDF format.
FineReader 5 Pro for Mac was designed based on the principles of IPA: Integrity, Purposefulness and Adaptability are the keys to recognition. ABBYY researchers developed this the IPA-technology from observations of human and animal behaviour. Humans and animals learn to recognise images by proposing hypotheses and then purposefully verifying them. ABBYY applies this same principle in OCR.

Integrity: an object for recognition is described as an integral object by using a set of basic elements and relationships between them. The object is only recognised as a particular object if all the defined elements are present.

Purposefulness: FineReader then uses a unique approach to distinguish problematic characters. When analysing the object, the software purposefully looks for features, which are expected to be there. The result is an improvement in recognition accuracy.

Adaptability: the program's ability to adapt itself by intelligent learning or through training.

Manufacturer's Product Code: Our Product Ref: AYFR5M
SCREENSHOTS


---
None Available
REVIEWS


---
None available
SYSTEM REQUIREMENTS


---
Windows PC
No
MAC only version
Apple MAC
Yes

iMac, iBook, PowerBook, PowerMac, PowerPC compatible computer, G3 or higher processor recommended
MacOS 8.6 or later, MacOS X (Classic Environment only). If you use MacOS X, then version MacOS 10.1 or later is recommended.
32 MB RAM (64 Mb recommended). If 32 MB RAM used, 80 MB virtual memory required
QuickTime 4.0 or higher
Free hard disk space: 80 Mb for installation and 20 Mb for system functioning
100% Twain-compatible scanner, digital camera or fax-modem or scanner accessible via PowerPC Adobe Photoshop Import Plug-Ins
CD-ROM drive

Linux
N/A
VERSIONS, OPTIONS & ALTERNATIVES


---
| | | | | | |
| --- | --- | --- | --- | --- | --- |
| ABBYY | Fine Reader 5 Pro for MAC | £69.99 | (£69.99) | [AYFR5M] | Buy |

Compare also:


| | | | | | | |
| --- | --- | --- | --- | --- | --- | --- |
| ABBYY | Fine Reader 7 Pro Upgrade OEM | £79.99 | (£79.99) | [AYFR7O] | Buy | | View |
PRICING


---
| | | | | | |
| --- | --- | --- | --- | --- | --- |
| ABBYY | Fine Reader 5 Pro for MAC | £69.99 | (£69.99) | [AYFR5M] | Buy |

Also see alternative versions and products above

Prices are in £GBP and include all applicable taxes (VAT etc). Purchases of multiple copies may be eligible for discounts of up to 40%, email us for a quote with the quantity you require.

P&P will be charged at "light items" rates
(Some valuable items may have to go special delivery and packages may have outer packaging or inner boxing removed to save weight, if this is a gift or for resale please request intact boxes)

See our full Postage & Delivery Details including shipping rates within the UK, Europe and worldwide, first class and next day before 9 AM and 12 Noon, same day options.

Email to check latest pricing or stock availability

Check Exchange Rates to convert UK pricing or Email us with your country and/or currency for a quote.


ORDERING


---
Any questions prior to ordering? - then email: Sales or call us on 0870 766 3699, otherwise proceed to the Order Form.

If the online Order Form fails for any reason or your product is not yet listed there, or you wish to print and send your order, then fill in the following, hit the [Select details] button below, and copy and paste to your email program or word processor:

Now hit Ctrl+C to copy the selected text to your clipboard and then paste (Ctrl+V) it into your preferred Email program or click here to launch your Email editor.
CONTACT DETAILS


---
Click here for full Contact Details including postal address, additional phone lines and technical support email.

Whilst we are based in Norwich, Norfolk in the UK we can ship most items internationally.


RETURN TO
TOP OF PAGE

CLOSE
WINDOW

PRINT
PAGE

HOME
PAGE

TERMS AND
CONDITIONS

HELP ON USING
THIS SITE